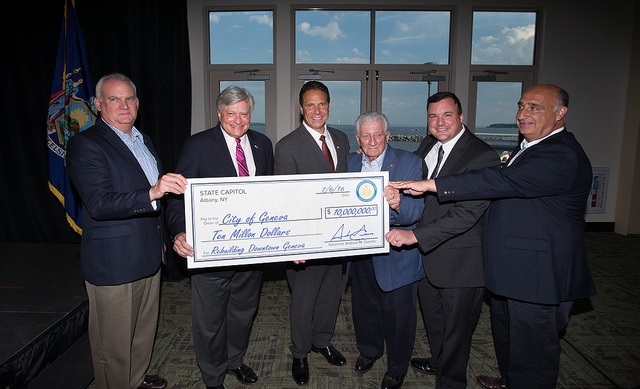 In this series, ELGL members reflect on how their life has changed from 2008 to 2016, and look forward to where they'll be in 2024. ELGL members can sign up to share their experiences at My Life in Presidential Terms. 
By Matt Horn (Web, LinkedIn, Twitter), City Manager, Geneva, NY
Fast Times in the Finger Lakes
The year was twenty-aught-eight. Joe the Plumber and the former Mayor of Ketchikan hit the scene to bring the political elites to their knees. We all knew that Gavin Rossdale had made the career choice of a lifetime by ditching Bush and going solo.  All of the kids were Crankin' that Soulja Boy.  At the movies, we couldn't get enough of Wall-E, and in our living rooms, we all sat down to watch our favorite Belushi in "According to Jim." Something we knew we'd be doing for a long, long time.  
Meanwhile, a young, upstart public administrator was looking for a way to escape the gorgeous summers and temperate winters of the southeast; while also improving his management chops and perfecting his snow shoveling technique.  An opportunity in the rust belt checked all of those boxes, so I packed up the truck and moved to Geneva…New York, that is.
In 2008, I accepted my first (and only, so far) City Manager's position in this amazing little Finger Lakes community. Managing a small City in the northeast in the depths of the housing market collapse wasn't all the glitz and glamour you read in Redbook Magazine. On top of that, I had to get up to speed quickly on organized labor in a City organization that, at the time, had more labor unions than department heads. The community was in a seemingly perennial debate about how to capitalize on sixty acres of developable land along the pristine Seneca Lake shoreline, while recovering from years of economic decline that had depressed the first floor vacancy rate in downtown to nearly 50%, and resulted in twenty straight years of population losses.

In the ensuing years, we worked to refocus the economic development conversation toward repopulating our downtown district. Council and the community developed a "Full Occupancy" strategy that engaged a range of economic development partners and put them to work on filling storefronts. In our neighborhoods, we focused on pride-building and neighborhood identity development, while investing in capacity building efforts to develop a team of engaged, active, and creative neighborhood champions. On the lakefront, we set aside the questions about how to spark commercial activity, and instead spent our time and resources on developing a set of incredible civic amenities, including trails, docks, and an amazing playground for area children.
Our focus and investments have started to pay off.  In the last eight years or so, we've seen approximately $19 million in investment in the downtown district alone. In 2014, the downtown district was named a National Register Historic District, and received a parallel state designation. The National Civic League named Geneva an All America City in 2015; specifically citing our neighborhood revitalization and downtown redevelopment efforts. And just this month, Governor Andrew Cuomo traveled to Geneva to announce a $10 million investment of state funding to support downtown revitalization.
Personally, the last eight years have been pretty great, with one new member being added to the Horn clan, and one more on the way this fall.
Looking forward to the next eight years, I see nothing but opportunity. The community I manage has set its course based upon self-reliance. This has the intended effect of insulating ourselves from the stagnant and vacillating political climate inherent in Presidential changeover and other national political whirlwinds. With our population numbers stabilized, we are looking toward growth, both from a population number standpoint, and in terms of the personal wealth of our residents. We're working on strategies to reverse course on some troubling poverty data, and to continue to capitalize on the momentum of our school district.
Personally, in 8 years, my oldest son will have received his full ride to the University of South Carolina as a red-shirt quarterback. Also by 2024, I hope to have discovered a rich Uncle Moneypenny, who will have been searching for a dedicated public servant in the family to gift over his entire family fortune. If that happens, I anticipate that, just like my southern cousin Forrest Gump, I'll manage the City of Geneva for free.
Now, if you'll excuse me, I've got my TIVO'd episodes of According to Jim to catch up on.
Supplemental Reading
Previously