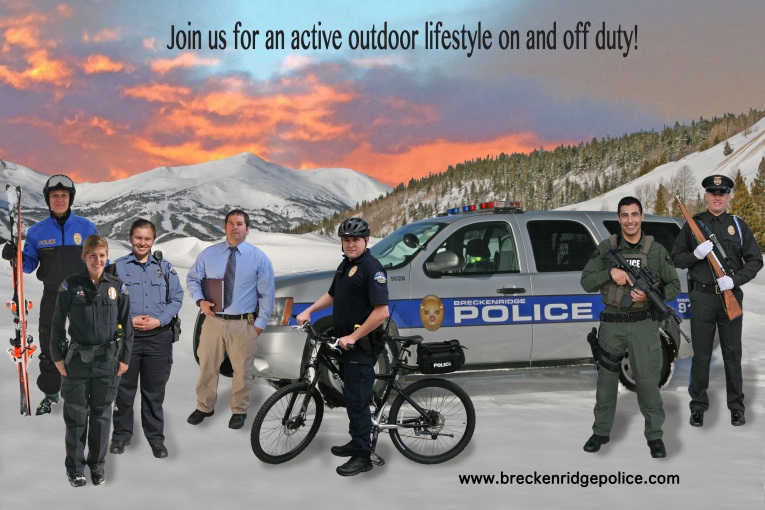 In this series, ELGL members reflect on how their life has changed from 2008 to 2016, and look forward to where they'll be in 2024. ELGL members can sign up to share their experiences at My Life in Presidential Terms. 
By Shannon Haynes (LinkedIn & Twitter), Assistant Town Manager, Breckenridge CO
"Are you crazy? You have a great life here. What will happen to your kids?" In early 2008 these questions were asked of me over and over again by friends and family. At the time my husband and I were very successful career law enforcement officers with two wonderful little boys – one in first grade and one starting school in the fall. I was a Lieutenant for the Police Department in Windsor, Connecticut where I was responsible for all things administrative. That's my happy place! Sure, lights and sirens are fun, but grant writing can't be beat! Okay, well maybe grant writing won't light your hair on fire but for a solid introvert putting your head down and plugging away in solitude can be pretty inviting. That said, one cannot stay in this comfy place with confidence knowing that in 50 years they'll likely look back with horrifying regret as they consider all the roads not taken.
With that in mind, I believe 2008 was meant to be a year of change. Our country was contemplating the best candidate for president and our family was contemplating a cross country move to Colorado. We were taking a gamble. We weren't moving because we lost jobs and needed to go somewhere new. We weren't being transferred. We were making an epic life change to provide a better quality of life for our boys and ourselves. My husband retired from his position as a Sergeant with the Simsbury Connecticut Police Department after 22 years of service and I took a demotion (gasp) to become a Sergeant in Breckenridge, Colorado. Mind you, this meant going back to working night shifts after a solid seven years of desk work. Oh my! What a difference seven years makes! I was suddenly aware that, unbeknownst to me, I had aged! Working until 3am wasn't quite what it used to be.
So, what is the lesson in that unimaginable (tiring) professional step? Sometimes going backward is far more valuable than going forward. The change in our lives over the last eight years has been remarkable. Frankly, we couldn't have asked for more. I was promoted twice, to Commander in 2010 and Chief of Police in 2012. My husband was promoted to Director of Security for a local ski resort and our kids are doing better than we could have hoped in school, sports, and social interaction (so far, so good!).
Ultimately, it was all for the best. We elected Barack Obama, which thrilled me and irritated my husband. As you can imagine, politics was not a topic of conversation in our house at that time. That said, times change. Now, with two teenage boys, we have daily conversations about politics, right & wrong, liberal & conservative, and where we agree and disagree. It makes for feisty dinner time fodder!
As for 2016, well, we are starting off with a bang. I was promoted to Assistant Town Manager in April and from a personal and professional perspective I've already begun to wonder what the next eight years will bring. Professionally I'm reflecting on my career and how I will measure my success. Will I judge success on continuing advancement or focus on my ability to have a positive impact in whatever position I hold? Yes, it would be exciting to be a Town Manager and even better to be the Town Manager in Breckenridge. And, it goes without saying that there are great opportunities to influence from that position. Maybe that will be the right move.
Or… perhaps the greatest opportunities come from being in a less obvious position. There are so many local challenges around youth substance use and mental health that cannot be significantly impacted by any one agency, community, or non-profit. Our power to make real, lasting change will come in the numbers, commitment and passion found only in collaboration, no matter your title or position.
Then there's the way our broader society is changing. The next eight years will be a time to reflect on who we are and what we want to be as a society. In this moment, I'm horrified at the national discussion, the intolerance for citizens who feel, think, and believe differently. And yet, I'm also proud to work in local government where I believe we are truly committed to doing what's right and impacting community issues in a significant way.
So, what will influence my life in the next eight years?
The 2016 presidential election
My kids graduating from high school and moving on to college (yikes!)
Likely a need to decide on future career moves
The excitement of the unknown!
Bring on the next adventure!
Previously