Welcome new members. . . . . 220 and counting. . . . . .
Dan Knoll
Communications Director, City of Wilsonville
Steve Bryant
Senior Advisor, ICMA-Oregon
Ina Zucker
Council Policy Manager, Metro
 Rachel Fox
Pioneer Cemeteries Program, Metro
 John Sheehan
Education Program Manager, Metro
 Heather Coston
Communications (Parks and Trail Planning), Metro
Heidi Blaine
University of Oregon MPA Graduate
Patrick Foiles
Human Resources Analyst, City of Lake Oswego
Kathryn Sofich
Council Policy Coordinator, Metro
Marty Wine
City Manager, City of Tigard
Elizabeth McCann
 Senior Financial Analyst, City of Gresham
Seth Reeser
Senior Financial Analyst, City of Portland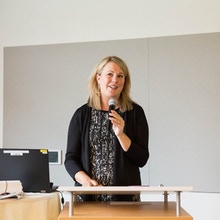 I'm the co-founder and executive director of ELGL. I love my job. Other things I love: local government, my family, my dog Michael Jordan, sandwiches, naps, books, and skee-ball.