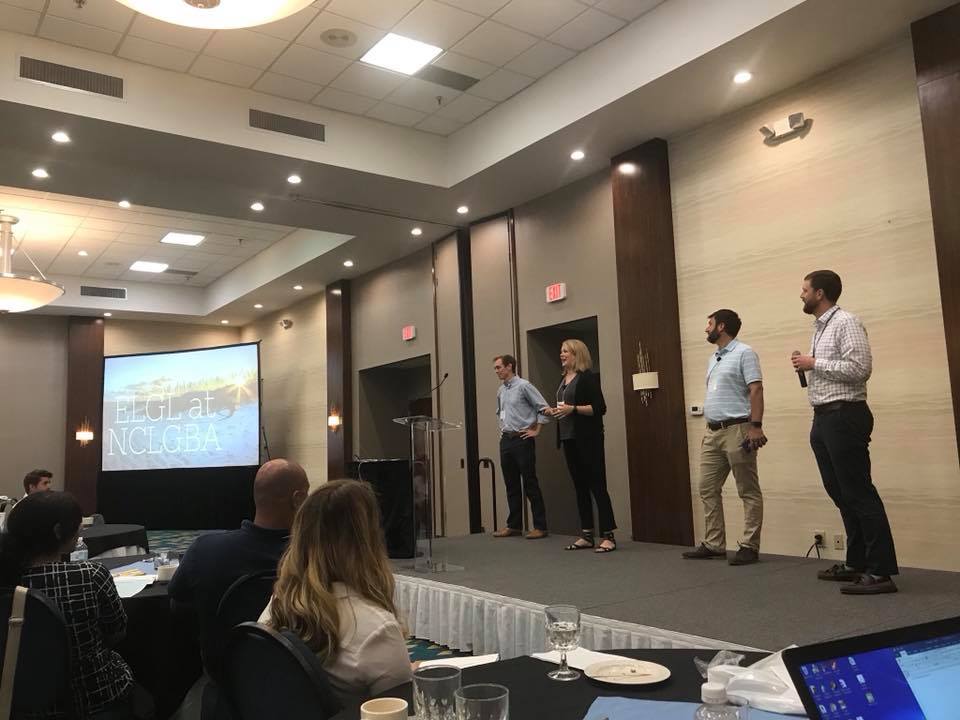 I am headed to the North Carolina Local Government Budget Association (NCLGBA) Conference in Atlantic Beach, NC. So, DJ cue my theme music….
---
---
I'll be live-bloggin' leading up to the conference and throughout the conference. I'd welcome any recommendations for the Atlantic Beach, NC area, including where I can find the best hush puppies.

---
Thursday, July 12
Yelp for Local Government
During our presentation, we highlighted the ELGL Vendor Directory. It is the best place to find your next consultant whether your organization is developing a budget dashboard or designing a new city hall.
Check out the 270 listings and join the 100+ reviews that have been left about companies in local government. Here are the type of reviews that you will find.
Safebuilt Inc. great company that provide excellent construction inspection and plan review services for local governments. Great customer services and best practices.
We are piloting Soofa in 4 of our parks. With the real time data of people in our parks we are working with them to improve marketing ROI and predict when parks equipment may break down.
The NeoGov Perform module is awesome! I had only worked with paper/pdf based employee goals/appraisals before and NeoGov system made things SO much easier!
---
New Category for #CityHallSelfie Day
And the award for the sweatiest City Hall Selfie goes to…


---
Picture Show
Check out pictures from the much-anticipated "Innovation Cage Match" at #NCLGBA18. You can follow along with the rest of the conference action at #NCLGBA18.
Props to Heather Curry for her Twitter game during our presentation.
First @ELGL50 Cage Match category is Data. Ideas from @CityPGH (Burgh's Eye View – open data mapping), @CityOfCincy (opioid tracker – mapping overdoses and responses), and @ELGL50 (#DiversityDashboard – tracking diversity of #localgov leadership)

— Heather Curry (@CallunaAilish) July 11, 2018
---
Wednesday, July 11
Spoiler Alert!
Here are the innovations that I'm covering in our "Innovation Cage Match."
CincyInsights – City of Cincinnati – In the summer of 2016, the City of Cincinnati experienced a unprecedented spike in heroin overdoses. In response to this epidemic, the City of Cincinnati began analyzing emergency medical services (EMS) response data to identify trends and geographic "hotspots," helping public safety identify key areas for strategically deploying personnel and medical resources.
Note: the data populating this dashboard is a subset of Emergency Medical Services (EMS) Response data (EMS dashboard can be found HERE). This data captures CFD responses to reported heroin overdose incidents, and does not include patient information or medical outcome data.
Podcast: Harnessing the Power of Data with Leigh Tami, Cincinnati, OH
Stay Interviews – Bye Bye Bye BYE BYE! Conducting Exit Interviews In Your Organization and How Smart Governments Are Competing for Talent
Grandparents Park – 8 Domains of Livability Case Study, Grandparents Park, Wichita, Kansas
Postcards – Using behavioral science to keep San José clean – City of San Jose and Behavioral science is quietly revolutionizing city governments
Plowing Through Data – Civic Hackathon: Plowing Through the Data and Podcast: Innovation Doesn't Have to be Fancy with Sam Edelstein
---
Sock It to Me!
I'm giving away the exclusive ELGL socks to NCLGBA attendees! You read that right. Be one of the first people to tweet me, ELGL50, and #NCLGBA18 an example of local government innovation in North Carolina and you win!

---
Top of the Hill
Kirsten and I landed in Chapel Hill just in time for the announcement of the new Chapel Hill, NC Town Manager. Full disclosure: We were disappointed the announcement was not on public access TV, yes we did check.
Congrats to Maurice Jones for landing the top gig in Chapel Hill. Maurice served as city manager of Charlottesville, Va., since December 2010, after serving as the assistant city manager for several years. Charged with leading Charlottesville's community relations efforts, Jones was instrumental in conducting a community race dialogue initiative, establishing a robust workforce development program, developing affordable housing policies, and carrying out a government operations efficiency study
What's so special about the Chapel Hill gig? Cal Horton, former Chapel Hill, NC Town Manager, described his experience in this ELGL feature.
Town employees in Chapel Hill always were at their best when they were needed most. They led the way to reestablishing a sense of normalcy by restoring order and services. For example, police officers and fire fighters completed an initial community conditions surveillance only a few hours after Hurricane Fran destroyed the Town's communications and power systems and blocked most streets with debris from over 10,000 felled trees. Public works crews were clearing streets to restore mobility even before the last winds of the storm were over. Sanitation workers collected refuse from 97% of all residential service routes only three days after the storm struck. Other Town employees climbed over debris fields and went door-to-door handing out leaflets to inform residents of emergency communication procedures.
Cal shared even more in the Takeaway Part I and II and Cookingham Connection.
---
Random But Funny Videos
These videos are in no way related to the conference but they are worthy of your time.
---
---
Btw, this was at a zoning meeting for Portillos in Davenport, Iowa. pic.twitter.com/9yYbvcZyr8

— Collin Strajack (@collinstrajack) July 10, 2018
---
Libertarian speaks out in favor of legalizing paid handjobs at town hall meeting pic.twitter.com/zFSfZtW1G0

— WildGoose (@WildGoose1776) July 7, 2018
---
BINGO!
---
Future ELGL Member?
Future ELGL member? Ashley Kavanaugh, wife of President Trump's pick for the Supreme Court, is the Town Manager of Chevy Chase Section 5.
He met his wife, Ashley Estes, when she was personal secretary to President George W. Bush while Kavanaugh was also working in the White House. Currently, she is Chevy Chase Village (Md.) Section 5 town manager.

---
Monday, July 9
Spoiler
Close your eyes and erase your recent memory if you don't want to know about the swag being handed out at the NCLGBA Conference. Because, here is an exclusive, never before seen picture….


---
Atlantic Beach, NC
Just in case you fall in love with Atlantic Beach during NCLGBA, we have a solution for you. The Town is hiring for two positions: Planner and Recreation and Special Events Director. P.S: Atlantic Beach has a great looking website.
If Atlantic Beach is your scene, check out other job openings on the ELGL Job Board and ELGL Jobs Facebook group.
---
Sunday, July 8
3 Days in a Windowless Room
We loved our first appearance at the NCLGBA Conference in 2016 so much that we're headed back for more. I mean who wouldn't want more of this.


My only complaint about this wonderful NC association is their acronym is awful. I urge them to consider changing to UNC-B(udget). You'll gain built-in name recognition.
Speaking of conferences, there is hot debate raging in the ELGL Facebook group about the best and worst professional association. The topic was brought up by an ELGL member who wasn't getting as much value as she wanted from the ICMA Annual Conference.
The best comment so far in the discussion….
Whatever you do, work to find something (almost) as creative as ELGL's conference offering…3 days in a windowless conference room is bruuuutal, no matter the subject…
ELGL members can ready the thread in its entirety, which includes a number of recommendations for conferences that are reasonably price with engaging content.
---
Who Are We? Why Are We?
This is always a great question to ask yourself. I think/hope that the who is obvious. As for the why, Kirsten, Jay Dawkins (Public Input), Ben Kittelson, and myself are a cage match.
When I think about cage matches, I think about wrestling. When I think about wrestling, I think about GLOW (season two is excellent) and this guy…

This cage match will be real. It'll be full of audience participation (don't worry no trust falls) and innovative ideas. What is an innovative idea? The audience will be judge of that.

---
The Crossover
We have a lot of crossover in our membership, although we have socks and NCLGBA doesn't. Here are a few features of ELGL features of NCLGBA members.
Note: Please do not send me clips of the Randolph Childress crossover.