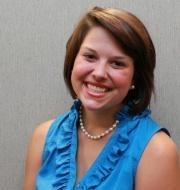 We're back with the new "New Sensation" feature. We've updated the questions based on your feedback. You'll now learn about the best YouTube videos on the web, read about gift ideas for the holiday season, and learn about the career accomplishments of our new members.  As a reminder, we developed this feature to introduce you to new ELGL members and as a way on connecting ELGL members with similar interests.
Vitals
Kirsten Silveria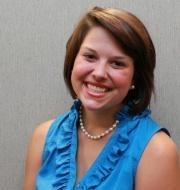 University of Kansas Master of Public Administration, Student
Education: Colorado State University, B.A, Political Science and University of Kansas, Master of Public Administration (MPA), Local Government Management
Experience: Budget Division Intern, City of Olathe, Economic Health, Environmental Services and Social Sustainability Intern, City of Fort Collins, and Director – Central Region, The Can Kicks Back and Political and General News Intern, Fort Collins Coloradoan
An Ethan Allen scholar, Kirsten graduated from Colorado State University with a B.A. in Political Science. At CSU, Kirsten held a variety of leadership positions including News Editor of The Rocky Mountain Collegian and President of Zeta Tau Alpha Sorority. She is also a member of Pi Sigma Alpha Political Science Honor Society. Kirsten has held internships with The Fort Collins Coloradoan, Stratton-Carpenter & Associates, a Denver-based political consulting firm, The University of Louisville's Center for Sustainable Urban Neighborhoods and the City of Fort Collins Economic Health Office. Kirsten is an intern with the City of Olathe budget division.
Lightning Round
Tell us about three of your biggest accomplishments.
Being selected to attend KU's MPA Program: I am currently a member of the KU program's 13-student cohort. It's inspirational and enriching to be a member of the number one program for local government management in the country.
Signing up for my first 10K: Running started out as something I kind of hated, but now it's my stress reliever and "me time." Training for and running races is a big personal health and happiness accomplishment. Also, I've made lots of new friends through my running groups!
Going to D.C. to support a bi-partisan debt solution: As a member of the Colorado Steering Committee for Fix the Debt, I got to go to Washington D.C. to talk to representatives about the importance of a comprehensive debt solution. Often, our generation gets forgotten during these conversations – but our role is important, we are future job holders, tax payers and involved citizens.
Note: Kirsten's speaks 0:54 into the clip
(Complete this sentence) I feel old when I…….. flip past kids tv channels, where have all the good shows (like Arthur) gone?
Tell us about two mistakes that you've made that we can learn from.
Not being a fly on the wall: The beauty of being an intern is the candid exposure. You're invited to meetings and conversations for the mere purpose of learning from the people in the room. As an eager person, I naturally want to contribute and do my part – however, I've learned to take advantage of the opportunity to just listen and learn.
Being a "yes man": I always say yes for two reasons: I like to help people and I enjoy being challenged and busy. I am beginning to understand and appreciate the importance of down time and, also, realizing that people won't think less of me for being honest about my time for additional commitments.
Give us three of your favorite YouTube videos.
Surprised Kitty (Original): how do you not love surprise kitty?
David After Dentist: is this real life?
Monica Conyers, Ken Cockrel Outburst because this is ridiculously entertaining.
As part of being an ELGL member, we give you a chance to redo or change any part of your life. How would you use it? (Note: My life is perfect, I am perfect, I would never change anything is not an acceptable response.)
I'd like to utilize my ELGL resources and experiences to better connect the theory I'm learning in the classroom to day-to-day public service. My MPA program focuses on just this, but I think I can always improve on my ability to make those connections.
Our annual conference will be held in October 2014. Name three topics or speakers that should be included on the conference agenda.
Performance Budgeting
Public Facilitation
Community Engagement
(Complete these phrases) Best thing about the….
80's was……. Neon.
90's was…… Scrunchies? No, just kidding –  I'll go with Hillary Clinton.
00's was….. Going off the college, getting involved on campus and joining Zeta Tau Alpha, where I made amazing memories and lifelong friends.
Last year was….. Taking up running – now I'm training for a ½ marathon!
Today is…. Catching up on some Parks & Recreation before class, best show ever.
Name three of your mentors and describe them in five words.
My Grandfather: wise, inspirational, caring, public servant.
Susan Opp, professor at CSU: Invested in her student's success.
John Gilderbloom, Director, Center for Sustainable Urban Neighborhoods: Helped me identify my passions.
What's your least favorite thing about humanity? Lack of tolerance.
How can ELGL best contribute to the public sector?
By inspiring and supporting young public servants. I think ELGL has the ability to cultivate an environment of idea sharing and mentorship and that this culture will produce committed local government professionals.
Spring break or spring training? Which is better? I'll have to go with Spring Break, only because this is my last one ever.
Fast forward one year, what will factor into your decision on whether to renew your ELGL membership?
If I can identify relationships built through my involvement with ELGL. I am a big believer in the power of organizations to enrich the lives of their members.
Give us two ideas for attracting and retaining talented individuals to the public sector.
First, I think working with local governments to market what they do and why they do it will garner interest in the public sector. I think there is a lack of understanding about what actually happens inside the walls of city hall. The city I currently work for, Olathe KS, hosts a 3rd Grade Program to teach kids about what their municipal government does.  I think all governments can do their part to teach individuals about careers in public service.
Second, once there is knowledge about public service careers, local governments could commit to creating contact opportunities for teens and undergraduate students. Internships, practicums and apprenticeships could be created in collaboration with high schools and universities. I did a practicum with the City of Fort Collins during my undergraduate career and that experience really solidified my decision to pursue a career in local government.
What questions should we have asked?
Why have you chosen a career in public service?
What one question you have about ELGL?
Could local/regional ELGL groups meet for happy hours? That would be fun networking!
Supplemental Reading