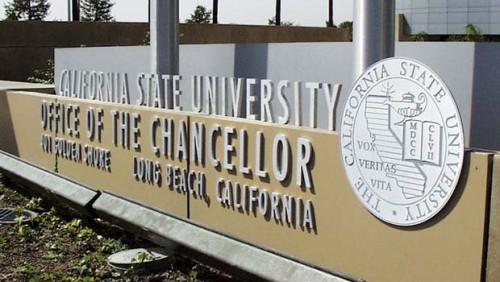 [youtube http://www.youtube.com/watch?v=6jujG5X9iZs&w=560&h=315]
Since ELGL is not a big fan of icebreakers and since we would rather not know what animal you want to be, this blog feature will serve as a means of introducing new members. While you won't learn about their favorite animal, you will learn about their ideal Sunday morning, which dead people would they FaceTime with, and which song best describes their life.
Most interesting project you've worked on in your current position:
I initiated an annual externship program where we host a few graduate MPP/MPA students and give them a fully immersed week of CSU administration experience.  The week includes shadowing and meeting with system executives, workshops, special projects, a campus tour and meetings with campus leadership, and other miscellaneous activities.  I've enjoyed managing this project because it helps attract future leaders to our organization, provides an opportunity to tell our story to folks who wouldn't otherwise know it, and teaching others about our organization and mission reinforces my belief in what our team does.
What do you think about when you are driving to work/school?
I'm usually on my bike, so I'm thinking about how lovely the ocean looks and people watching if I'm on the beach bike path.  If I'm on the road, I'm usually preoccupied with trying not to get "doored" or mowed down by unobservant drivers.  Oh and managing my speed so I arrive early without being too sweaty.
Most recent concert you attended:
Gosh…err.  Now I feel old.  With a newborn and three year old at home we don't get out much.  I think I took my wife to see Rogue Wave in Santa Cruz in 2011?  Does that count?
[youtube http://www.youtube.com/watch?v=h_PKfoJQLmg&w=560&h=315]
What sites are bookmarked on your internet browser?
Soma FM
Chainlove (Bike Supply Bargains)
Amazon
LinkedIN
NPR
Google (Mail, Reader, Calendar, Drive)
Too Many Public Sector Job Resource Sites to Mention
Before I die I want to…..
See my children grow up to live rich, productive lives.
Proudest career/school accomplishment:

In 2010 on my birthday, the City Council of Watsonville adopted the 2008-2013 Housing Element update after I made a robust staff presentation, numerous community outreach and planning workshops, extensive environmental review, and many hours on the phone with the state department of Housing and Community Development.  My first daughter was born the next day.  How fortuitous to have cleared my plate just in the nick of time!
What song best describes your life?
Marathon – RUSH
[youtube http://www.youtube.com/watch?v=rP58U_R3gK0&w=420&h=315]
Suggest two or three topics for the ELGL Annual Conference at the Kennedy School on October 4.
Mentoring in the digital age.  How intergenerational relationships can enhance productivity and prospects for both seasoned and emerging leaders.

Cross-Sectoral Careers.  How to successfully navigate career transitions from different public agencies and fields (federal, state, local, other sectors) during tough economic times.
If you could FaceTime or Skype with three people either dead or alive, who would they be?
Brian Jacques
Robert Reich

Does fictional count?  Ron Swanson
Your work/school mentors:
Greg Larson, Town Manager – Los Gatos, CA
Rodney Rideau, Sr. Director of the Budget – CSU
Favorite thing to do on a Sunday morning:
Since sleeping in is no longer an option, I'll go with take my kid for a nice beachfront run in the jogging stroller.
(Fill in the blank) Government is…..
when managed efficiently, effectively, and equitably, a powerful tool for strengthening society.
(Fill in the blank) ELGL is….
a fantastic resource for young and emerging professionals to connect and share ideas.
Is there any question I should have asked you?
The meaning of life, but it's a secret anyway, so we're good.
Previous Profiles