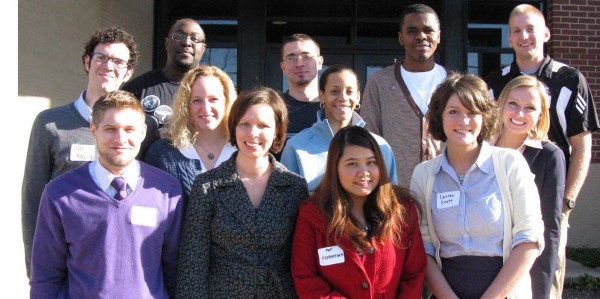 [youtube http://www.youtube.com/watch?v=6jujG5X9iZs&w=560&h=315]
Since ELGL is not a big fan of icebreakers and since we would rather not know what animal you want to be, this blog feature will serve as a means of introducing new members. While you won't learn about their favorite animal, you will learn about their ideal Sunday morning, which dead people would they FaceTime with, and which song best describes their life.
Lauren Stott
Administrative Intern, Village of Montgomery, IL
Northern Illinois University MPA Student
The DeKalb Daily Chronicle, Writer
Contact: [email protected] or Twitter: @Lauren_T_Stott
Most interesting project you've worked on in your current position:
Analysis of our public works department's overtime data
What do you think about when you are driving to work/school?

Everything that I have to get accomplished for that day
Most recent concert you attended:
Passion Pit in Chicago
[youtube http://www.youtube.com/watch?v=9aJQJhp1nqU&w=560&h=315]
What sites are bookmarked on your internet browser?
Proudest career/school accomplishment:
Securing a $100,000 grant for a new comprehensive plan in our community.
What song best describes your life?
That is a tough question! I might have to get back to you…
Editor's Note: No answer means we pick the song.
[youtube http://www.youtube.com/watch?v=LquCb6I0FB8&w=420&h=315]
Suggest two or three topics for the ELGL Annual Conference at the Kennedy School on October 4.
Affordable sustainability initiatives for municipalities
Labor relations basics for young professionals
If you could FaceTime or Skype with three people either dead or alive, who would they be?
Politician Hillary Clinton
Actress Roseanne Barr
Former EPA Administrator Lisa Jackson
Your work/school mentors:

There are too many to count! I am lucky to have a strong network of help in my career.
Favorite thing to do on a Sunday morning:

Get caught up on work to ensure a productive and not-too-stressful week
(Fill in the blank) Government is…..
changing for the better
(Fill in the blank) ELGL is….
a great resource! I am happy to have been exposed to ELGL and I think it is on its way to great things.
Is there any question I should have asked you?
Nope, great list
Related Links: