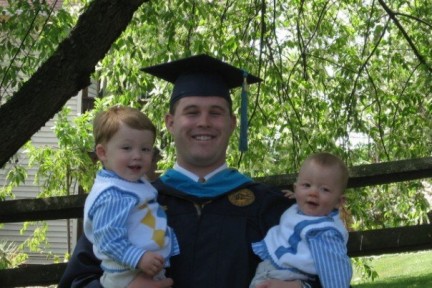 Since ELGL is not a big fan of icebreakers and since we would rather not know what animal you want to be, this blog feature will serve as a means of introducing new members. While you won't learn about their favorite animal, you will learn about their ideal Sunday morning, which dead people would they FaceTime with, and which song best describes their life.
Name: Scott Pingel
Current Position: City Manager, City of Dayton
Education: West Virginia University

LinkedIn: Profile
Q&A with Scott
Tell us about three projects that you are working on.
The City has been doing a lot of smoke testing in our sewer system to identify inflow and infiltration issues. Some of the worst sewer line in town has been identified, and we are working on getting that line replaced and upsized. The challenge with this particular section of sewer line is that it is down an alley way that hasn't really been kept an alley way. Property owners adjacent to the alley way have fenced it in and put garages on it, etc, so we are working with all of the property owners to coordinate the project. Most of the property owners will feel very little effect of the line replacement because we will pipe burst most of it, but there are a few structures that will need to be lifted or removed in order to complete the project.
In Dayton our main water source is from natural springs. A few years ago the City received a positive eColi test, so the springs have been offline for a couple of years. We are working on getting the springs rehabilitated and improved so that we can bring that water source back online, and possibly get even better production out of them. The project will also include replacing some of the oldest waterline in the downtown area. The total project is about $1M.
Dayton has done a really good job getting various plans up to date. In the last several years, Dayton has updated or established a Wastewater Facilities Plan, Water Master Plan, Parks Master Plan, updated the Employee Handbook, etc. My challenge coming in is to put those plans to work. Most of the major capital projects for the City have been identified and some even priced out. Over the next several months we will take those plans a step further. We will prioritize projects and develop a plan for how we will pay for the projects to be completed and in what timeframe.
(Complete the sentence) Before I die I want to…Take my wife to tour Europe and take my wife through the different areas I served in the Philippines.
Describe the inside of your car: 
There's not much inside my car. It is basically tidy and clean. Just a handful of old CD's I've burned with my favorite songs on them.
Your work/school mentors:
One of my mentors is my first City Manager in Federal Way, WA, Neal Beets. He is now a City Manager on the east coast. He continues to support and encourage me as I move through my career.
Another major mentor is Jerry Carlson. He was my Finance Officer when I was in Stanfield, OR. He had served the City of Stanfield as the City Administrator until the mid 90's. He retired and returned to the City part-time. It was great working with him. Stanfield was my first City Manager job. His steadiness and institutional knowledge of the City along with my youth and excitement made for a great team.
My biggest mentor will always be my father. He manages the BYU Creamery, and I haven't yet met a better leader. He and the people under his purview are more productive than any other person or team I have ever known. He is not a forceful leader, but those he works with would do anything for him because he is great at building relationships and setting expectations. I want to be that kind of leader.
Best tip for improving a resume.
Keep it simple. Address what you bring to the table besides a degree or certification.
Most recent concert:
Besides County Fair type stuff, the last real concert I attended was Summer Jam 1999 at Franklin Covey Field in Salt Lake City. It was the summer after I graduated from High School. Headliners were Tyrese, Maya, Naughty By Nature, and Busta Rhymes.
If you could only visit five websites for the next year, which ones would you choose?
Youtube.com
Fidelity.com
Byutv.com
lds.org
Maybe a news website, but I don't have a favorite at this point.
Proudest career/school accomplishment:

I am very pleased with my role in Stanfield's Water System Improvements. The project includes a new 1100 foot well, 7000 feet of distribution line, a new million gallon reservoir, and new booster pump stations. The total project is almost $4M, and the City will only end up having to pay on about $1.2M. We were able to secure a great funding package. The project wasn't quite complete by the time I left and started in Dayton (they still had the booster pumps to go), but it was close enough that nothing will stop its completion, and it is something I will always consider a major accomplishment.
What song best describes your life?
At first, I was really tempted to write "I Don't Wanna Be A Player" by Big Pun (just kidding), but I think I will have to go with "Dad Life" by these 4 random guys on youtube.

[youtube http://www.youtube.com/watch?v=DOKuSQIJlog&w=560&h=315]
If you could FaceTime or Skype with three people either dead or alive, who would they be?
I would love to skype my two grandpas. My Grandpa Nelson died before I was born, but he has always been one of my heroes. He was a POW in Japan for about 18 months during WWII. He wrote quite a bit about his experiences there, and they are great and horrific all at once. My Grandpa Pingel died when I was 11. I would love to talk with him as well. I would also like to talk with my oldest son, who died just minutes after he was born.
Suggest two or three topics for the ELGL annual conference.
Getting a job in the current economy.
How volunteering can open employment doors.
Favorite thing to do on a Sunday morning: 
Make breakfast for my kids.
Government is…..unfortunately necessary. That's why we need to make it as practical and effective as possible so that the wonderful freedoms of this country are enhanced and not diminished.
ELGL is….a great network and resource for navigating the early years of your career, and a great way to stay connected to the next generation in the mid to late years of your career.
What question(s) should I have asked you?

You should have asked about my family.
I love to brag about them. My wife, Lindsey, and I have been married for over 10 years. We have 4 children; Easton (7), Lucas (6), Max (4), and Ginny (2). Our son, Michael, that died just after he was born, would be 9. It is so awesome to see them grow. It is wonderful to be their father. It is amazing how different they all are, but how like their parents they all are.
Supplemental Reading
Stanfield city manager to move west
CDBG Grant and Safe Drinking Water Loan Boosts Water System Improvements in Stanfield
Federal Way court offers mediation service without judges or lawyers
Green is the goal for Federal Way
Previous Profiles