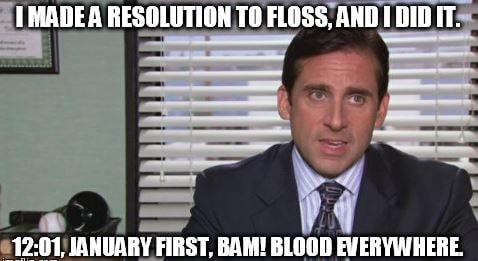 Today's Morning Buzz is brought to you by Matt Horn, the Director of MRB Group's SmarterLocalGov initiative. Follow Matt on Twitter and LinkedIn.
What I'm Reading: The Five Dysfunctions of a Team by Ted Lencioni
What I'm Listening to: When I'm not listening to the latest GovLov podcast, I'm probably working through iTunes playlists for Prince or Dire Straits…
Over the last several years, I have moved away from the traditional New Year's resolutions, in favor of perpetual self-improvement. But, this is the time of year when many folks pledge to turn over a new leaf. One or two less chocolate chip cookies…five or ten minutes more on the treadmill…call your Great Aunt Imogene a time or two more often…you know what I'm talking about…
Well, if you're a local government leader, in addition to getting more svelte or improving familial bonds, here are a few things you need to add to your personal improvement plan for the old FY2022:
TRAVEL YOUR COMMUNITY BY BIKE OR FOOT (OR ROLLERBLADE) MORE OFTEN
This one has the added benefit of contributing your personal health goals…as a local government leader, you're so busy. You're moving around from meeting to meeting, and with limited time, you're almost always in your car. This year, particularly when the weather is right, take a stroll from City Hall to your next meeting. Leave a few minutes early. Make mental (or written) notes about what you see and who you encounter. Be sure to soak it all in. The view from the sidewalk is decidedly different than from the windshield of your city-issued 1996 Chevy Caprice…
STOP BY A NEIGHBORHOOD ASSOCIATION MEETING OR TWO
If your community is fortunate enough to have active neighborhood groups, don't wait for them to come to you. Track down their schedule and try to make it to one of each group's meetings this year. You'll learn a lot, and the neighbors will be so appreciative of your time and attention. If you play your cards right, most of these meetings are pot lucks, or at a minimum, have a tray or two of homemade cookies…so, that means another 10 minutes on your rollerblades…
HOST A SENIOR STAFF BOOK CLUB
It's so easy to get caught up in our day to day. Your busy, which means your team is even busier. Any professional development activity performed in concert with your team will pay higher dividends. Pick a book with a topic apropos to issues that your team is wrestling with, give everyone 60 or so days to read it, then spend a little time each management team meeting discussing a chapter or two. Then start over with a new book! Your staff will enjoy it, and they'll get a lot from the discussion…
ENCOURAGE (AND PARTICIPATE IN) STAFF VOLUNTEER HOURS
If your organization doesn't already do this, find a way to make it so…volunteerism is good for the soul, and good for the community. Volunteer as a team if possible, and find a way to spread the hours out over a few worthy causes in the community. Your team will learn so much from integrating into the great work performed by local agencies, and the community will shine from all of your efforts!
PERFORM QUARTERLY (OR MONTHLY) PERFORMANCE CHECK-INS
As a local government rock star, you're no doubt already performing regular annual performance evaluations…but what are you doing in between? As part of your annual process, be sure to set specific, measurable, actionable, reasonable, and time-oriented goals. Once that's done, don't presume that things are moving. Check in with your team regularly, ask how things are going, ensure that your staff has the resources they need, and that progress is meeting (or exceeding!) your expectations…
Chances are, most of you are doing these things regularly anyway. But, writing them down reminded me that I need to do them more often…so there's that…Happy New Year!