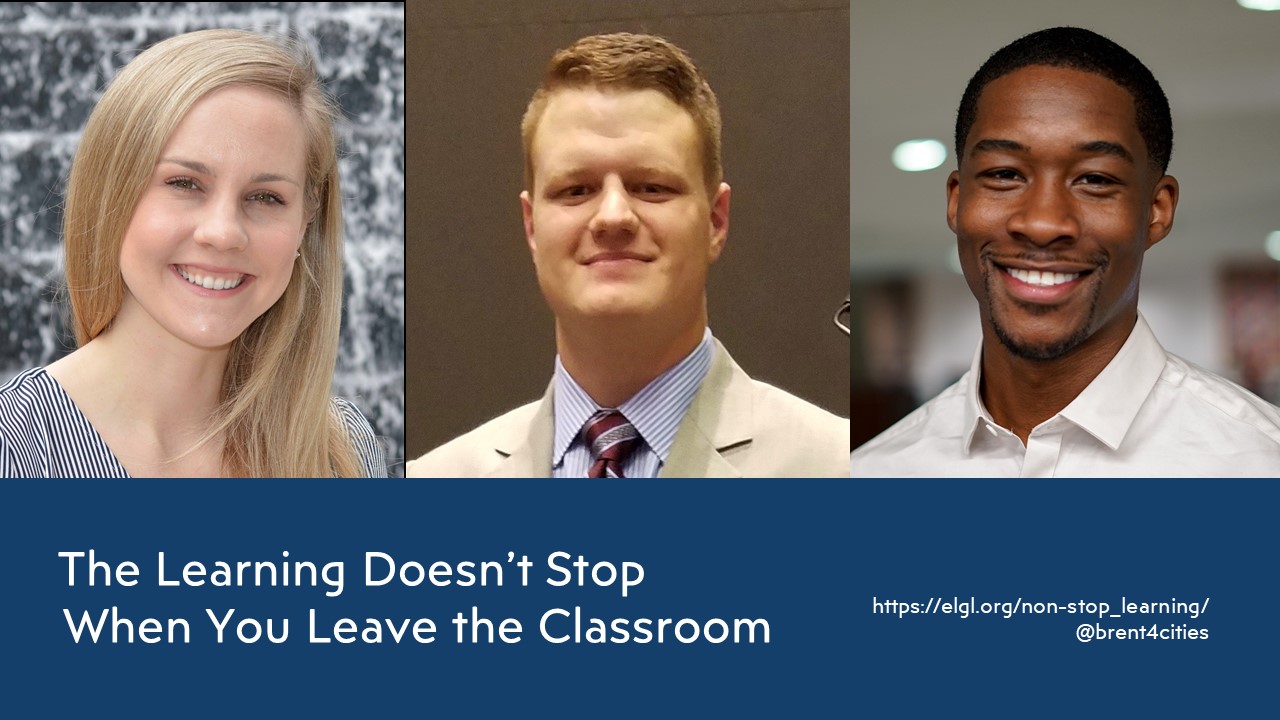 Today's Morning Buzz is by Brent Stockwell – connect with him on LinkedIn and Twitter!!!
---
Listening: The Mowgli's Stop Fighting Yourself
and Spotify's This is The Mowgli's
Watching: Ted Lasso on Apple TV
Reading: Jenn McKinlay Cupcake Bakery Mystery Series
(It's based in Scottsdale)
The Learning Doesn't Stop When You Leave the Classroom
I have been thinking a lot about the future of the local government management profession. We've got to keep given recent graduates the opportunity to succeed, because the learning doesn't stop when you leave the classroom.
I thought it would be a good idea to interview several people in our office. They are the future of our profession. Today's Morning Buzz interviews Megan Lynn, senior management associate; Shane Stone, management associate; and James Johnson, Marvin Andrews Fellow. (Responses have been edited for brevity).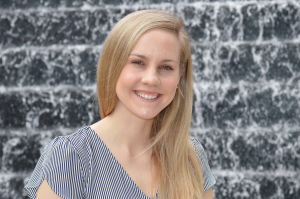 Meet Megan Lynn
Brent: Megan, you've been out and, in the workforce the longest. When you got your degree, what did you think your career would be like in five years?
Megan: I graduated with my Master's in Public Policy from Arizona State University five years ago. My focus in graduate school was on healthcare policy. I really enjoyed learning about our health care system and ways to improve it. But the opportunities after graduation came from the state level. So, I started public service at the state level. I did that for a couple of years and I liked the bigger picture policy side of it.
But I realized over that time that I was a very, very small cog in, a very big wheel working at that level.
But I realized over that time that I was a very, very small cog in, a very big wheel working at that level. I really wanted to get more down to the level of where I was seeing change happen. Not necessarily just recommending it, but being part of the change. The best way to get down to where the changes are happening is local government. I found the management associate job in Scottsdale and have been here for about 2½ years.
In local government you definitely have a lot more face-to-face experience with what government really looks like in the change that is happening. You have daily conversations with citizens and can connect them with the right resource and can make a change even if it's a small thing.
Brent: What's been the biggest surprise or biggest thing you've learned as a management associate?
Megan: I've learned to manage a lot of different projects and move them forward and do them well. I came from a job where everything was laid out to where I knew exactly what my day would look like and that very, very rarely changed. In my current job, I can have a set plan for the day, and then I get a call from a citizen or a project from an assistant city manager or city manager and I need to shift focus very quickly but also continue working on what I'm working on. I've learned the value that I can bring to the organization.
I think that that a lot of us that go into the public service have an idealist mindset.
I think that that a lot of us that go into the public service have an idealist mindset. And I don't think I'm alone. When you're going into public service, especially when you're getting your master's degree, you want to go out and change the world. Then you hit the workforce and a lot of times you realize that you might not be able to have as much impact as you want to.
I think that's because we're reading these textbooks that really give the high level and the end story, but you don't really experience the nitty gritty and day to day challenges and hard work that go into those. But I think, especially in your 20s and 30s, you hit that stride where you're working on the kind of the day-to-day work that it takes to get those bigger successes that you long for when you're in school. That realization helps me even though sometimes I have those hard days, to also celebrate the small wins that are eventually going to get me to the bigger wins in my career.
Brent: What has been your favorite project to work on?
Megan: I think people wise I really enjoyed leading the High Performance and Innovation Team. That really helped me develop some really good deep friendships and colleagues within the city. From a professional standpoint it helped me practice that idea of lateral management and build the relationships to move things forward from a project perspective. I have also really enjoyed working with our different interns and fellows, like James. And our interns working on their summer project with them and overseeing that. I really like mentoring and that aspect of working with others in the city manager's office.
Brent: Yeah, that's really cool. I'm glad you mentioned that because you think in just the 2½ years you've been here, you've worked with Mikayla, Rachel, Allegra, Thomas and now James. All in that time period. There's a lot of people that have been able to come and learn with you during that time.
Megan: That's pretty exciting. And I've been able to definitely learn a lot from them too. For example, Mikayla, from her design perspective. So, it's learning both ways, which I've really appreciated. This has helped me ground myself in what I need to be a good supervisor.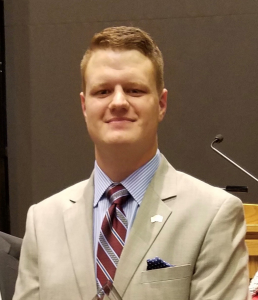 Meet Shane Stone
Brent: What about you Shane? What's your story?
Shane: I went to grad school looking specifically to work in local government. Like Megan, I worked in state government from a very big picture perspective and was thinking, OK, I'm going to go out
there and immediately changed the world. I pretty quickly realized that if you're trying to change the world in a big picture right out of the gate, that's not going to happen. The real change happens in in the details and in working closer, in the community close to the delivery of services. With that in mind, it I knew I wanted to work in local government soon after graduate school. I graduated in May 2019 from the University of Oklahoma.
As I was looking for jobs in local government soon after graduation, I really honed in on Scottsdale. It's the place to be, it's a very well run city and it's a great community. That's what drew me in. The biggest surprise for me, was the impact of culture within the organization.
My prior job had almost absolute freedom. But I expected my first job in local government, I think I expected it to be a bit more — and I wanted to say this right — but I think I expected things to be a bit more robotic than they are. I found that local government really allows you to be who you are. So I was surprised by that and by the warm welcome that I received when I came to Scottsdale. There are opportunities to find something that that really lights fire in you, and a chance to go chase that.
There are opportunities to find something that that really lights fire in you, and a chance to go chase that.
Brent: What has been your favorite project to work on?
Shane: My favorite thing to work on is the High Performance and Innovation Team, including the Bloomberg Innovation training just because of impact that those can have on the culture – the culture that I just raved about. When you think about bringing innovation into that and in Scottsdale continuing the culture of innovation. That's really building that fire, that's exciting as much as anything.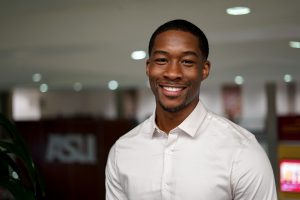 Meet James Johnson
Brent: Now let's turn to James, the newest member of the team. What drew you into local government and getting your degree. What you'd like to be doing five years from now?
James: My journey to local government started as a college senior. At that point I was a history major. I thought I want to be a history professor and I was going to go on to enrich the lives of the youth through my education and knowledge. But once I get to my senior year, I realized I had to have a conversation about what was important to me. After having conversations with a lot of family and friends I knew that history was a subject that I liked, but it wasn't necessarily something that I saw myself doing for the long term. I started looking into what else was out there. I had a friend who was in the urban planning program and I liked playing SimCity. So the rest is history.
One of my advisors and told me about the Marvin Andrews Fellowship, which is designed for Arizona State University graduate students interested in local government and who want to become city managers. I applied and got in, and from there it was like drinking right from a fire hose. Once you start getting into the details, you realize there's a lot that goes into it. The reason why I like local government so much I see a career in this is that I view it as honorable profession. You are working on behalf of people who probably never meet and you. Like the Sims in SimCity.
Your work being meaningful in a way that you'll be able to see, not only the people, but the environment that you're in. That's how I got into local government, and hopefully this is where I'll be for the next 20-30 years.
Brent: You've been with the city for about a month now. What's one thing you've learned so far?
James: OK, so when I said that it's like drinking from a fire hose. It has not stopped. There's so much learn that's probably one of my biggest, biggest lessons that I've learned in this month, is that? People have spent a good amount of time and have experience that can't be duplicated through school. So that's one of the biggest things I actually like. What I enjoy about working with you all is that I can rely on your experience and knowledge to guide me through what I need to do.
What I enjoy about working with you all is that I can rely on your experience and knowledge to guide me through what I need to do.
Scottsdale gets kudos. She gives me all the resources that I could ask for. I feel supported in the projects. It's not something heaped on me, it's a learning experience that you guys are providing for me. So, that's been one of my biggest surprises. The learning does not stop. In fact, it kind of accelerates based on the project you're working on. Right now I'm working on the sustainability project. I didn't know anything about sustainability before. Now I feel like I'm going to get a good amount, so it's one of those things.
Brent: And by October 13th you'll be an expert.
James: Yes, yeah, you know, I think.
The Learning Doesn't Stop When You Leave the Classroom
Brent: Yeah, I think that's great. The learning doesn't stop when you leave the classroom. I think one of the things we're looking for is for you to learn and to become an instant expert on whatever you do. When I was doing Megan's reference checks, one of her references said they felt that they could give her pretty much any assignment, and then, with a little bit of diving in, she became an instant expert on it. That sold me 100% on her, because that's what we're looking for.
The other thing you did a good job of reminding me about was the whole point that we created these positions. First the intern position, then the MA position, and then also bringing a graduate fellow on board. This is all because we really have this commitment to giving people opportunity when they are relatively new in the profession. We want to give them a lot of meaningful exposure and exciting assignments, and to learn to grow and to succeed with those.
So now, I'm hugely appreciative that the three of you are here and that we were able to do that. I really wish I had had this kind of opportunity when I was starting out. It took me 10 years after graduating with my MPA to get a job in local government where I was doing the types of things that you guys are doing right now. 10 years to get a job in the city manager's office. So I'm expecting big things from each of you!
---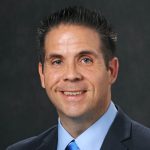 Brent Stockwell is an assistant city manager for Scottsdale, Arizona.  He also served the cities of Mesa, Arizona and Federal Way, Washington. He earned degrees from Kansas State University and the University of Washington. He's happily married with three kids and a mini-goldendoodle. Brent's on Twitter, LinkedIn and sometimes on Instagram.
All views and opinions expressed in this post are solely those of the author and do not reflect the views and opinions of his employer.