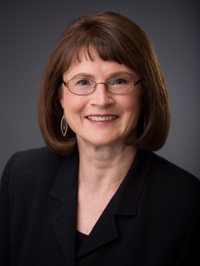 "Off the Stump" is a new feature that will introduce you to the members of the Oregon Legislature. We have invited every legislator to participate in "Off the Stump."   With an important session beginning in early February, it is especially important that we get to know the decision makers who will be working on key legislative issues impacting local and state government. We're also using this opportunity to give you a look into the strange requests that they receive, their holiday gift giving ideas, and what's playing on their iPod.
Related links: Off the Stump with State Rep. Margaret Doherty, Off the Stump with State Rep. John Huffman, Off the Stump with State Rep. Vicki Berger and Off the Stump with State Rep-Elect David Gomberg.
State Senator Ginny Burdick – District 18
District 18 which includes Tigard, King City and portions of Southwest Portland
Ginny Burdick was first elected to the Oregon Senate in 1996, and was re-elected in 2000, 2004 and 2008.
Senator Burdick was elected by her peers as Senate President Pro Tempore in 2011. She currently serves as Chair of the Senate Committee on Finance and Revenue, an appointment she received in 2008. In 2011, Senator Burdick was also appointed to Co-Chair the newly formed Joint Tax Credit Committee. Additionally, she serves on the Senate Committee on Rules, and the Senate Committee on Business, Transportation and Economic Development. In 2005 and 2007, Senator Burdick served as Chair of the Judiciary Committee. She has also served in the past on the Ways and Means Subcommittee on Public Safety, and on the Environment and Commerce committees.
In her non-legislative career, Senator Burdick is a communications consultant, specializing in crisis communications.
Editor's Note: Special thanks to Jennifer Lewis, Sen. Burdick's Chief of Staff and ELGL member, for coordinating this interview.
Questions for State Sen. Burdick
Top three issues facing the Oregon Legislature:

Education funding/tax reform
Top three issues with the potential to impact cities:
Property taxes (Measure 50 and Measure 5)
Will Oregon ever have a sales tax?
When pigs fly — or when a massive education/advocacy program is conducted to educate voters.
Let us into your iPod – what's on your "Recently Played" list? 
Robert Plant and Allison Krauss
[youtube http://www.youtube.com/watch?v=L3Xi5gvZ7Kk&w=420&h=315]
What's the best Christmas gift that you've received? Given?
Received:  
a Lee Kelly sculpture.
Given:  
My yearly contribution to the Cat Adoption Team.
Give our members three tips for communicating with their legislators during session.
Constituents always get priority in our office. Find a constituent in your group to come talk to us when you'd like to present an issue of concern.
Be prepared. Be short and to the point.
Oh, and always be polite to Legislative staff. They are the gatekeepers.
What is strangest request you've received as an elected official?

I was asked to throw the first pitch at a Beavers baseball game.  After some training by my House colleague Larry Galizio and some last-minute coaching by Merritt Paulson, I threw the pitch — and it made it all the way to the plate, or almost anyway.
If ELGL was going to hold a one-day summit in Salem, give us your restaurant recommendations for breakfast, lunch, and dinner.
Who has time to leave the Capitol during Session for meals? The Capitol Café has some great cheap breakfast combinations!
Outside of the capitol:
Breakfast recommendation:  Busick Court or The Sassy Onion
Lunch: Best Little Roadhouse or Jonathans
Dinner: Best Little Roadhouse or Jonathans
Two things you like best about serving in the Oregon legislature. Two things you like the least. 
Best:
The people I represent.  Well informed, engaged and appreciative of my efforts even when we don't agree.
My colleagues in the House and Senate.  With few exceptions, they are there for the right reasons and take their work seriously.
Least:  
8 a.m. committee meetings  
When politics get in the way of good policy
What will be the headline at the end of the 2013 session? 
Here's what I hope:  The Legislature funded schools at the highest level in two decades, thanks to major cost savings achieved through PERS reform, prison reform and health care reform.
Finally, we've wondered many times while we are waiting to have our gas pumped, why can't we pump our own gas? Any chance this changes? 
We can't pump our own gas because of legislators like me who are perfectly happy with the law as it is.  I have only pumped my own gas once and it increased my respect and appreciation for the many gas station attendants in Oregon who would lose their jobs if we changed the law.  I don't see much chance of change at this point.
Related Links