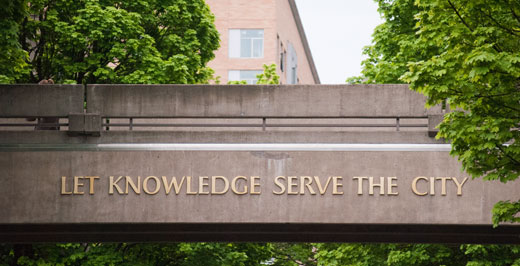 [youtube http://www.youtube.com/watch?v=evMsG8eE8Pg&w=560&h=315]
Graduates from the Portland State University (PSU) MPA program have enabled ELGL to grow to where it is today. PSU played host to one of the first ELGL meetings with Phil Keisling serving as the keynote speaker. Our relationship with PSU has continued to grow which is evident in ELGL being asked to be a contributor for the PSU Center for Public Service newsletter to our co-sponsorship of the conversation with Gov. Chris Gregoire last year.
Background Check on the PSU MPA Progam
The Mark O. Hatfield School of Government at Portland State University has an MPA program, an MPA:HA (Health Administration) program, and an EMPA program. The Hatfield School is among the top 50 Public Affairs graduate programs, according to 2012 U.S. News and World Report rankings. 
Portland State is well-known for its focus on community service and engagement, and the Mark O. Hatfield School of Government is one of the best places to take advantage of the numerous community partnerships PSU has developed. Partnerships and cooperative arrangements exist within the Oregon University System (which includes Oregon State University, Oregon Health & Science University, University of Oregon, and more) as well as with multiple health, human service, community and governmental agencies in Portland, across Oregon, and nationally.
[youtube http://www.youtube.com/watch?v=suWutS5etCU&w=560&h=315]
The Hatfield School has earned a reputation as a producer of well-qualified and passionate alumni. You will be learning with committed students from a wide variety of fields and levels of experience. Through lively class discussions and coursework you will make connections that will further enhance your professional career.
Ten Questions with Dr. Phillip Cooper
Professor, Division of Public Administration
Get Connected: PSU MPA Website,  PA Student Association Facebook Page, PA Alumni Newsletter

Three facts we need to know about the program:
First, our program offers students a range of skill development and specialization classes that includes courses like public contract management, project management, program evaluation, strategic planning, grant writing, and a variety of other classes aimed not only at providing general professional knowledge but useful technical know-how.
Second, we think that professional development is critically important for our students in the local government specialization and work with local government professionals, the OCCMA, and ICMA to help students learn more about the profession and how to develop their career in it.
Third, our regular faculty, practitioner adjunct professors, and our practitioner-in-residence work to bring experience to the classroom in addition to providing the theory base that thoughtful practitioners need to meet changing situations and needs.
Examples of alumni working in local government (name and position).
Many of our grads are ELGL members, but a list of some of our distinguished MPA alumnae working in local government includes Christy Ellis Wurster, Assistant to the City Manager, Salem, OR; Jordan Wheeler, Management Analyst, Lake Oswego, Robyn Christie, City Record, Bend, OR, Jeff Aprati, City Manager, Wheeler, OR, Kelsey Lewis, Assistant to the City Manager, Mt. Angel, OR, Jessica Struyk, Management Analyst, Gresham, OR, Zoe Monahan, Community Development Director at City of Jerome, Idaho, David Snider, Economic Development Manager at City of Sandy, Oregon, Deborah Scroggin, Elections Officer/Management Analyst at City of Portland, Jennifer McGuirk, Performance Auditor in the Multnomah County Auditor's Office, Megan Messmer, Assistant to the City Manager, Florence, OR, and Amanda Lamb, Performance Auditor at City of San Diego Auditor's Office. 
Biggest challenge for those entering the program.
We will ask our students while getting into their coursework to get out into the field to meet with practitioners and get started on their professional development even while they are learning the basics of the profession.
Give our readers three tips on finding the right graduate school.

Pick a school that can offer a range of coursework that includes skills as well as general public administration knowledge.

Pick a program that considers professional development important as compared with simply having students move through the degree requirements.

Select a program that has faculty members with varied academic background that seek involvement by practitioners.
 What would alumni describe as the most difficult part of the program?
We should leave that to our students and alums who are members of ELGL.  They might say that time management is a challenge since most of our students are employed, are engaged in internships, and somehow manage to get through some fairly complex courses in the ten week quarter.  While we offer courses in the evening and on different nights as well as in intensive formats, it is still a challenge to bring everything together – a lot like life in the profession on a daily basis!
Do you recommend prospective students gain a couple of years of work experience before going to graduate school?
Actually, we don't.  We have a mix of pre-service and in-service students.  Many come to local government after they are already in the MPA program just out of undergraduate school while others come to us with that kind of career in mind and perhaps a bit of time out of school.  Other students have been in a career and make a decision to change directions or to move from a technical area to more general public management.  We like the mix of students and find that both pre-service and in-service students bring special kinds of value both to our program and to the organizations they will join in the profession.
ELGL hosts monthly forums, previous speakers include Gov. Gregoire, Oregon Treasure Ted Wheeler, and Bob Moore, and Bob's Red Mill. Provide us a few recommendations, regardless of location, on who we should invite to speak at future forums.
Actually, the list has been impressive and the fact that the conversations have been varied in a variety of ways is great.  Our students and alumnae who are members of ELGL all report that they have found the sessions useful in both substance and as an important vehicle for networking.  You might consider professionals like Phil Messina and Scott Lazenby to talk about similarities and differences in local government in Oregon and Washington since so many ELGL members move back and forth across those jurisdictions during their careers.
Name two skills that entering students are most often lacking.
Among the areas that we've heard most recently are risk management, contract management, and political skills (with a small "p" to quote some of our OCCMA colleagues) which takes into account a wide range of interpersonal and organizational abilities, some of which are talents, but most of which can be learned with education and experience.
Will Oregon ever have a sales tax?
That question goes to Politics with a capital "P", and we'll pass on that one.
General Information
Full-time or part-time program:
We have both full time and part time students.
Number of students enrolled each year:
While our MPA program is large, the local government specialization is running about in the range of 26 to 30 at a time which means about 15 or so new students per year.
In state vs. out-of-state:
We like to have a wide range of students from across the nation and indeed from other countries.  One of the students who recently came to our local government specialization is from Rwanda.
At present we have regular ten week on campus courses, intensive courses that are most often offered in three sessions on Friday evening and during the day on Saturday, and a number of hybrid intensive and Internet courses with some Saturday on-campus sessions and the rest of the work on Internet.
Contact person for prospective students:
Professor Phillip Cooper, [email protected] For more contact information for the Public Administration Division, the Mark O. Hatfield School of Government, the College of Urban and Public Affairs, and Portland State university, visit http://web.pdx.edu/~pcooper/ .