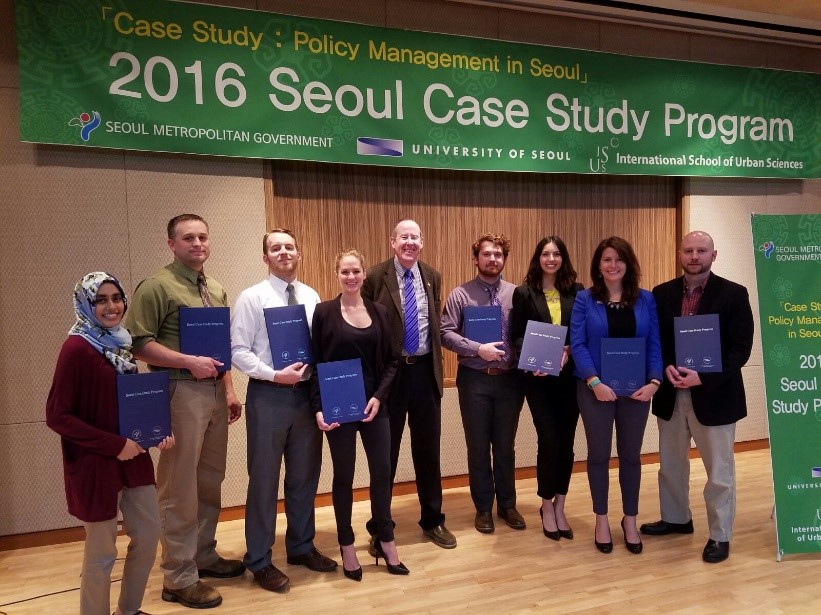 This is the final part of a series following an MPA study trip to Seoul, South Korea. 
Part I: Studying in Seoul with Trevor Minyard
Part III: To Live and Work for the Benefit of All Mankind
Part IV: Seoul's Lump Sum Rental Structure
Part V: Local Government Innovation in Seoul
Part VI: The Divide Between North and South Korea
Part VII: The Internet of Things, Seoul Style
By Trevor Minyard – LinkedIn and Twitter
Program complete!
Today marks my first day back in the office after what was the fastest 10 days of my life. I want to thank ELGL Executive Director Kirsten Wyatt, Kent Wyatt, and everyone at ELGL for letting me hijack the site for the last week. Your commitment to sharing information that benefits local governments worldwide is inspiring; and as we've learned this week, it's worthy of the passion that is found at the Seoul Metropolitan Government! On that note, I'd like to also thank the University of Seoul and the Seoul Metropolitan Government for their hospitality. It is inspiring to be around groups of people that truly care about making government better for their citizens!
Finally I'd like to give special thanks to the students of the universities of Georgia, Rutgers, and Sheffield. You were a great group of people to spend a week learning policy with; I am beyond excited to see what the future holds for each of you. Finally, thank you to my fellow University of Texas – Dallas students and professor:
Doug Goodman and his son, Justin
Alex
Aysha
Chad (my awesome roommate)
Dakota
Greg
Jennifer
Jessica
My sincere hope is that those reading ELGL over the last week glean something from the Seoul Case Study, and if nothing else, you learned that excellence in public service is appreciated not just in America, but worldwide. Most importantly I'd like to thank you, the reader, for tagging along with me this past week.