This company was nominated for a 2017 Haverford Award! Each year, ELGL recognizes the best companies working in partnership with local government. Nominate or upvote a company today!
---
Company name:  
Company web address:  
Company Twitter handle: 
Company LinkedIn profile: 
https://www.linkedin.com/company-beta/3194867/
Primary contact for ELGL members (full name + email address): 
Ebrahim Varachia – ebrahim@patronicity.com
Write a haiku about your services:
Communities first
We build places & spaces
Help to grant & fund
Now share two sentences about what you do:
We work with state governments to run matching grant programs through crowdfunding for local municipalities where citizens vote with their dollars on projects they want to see in their community.
While activating and creating vibrant publics spaces and community places, we are democratizing the access to capital.
If your CEO were a character on "West Wing," who would they be and why?
Please name two ELGL member local governments that use your product/service.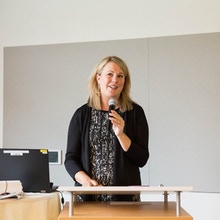 I'm the co-founder and executive director of ELGL. I love my job. Other things I love: local government, my family, my dog Michael Jordan, sandwiches, naps, books, and skee-ball.