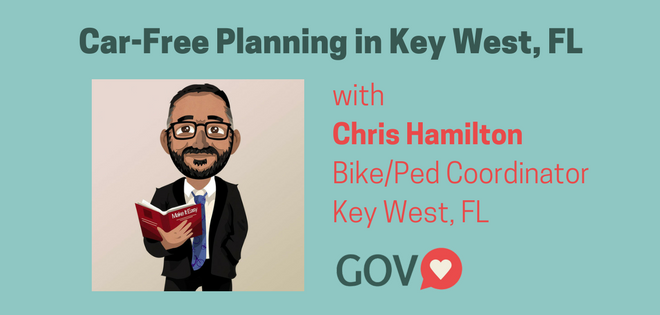 Chris Hamilton
Bicycle/Pedestrian/Transport Coordinator
City of Key West, FL
Bio | LinkedIn | Twitter
.
Chris Hamilton joins GovLove to talk all about car-free transportation, planning and paradise. Chris is the Car-Free Key West program manager and former Transportation Bureau Chief for Commuter Services in Arlington County, VA. He shares how small investments in marketing can impact transportation use, the value of bike share and more.
.

.
Extra Credit
Active Transport for Cities Website
Key West hires bicycle and pedestrian coordinator
12 Easy Tips to Help Local Governments Improve Transportation Options
10 books about fighting for and building people-first cities
10 Tools to Tackle Most Any City's Downtown Traffic and Parking Problems
Energizing People About the Future of Public Transportation