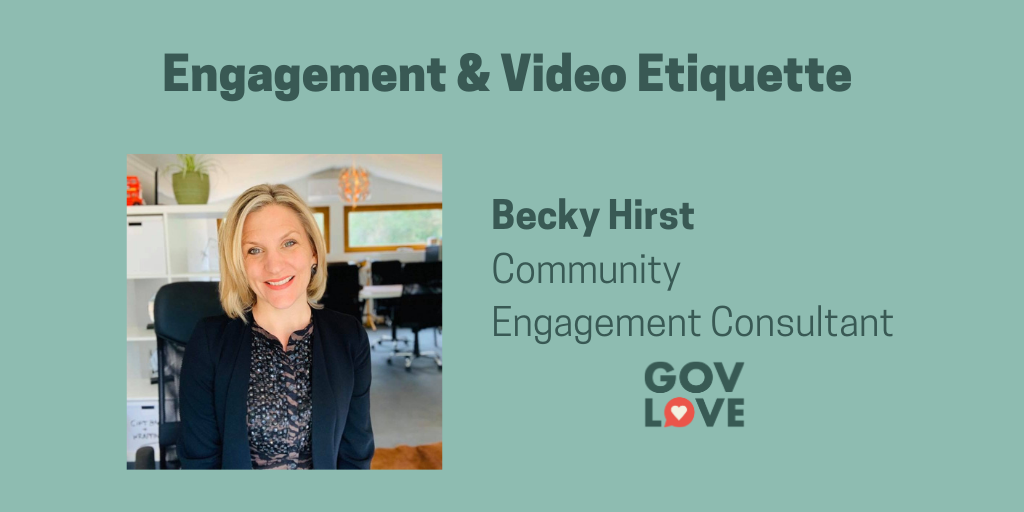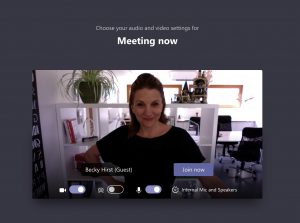 Becky Hirst
Community Engagement Consultant
LinkedIn | Twitter | YouTube
---
Tips for Video Conferencing. Becky Hirst, Community Engagement Consultant from McLaren Vale, South Australia, joined the podcast to talk about her work as a community engagement consultant and her new e-book covering video conferencing etiquette. She discussed how she works with communities to inform the decision-makers by connecting with the community. She also shared the 10 tips for video conferencing in her new e-book such as testing your equipment, rules of engagement, and how to minimize distractions during meetings.
Host: Kirsten Wyatt
---
---
Learn More
Yankililla's Outreach Deepens Engagement
Becky Hirst shares her experience with community engagement
Becky Hirst wins Young Entrepreneur of the Year
NRM is changing – join the conversation on KI
---
Episode Transcript
Message
This is Brian Murphy, ELGL's Data Manager. The ELGL Diversity Dashboard is the first national data collection on the gender, race and age of local government leadership. We're excited to launch our third full year of data collection. This year, we're expanding our collection to include all levels of local government positions, not just Chief Administrative Officers, in an effort to get a better understanding of diversity across a wider variety of local government positions. This year's survey is looking for responses from local government leaders working in many different positions. We look forward to hearing from department heads, project managers, analysts and others as we hope to get data on the diversity of local government leadership. You can find more information on the survey and a link to respond at elgl.org/diversity-dashboard. We hope you'll respond and follow the data as we work to make local government more diverse.
Kirsten Wyatt
Coming to you from Portland, Oregon, this is GovLove, a podcast about local government. GovLove is produced by ELGL, the Engaging Local Government Leaders network. We engage the brightest minds in local government. I'm Kirsten Wyatt the ELGL co founder and executive director, and today I'm joined by Becky Hirst, the author of a new e-book, 10 Video Conferencing Etiquette Tips. Becky, welcome to GovLove.
Becky Hirst
Thank you for having me. Brilliant to be here.
Kirsten Wyatt
Today we'll talk about Becky's new e-book and her local government community engagement work. But first, we'll get started with a lightning round. So what is a food that most people enjoy, but you do not?
Becky Hirst
This is a really good question. I like most foods, but thinking about this and I don't know if you have them in the US. Here in Australia, people are obsessed with alfalfa sprouts, and I cannot stand them. But in Australia, I didn't, I grew up in the UK and I wasn't across the alfalfa sprout phenomenon, but I moved to Australia, and they seem to put alfalfa sprouts in everything on salads and sandwiches. They're just everywhere. So you go to a conference and you have these little triangle sandwiches. And there's alfalfa sprouts in them and I just can't stand them. So yeah, alfalfa sprouts. [Laughter]
Kirsten Wyatt
Well, there often are E coli outbreaks in alfalfa sprouts, I believe, too, so you could just chalk it up to health.
Becky Hirst
I could, couldn't I? I didn't even know they did. They're just disgusting. Yeah. I can't stand them. They're supposed to be quite healthy for you as well, I think. But yeah, no, no, no, not for me. [Laughter]
Kirsten Wyatt
Okay. What is your most controversial nonpolitical opinion?
Becky Hirst
Well, I have plenty of controversial political opinions, but we won't share those here. I'm going to I'm going to keep it on the greenery kind of sprout theme. Okay, again, growing up in the UK, we in England, we are the home of the English breakfast. So the cooked breakfast like bacon, eggs, sausage, baked beans, fried breads, mushrooms, you name it is on that breakfast, but when I moved to Australia, Australians have, and this is controversial for me to say, living in Australia, they put green stuff on their breakfasts. So there's things like avocado and spinach, which I do love. And I'm now kind of in the vibe of living in Australia, you know, you are by the beach and a cafe and you have this breakfast with bacon and egg and some spinach and some avocado but oh it's just not right. It's not right. [Laughter] So another food related one.
Kirsten Wyatt
Well, how do you feel about Vegemite?
Becky Hirst
I can't do it. But I also never liked the English equivalent, which was Marmite. So I'm not a, no, I'm so, I hope nobody from Australia is listening to this. [Laughter] because no, I can't do the Vegemite thing either. [Laughter]
Kirsten Wyatt
All right. And what is a misconception that Americans have about Australians? And then in reverse that Australians have about Americans?
Becky Hirst
Oh, well, I guess the misconception is probably that I will, I was gonna say that everything kills you here, that everything is dangerous, that we have spiders everywhere and that we have sharks everywhere. [Laughter] And I suppose we kind of do. But they're not as kind of crazy as you think. And again, I go back to the UK to see my family. And they have more spiders there than we do here. But just when we do have them here, they're really big. [Laughter] Occasionally, they're really big, and sometimes they'll kill you. So they do. They are there and they can actually kill you. We have, we have all sorts of modern medicine these days. But that's probably a misconception about us. Americans, I didn't say any misconceptions that we have about you. I've never been to America, and it's one place that I really do want to come one day, and I've also set myself a goal. I want to come not just on holiday, but I want to come workwise. I really want to know more about community stuff in a bit. But yeah, I really want to come and do something around community engagement in America. That's one of my goals. So I won't say any misconceptions that I have. [Laughter]
Kirsten Wyatt
Perfect. Well, maybe we'll set a goal for you to come to ELGL 21, our conference next year.
Becky Hirst
Oh Yeah.
Kirsten Wyatt
If we're able to truly get back in person, that would be that would be a great first trip.
Becky Hirst
Yeah. And you know that here in Australia, we're getting back to in person. So we're having a lovely time here now down under, we're just, we've got our borders shut, we've got rid of the virus, and we are just all, you know, we're heading into summer, but we're just waiting for the rest of the world to yeah, either stay home, wash their hands, wear a face mask, do whatever they need to do to get on top of it. And then I'll definitely come, I'd love that.
Kirsten Wyatt
Perfect. And it's going to be in Texas. And so you might as well just go big for your first trip to the US.
Becky Hirst
Yeah. I love it. Go big or go home.
Kirsten Wyatt
Exactly. Well, let's talk about your career path. Tell us more about the work that you've been doing.
Becky Hirst
Okay, so we're here talking about my e-book that I've written, but it's actually sort of loosely based on what I actually do. I'm a consultant in community engagement, and which basically means sort of public involvement or participation of people in decision making. So I am a consultant that works here, mostly in Australia, with local councils, and state government here to help decision makers connect with people or groups or communities to help inform their decision making. So I work with councils, say to help them think about how they'd like to connect to their communities. So it might be that I help them with training or developing frameworks, but I also help them actually implement and roll out really good community engagement to actually get to hear from community what they want from their councils or their state governments. So it's a very interesting job. And I've been a consultant for 10 years here in South Australia, but 10 years prior to that I was working in the UK in similar roles in community engagement and community development and really, kind of working with directly with communities to help them take ownership and pride of where they live and really make their own decisions about where they live. And what happens in their neighborhoods. So yeah, very diverse job because I get to talk about all sorts of different topics, whether it's helping a council with their strategic planning, whether it's a new skate park that's being built, and they want to get insight into you know, what people, what the users think it should be and what you know, what what jumps there should be and ramps through to, you know, new developments going in of housing or business. And, you know, some really sort of hard hitting conversations, sometimes often quite controversial, or politically sensitive. So yeah, very diverse job, but always about communities and community engagement.
Kirsten Wyatt
And how did you fall into community engagement or, or even just kind of more broadly, communications and, and community building?
Becky Hirst
Very interesting. Actually, I'm in the process of writing another book, a full book at the moment, and I'm thinking about this exact topic. How did I end up doing this? Very randomly, I actually have a degree in contemporary dance. So I studied in the UK at the University of Leeds. I was always a dancer, I was always a performer as a kid, and lots of drama and dance and music. And so really, when I went to go to university, there was only one thing for me to do. And that was to learn more about dance. And bizarrely, and I love that. And I'm so pleased that I did it. Quite randomly, in my final year there, my honors year, that the senior lecturer there, introduced the topic of community dance, and using the arts and community to, you know, get people engaged in a topic or something, but using the arts to do so. So we got to do heaps of work experience type stuff, and going out into communities and learning a bit more about community. And then at the, at the old age of 21, as I was back then, I felt tired from dancing. And I decided to drop the dance side when I graduated, and I took up the community side. And in the UK at the time, Tony Blair had been Prime Minister for a couple of years. So we had this kind of real new labor movement happening there. And which meant there was a lot of jobs around to do with social inclusion and community involvement. And so I fell into a job back in my hometown as a community involvement officer. That was back in 1999. And yeah, haven't really looked back, I've just sort of gone on a bit of a journey in different community type roles, to the point that when I migrated to South Australia, I saw a massive gap here for expertise in community engagement. And so just went for it and set up my own business. Yeah.
Kirsten Wyatt
I love that. And it dovetails very nicely with the series that ELGL has been running all year called our Creative Communities Series, where we're looking at the ways that communities can use arts and culture to further engagement. And some of the ideas coming out of that series have been around, you know, everything from performance, to dance, to public art, and all tying back to engagement as a way that art brings us together. So that's fascinating. Yeah, I hadn't realized that.
Becky Hirst
Yeah, I work on some fairly conventional stuff, you know, it's a very conventional topics, but I always try and add a creative or an innovative way to get people involved and always try and give people the space even if it's just to tell their story. And that's just by simply asking somebody an open ended question about a topic or where they live. And people are always wanting to tell their stories about what they've experienced. And and just using sort of slightly different ways to hear from the community. Yeah, it's something I'm pretty passionate about. Yeah.
Kirsten Wyatt
Tell us about a project or an experience that you had that was particularly noteworthy or just really sticks with you, you know, whether it was a major or significant project or outcome, that that really kind of sums up some of the power of the work that you're doing.
Becky Hirst
Oh, okay. Well, I've just worked here with a couple of councils. And you'll love the names of them. The District Council of Yankalilla, which is a regional very, it's a small council as far as population goes. But it's very, Australia is just huge. We've not many people. So it's a small county that's got about 5000 people that live there, but over quite a big geographic area. And then in contrast, I've just worked with the City of Playford, which is a northern suburb of Adelaide. And in contrast, that's got about 95,000 people that live in a fairly small area, so much more dense housing and businesses in that area. So I've just worked with both of those councils on their strategic plans. So they both needed to come up with this sort of plan for the future 10 years from now. Yankalilla, we're doing 10 years from now, Playford we are doing four years. And we basically built in a really thorough engagement process, whereby with both councils, we took a kind of multifaceted approach. So we used online tools to engage, we use some face to face tools and techniques to engage with people. And we also did written tools and techniques that people could just sort of fill something in and send it back to us. And the amount of responses we got from people from both councils was just brilliant. And it's probably a whole separate podcast talking about the tools and techniques that we use. But what what really stands out for me in both of those councils instances is that as a result of these huge engagement processes with the community, I gave them really quite thorough in depth reports, and I call them on what we heard reports, was what we heard from the community. And in both councils, they came out with a sort of top five things that the community talked about. So say for Yankalilla, it was the environment was absolutely number one. Number two was about jobs or tourism, say number three was something else locally relevant number. In Playford, it was more things like the presentation of the area, keeping the place tidy, and definitely jobs in that more kind of urban dense area. And what what really stands out for me is actually nothing to do with the actual engagement process, but is that the decision makers in other words, the elected officials, or the counselors have actually taken on board and the people who've written their strategic plans now, they've taken on board, pretty much those themes that emerged from the community and shaped their strategic plans based on what the community said, and it just gives me goosebumps to see it. Because, you know, so often in community engagement, we do all these fancy tools and techniques, we get out there into the community doing brilliant things. And then the stuff that we hear doesn't get heard at that decision making level. But actually, in these instances, it's just been brilliant. So it just, it literally fills my heart with so much joy that I can see these councils have listened. And even though it's hard because you get thousands of people involved in the process, you get all sorts of requests, you know, I want more trees down at the end of my street, I want to save that whatever it might be. And it's not necessarily about answering every single person, every single ratepayers' issue. It's about finding themes that emerge and really understanding the people that live and work or visit your city. What it is that they want, what's important to them, and then shaping your strategic vision as a council based on that. And it's really magical when you see it, and everybody feels happy with the direction that the council is moving in and the community have been involved and the elected officials and you know, they know what the community wants, they know they're heading in the right direction. So yeah, those are a couple of brilliant standouts for me this year.
Kirsten Wyatt
Well, and such an important part is, is repeating back what you've heard, and it sounds like not only through your report, but then also with the elected officials creating a plan that that showed that. I mean, that's incredibly powerful.
Becky Hirst
Absolutely, yeah. And both of those councils are now in their second phase of going back out to the community to say, did we hear you properly and I'm not involved in that process. They're all managing to do that in house, which is brilliant as well. So they're now using, you know, their own tools and techniques to get out there. And I'm actually going to go to the council meeting of Yankalilla in a couple of weeks. I think it is next week, to see the final strategic plan be adopted. And and that's a big thing for me, because I really invest in what I do. And if I, if I sort of get a glimmer that I haven't really listened, it's totally different to what the community said, then I wouldn't want to go to that meeting. But I'm actually going to go to a council meeting and sit there if my own free will. And actually, you know, sort of celebrate when they adopt the strategic plan, and that looks like what the community wants. So yeah, really proud of them. Yeah.
Kirsten Wyatt
That's wonderful. So let's talk about your e-book. And I want to know more about why you decided to write the book this year.
Becky Hirst
Well, 2020 has been an interesting year, I would say anyone around the world hasn't been affected by 2020, in one way or another. And obviously what happened for us here in Australia was there was a week in March where everything went into lockdown. I think it pretty much happened around the world, that sort of first first phase of everything when it hit, and everything went into lockdown. My story is no different to anyone else's, you know, my business totally changed in the matter of days. You know, everything got canceled that was face to face. And after a couple of weeks for me, things started to rebuild, clients started to say, Oh, we counsel that work that you've actually we do need it to continue, we just need to adapt how we do it. So a lot of my engagement work, particularly in March and April went online. And and then it's continued to even though now in Australia, we're going back to face to face, and we've got very limited restrictions on what we can do. And you know, we've got very tiny number of cases now. Like, literally, you know, we're talking three across the entire country type thing. So we're back to face to face, but people are still using video conferencing as a way of connecting with each other. And I've noticed that even with my clients now, a standard client meeting is via video. So obviously what happened back in March, April, May is we all hopped online, everybody across the world, and I've watched the US channel so I know you're doing it there, I've watched the news in the UK, I watched the Australia news. Everybody is at home, on their on their laptops or their computers with their headphones in and everybody's got different headphones, and everybody's got a different background. And everyone's got different sound quality and, and I've just been sitting there on the sofa, you know, in lockdown myself, watching all these things, I've been engaging in these work conversations, I've also been starting to facilitate stuff using video conferencing. So we're actually getting groups in the community together to facilitate conversations about something. And I just thought to myself, gosh, there's a, there's a good way to do this. And there's a not good way to do it. [Laughter] And so I thought somebody somebody needs to write some dot points here, that not only educate the people who read it, but that perhaps the people that read it can use it to share with their teams as a kind of talking point to say, Oh, hey, I've just picked up these top tips. Perhaps we should think about these, because it's actually a bit hard to approach your team members, you know, who were really bad on video who may be on and not getting it right. You know, how do you sort of say, hey, Jim, like, you look terrible. You actually want to be able to sort of say, hey, Jim, I've got this guide. Shall I forward it to you all that we can read how to video conference. Well, and and you know, even now, I'm still watching, even on the news, you know, I've just had this new hobby of looking at people's backgrounds and trying to work out where they are in their house, you know, like are they sitting in their hallway, are they in their lounge? Are they in their you know, yeah. So so that's what inspired me, we'd all gone online. And I thought we need to get this right. If we're going to communicate well, via video, we need to get some basics in place so that we can all at least before we even get on to thinking about how we facilitate good conversations online, and make decisions online. How can we just all sort of set that you know, the basics of, of how to communicate via video online. Yeah. So that's what inspired me.
Kirsten Wyatt
Is, do you is Australia, the same as the US where the the pivot, or the shift to online zoom meetings, especially for government was like, so fast. And what we found is that government was just not used to zoom meetings at all. Was it, that same kind of, you know, like, almost instantaneous, like switching it on and then expecting people to know how to behave?
Becky Hirst
It was instant, wasn't it? And didn't we all wish we had shares in Zoom back in March or if I didn't even know ……, but you know, wow, it I mean, we went from, I was even working on a project that was using teleconferencing. You know, do you remember the old fashioned teleconferences where you and me we kind of do it? It's where you dial in. We were doing that back in March, whereas now that client team, that project team I was working on wouldn't dream of doing a teleconference. It's all about zoom. We will just hop on and we're all there on the screen. And I've kind of loved that process of transitioning, but I'm someone that really loves change and embracing new challenges. And I'm really conscious that not everybody does. And I think alongside the hopping on everybody switching to that new tool, we had all of the emotional and the mental health side of everything that was happening in the world as well. So it's not like we've all just as a world said, hey, let's all start video conferencing. We've all said let's start video conferencing. But crikey my kids are at home with me. I'm having to home school I'm having to work. I'm having to deal with family that are overseas that are stuck there,  you know all of these things and things that we've been facing as well as this challenge of yeah, how to zoom properly. So it's been a big year, a huge year.
Kirsten Wyatt
Let's walk through the 10 tips. And are they in rank order like is number one the most important thing or are we are we looking at all 10 of these as equally important?
Becky Hirst
I think all 10 are equally, they probably go up and down in levels of significance. I mean, number one is, use mute. That's a really basic, you know hop on and put yourself on mute straight away. And now the reason I suggest that we use mute is just when you're on a big group call, you don't want the background noise of 20 people fuzzing up that call, you know, you want nice, crisp sound. So the best bet is to pop yourselves on mute. I've actually noticed though, since I wrote this, I Skype with my family in the UK every Sunday. We've been doing it since March. It's just brilliant. And my brother and sister and their families and my parents, we don't put ourselves on mute on a personal call. We'll just sit there. We have the dogs barking in the background, we have all the kind of interruptions because it's personal. And I've actually noticed that the conversation flows a bit better when we're not on mute. But my tip is to be on mute. If you're on a big group call, it's a work call, you've got things that you need to get done. Yeah, block out that background sound. So that was number one. Yeah.
Kirsten Wyatt
Okay. And number two is test run. Tell us about that.
Becky Hirst
Oh, yeah, well, you know, we will, I think 2020 is the test run for all of us, the entire year is the test run. And I say to everyone, I run some training on facilitating online conversations using this video conferencing. And I say, you know, we are only human, and we're all learning this technology. It's all new to everyone. We can all just openly say, I've got no idea how to share my screen. I've got you know, how do I even put myself on mute? I don't know. You know, so so the test run really is is about sort of practicing, I guess. But also, I mean, I mean this quite specifically in the book about yes testing your equipment. So before you get on that call, check that your headphones are plugged in, check that it's connected, check your video, you know, you can always pop it on before the call starts. Just I mean, check what you look like I don't mean what you look like, but just your setting, is it professional? Is it, is it representing your personal brand, I suppose, in a workplace. Yeah. So always, always check it out before you go live on the call.
Kirsten Wyatt
Number three is angles. Tell us more about that.
Becky Hirst
And this is actually my favorite. And this is the one that quite a few people have talked about why they've downloaded the book because they want to tell their colleagues. Yeah, and you get this on informal calls a lot or people who are calling in from their laptop or their phone you can see up their nostrils. And it's so funny once you hone in on it. You're like, Oh, no, sort out your angle. So I talk about, you know, you see it, you see the more and more we see pictures of people around the world now on zoom calls, you can see people in the presidential office or wherever. I saw one of the New Zealand Prime Minister the other day, just in case, she had her laptop propped up on the big kind of government books on her desk. And I thought yes, she's read the e-book because she thought she's got it, like at the level. So it's almost like eye contact. Her camera is positioned. So her eyes are looking straight ahead. So it's like she's in the room. So this angle is one. Yeah, I'm pretty passionate about that. Yeah, and we're all guilty of it. You know, we're all if we've got a laptop and it's on a desk that's low and angled. Yeah, just be really conscious of it because nobody wants to see up your nostrils.
Kirsten Wyatt
Well, and the other thing with with angles can sometimes be the lighting and it can look just ominous. If the lighting is like, at such an angle that it's like darkness behind you. That was a great reminder.
Becky Hirst
Yeah, absolutely. Definitely. Yeah,
Kirsten Wyatt
You also list dress code. Tell us more about appropriate Zoom attire.
Becky Hirst
Look, I don't want to be prescriptive on this. Um, so you know I actually made a point in the e-book saying you can wear what you want whenever and I'm not a I'm not a kind of really strict person about oh you must wear must wear this but whatever you want your I mentioned your personal brand. And you, you mustn't forget that you are yes you're at home. Yes, you're locked down. Yes, you've got the kids around. You You're dialing into a work meeting, just have a think about what you're wearing, and how you're presenting. I mean, the other day even I was at home, we're heading into summer here. So I have my sunny's on my head, my sunglasses up on my head. And I thought well, I better just pop them off, I look a bit casual to be going on to a client call. I want to you know, I want to come across as professional. I have just been sitting in the garden, which I had. So you know, it's just about thinking how you present, how you want to present. Now if that's dressing casual, if you want to be wearing your hoodie and your pajamas, fine, who am I to tell you what to wear. But just just think about that that presentation and what you're going to wear and of course you can wear your boots as we do in Australia here your fairy boots or your pajamas on the bottom. And I have done that I presented actually to a conference in the US the other day and I had to get up in the middle of the night. And for this I presented at about 2am Australia time live. And I thought you know what I'm going to treat myself I'm going to wear my pajamas on my bottom half. [Laughter] And I did. I wore a suit jacket on my top. And so yeah, but other than that I normally just dress as I would go to work normally but yeah, think about it, I guess is my tip. Yep.
Kirsten Wyatt
Next you have slow it down. Tell us more.
Becky Hirst
Yeah. Now, I run this training in how to facilitate online conversation. So as community engages, we found that 2020, we're having to actually hop online and facilitate good conversations and get decisions made or get input from people. And one of the number one things people come onto my training worrying about is that awkward silence that there is on a video call and even used to happen on the old teleconferences where you dial in, where you have to kind of pause to let people have the opportunity to have their say. But it feels really strange. It's like in person, our conversation can just flow really naturally. And even over the phone, it flows fairly naturally, because we're used to it, but for some reason on video, it's much more jolted. If you like, there, there's these weird pauses where you have to pause and you have to get used to it, it's basically my tip, you need to slow it down. And you need to allow that silent moment to happen. And you need to get comfortable with it. But that's only going to happen with practice. And I also think the more we practice it video conferencing, the more we will speed up, and we'll get used to it. And we'll realize that we can kind of cue that we're about to speak with our body language or whatever. So yes, it's slowing down your conversations and just sort of getting used to that slower pace and not feeling weird, because it's a video conference. It is gonna feel a bit different. Yeah.
Kirsten Wyatt
And that's a great point. You know, I look back to the first webinars we were doing back in March and April, and you know, if I would have to have me and then another ELGL staff person, and one person was monitoring the chat, and the other person was letting people into the room. And now it's become just like any other tool where I can toggle between, you know, multiple screens, but but it did take some learning, and I think I think often about some of our members who aren't all day every day on Zoom and and just that reminder to, you know, take a pause and that, you know, this, like other technology skills will come. It will be okay.
Becky Hirst
Exactly. And I want to sort of reiterate that all the way through that we are only human, and we're all learning this. It really is, you know, is yeah, it's new to everybody. And we have to be kind to each other. And, and be patient with each other. So whilst I've written these is like, do this, do this, do this, it's, it's definitely like, just just hop online and play with it, and it will start to feel normal. And if it feels too much, switch it off. And you know, people are saying, what do you what do you recommend about Zoom fatigue, and just go and sit in the garden or on your balcony or wherever you can go in front of another screen for change, just don't sit at Zoom all day, every day. You will get exhausted. So yeah, yeah, thinking about that balance as well. So then shall I go on to the next one, which is about the lead on the call.
Kirsten Wyatt
Yes please.
Becky Hirst
Because this is really, you know, if you're having a face to face meeting, or a video meeting, you really need to have somebody as a chairperson, or a facilitator, or host even. It's somebody that's going to do that, that kind of initial welcome, and then that's going to keep things on track throughout the meeting. And like I say, you'd have that in a face to face meeting. But for some reason, we've all kind of well, I think it's because we've had so much on our mind, we've all hopped online, and we've all gone on video, and we've sometimes forgotten this. And so we all kind of hop on a call. And if there's 20 of us, we will just sort of sit there really awkwardly for the first minute, and nobody's really taking ownership of that space. So I like to know that there's somebody allocated to be the welcomer or even that's like, hey, everybody, we'll get going in a sec, you know, and really put people at ease, rather than starting with that awkward silence of everybody sitting there. Yeah.
Kirsten Wyatt
Are you a fan of introducing yourself in the chat box? Or you know, sharing something about yourself in chat while you wait? Or do you prefer just dive right in?
Becky Hirst
Yeah, I've I've actually I've done quite obviously, as we all have, again, done quite a bit this year of different things, trying different things. I've noticed a trend in Australia, which I love, and it's probably the meetings I'm going into. I bet it doesn't happen in all meetings. Here in Australia, it's really important that we acknowledge the traditional owners of the land, and the indigenous people and we have our specific lands and I really noticed a trend that we people introduce themselves like the main people on the call, like the facilitator or the speaker or whoever, introduce themselves and then we say introduce yourselves in the chat. And I've really noticed that people are acknowledging the the land that they're on as they take the video call and I really like that as a trend. And so I like that. I also like if you've got a bit of time on your side, I love introductions, where you do a bit of a we call it a round robin, you know you pass to each other. But I like on the call to pick who they're going to throw it to. So I say that I'm Becky I'm based out of, I'm here in McLaren Vale in South Australia. I'm on …. land and I'm on this call because and I'm gonna throw to Andrew and then and then Andrew then has to and so you just you Andrew then introduces himself and then throws to somebody else on the call and I like that because it gets everybody having to focus. Everybody is suddenly having to like, who's been who hasn't I need to concentrate here and and yes, it is a  handy tool as a facilitator to get everybody connected. So yeah, I think and again, we're all playing around with different ways of sort of getting that call going. Sometimes I've gone straight into it. And it's been fine. Although then I'm half way through and thought hang on, nobody knows who each other are. That's kind of weird. So yeah, again, practice, practice makes perfect.
Kirsten Wyatt
Well, and we did set up a, we have set up a 1-800 or free call line number that our members can use to find out the land acknowledgement for their land. So I would …… with you. And if you would like to use it, it also works in Australia, New Zealand and UK. So feel free.
Becky Hirst
Oh, fantastic. Oh, brilliant. Yes, please do. Please do.
Kirsten Wyatt
Absolutely.
Becky Hirst
Definitely. Yeah.
Kirsten Wyatt
Let's talk about rules of engagement.
Becky Hirst
Yes. And so this is really about, I mean, you could do it at the beginning of the call. And I suggest that you don't. I'm, if you came in face to face meetings, you know, you might have a group of people and you say, let's work on some norms that we're going to agree as a group that these are the rules, and you write them up. And, you know, you have them there on display throughout the meeting or the workshop. And it's the same principle really. However, I, I don't always do that face to face. I usually, as a facilitator, make some assumptions, and maybe just announce the rules, things like we're going to be respectful to each other, we're going to listen to each other. What stays here, what happens here stays here. And I'll tell you about that in a sec. So I specifically, you know, I suggest that even if before the call, you just maybe send around some reminders, you know, things like we're going to be on mute whilst we're not speaking or feel free to leave yourselves off mute, whatever the rule might be for that call. And it might be that, you know, we're going to have a break at this time, we're going to work till this time, we're not going to run over. Whatever the rules are, how you might attract the chairpersons attention, whilst you're on the call, you know, you can you can do a little raise hand function on some of the different tools like Zoom or Skype? And, or is it that  you are just going to wave at them because you know, we forget that you can just kind of still do, I'm actually waving at you here, I can't even see where you can still do the nonverbal communication. And I also just want to tell you in relation to rules of engagement, I have a saying now that what happens on Zoom stays on Zoom. Or at least I use that in meetings where it's appropriate, because I was on a Zoom call recently. It was a, it was a learning session that I thought I might go along to that. I can't even remember what it was about. And I had a bit of a rant on it. And I didn't realize it was being recorded. All I think it would be like there is a symbol that says it's being recorded, I didn't realize that the chat function would be shared with everybody. And so I kind of had a bit of I kind of let off a bit of steam in this session thinking that it was a closed session. And it perhaps it I was being naive, I just it was being recorded just to be shared amongst the group, but then it got posted on social media or emailed to me to the point that a friend then contacted me later that day, say I'm so sorry to hear that you had such a bad time with whatever it was. And I was like, oh, my goodness, that's been shared. And so I think it's really important as a rule of engagement to really say what's happening with this content of this video call. If it's going to be shared, you need to declare that up front. Yeah. So what happens on the Zoom stays on Zoom. Yeah, so And like I say, just the basic thing of respecting each other on a call. The same as we do face to face, we respect each other. And we listen to each other's opinions. Yeah. Yep.
Kirsten Wyatt
Next up, you have clear purpose.
Becky Hirst
I do. Yeah. So again, this is echoing face to face meeting, I like to think that we'd never go into a face to face meeting without knowing why we're meeting, what it's about. But maybe we do that a bit too much. Even more online, you want it to be a worthwhile meeting. And knowing what it is you want to achieve out of getting together online for that hour, is really important, so that you're not wasting people's time. So you're not eating into their zoom fatigue. You just need to know why you're meeting. What's your objective of meeting? What are you hoping that in an hour's time, two hours time you're going to have achieved and make it worthwhile, so that that people feel they haven't just wasted that time on that zoom call. Really, really important. Yeah, yep.
Kirsten Wyatt
I was just gonna say under a clear purpose. It reminds me of a lesson that we just learned at our annual conference. And and that was stating very clearly if it was a session to listen and learn, or to engage and learn. And we found that with some of our speakers who were highly engaging, and did a lot of breakout rooms and you know, asking the audience questions, sometimes people just wanted to sit and listen, they wanted to absorb. And so going forward, I think what we took away is, let's be really clear about that. So if someone really, you know, if they just want to be listening in the background and then working on something else, they know that maybe this session isn't going to be structured that way. So thank you for that reminder.
Becky Hirst
And I I compare this to face to face as well because I do a lot of face to face meetings. in the community, say where you're expecting about 50 people to turn up. And I am a, I hate the format of rows of chairs, with you know, it's everybody's facing the front, and there's an expert at the front with the PowerPoint presentation. And the people come in and they sit and they listen, I hate that format. Sometimes you need an element of it, you need a presentation up front. But I'm often brought in by councils because they want more of a conversation to occur. And so people will often walk into something that I've arranged, which is got sort of smaller tables with groups around in a circle around each table, and they walk in, and maybe there's even no presentation upfront, maybe it is about just having that dialogue with each other and hearing from the community. And often people walk in who were ready for that traditional format of the rows of chairs and the expert at the front, ready to kind of hold the microphone and just shout at the expert kind of thing. And they walk in and they say, Oh, what's this all about? This looks a bit different to what I was expecting. And I'm like, you know, we're here to have a conversation. And, you know, we're here to hear from you. And they're like, Oh, that's not what I want. No, no, no. And you know, I have had people leave things because they're like, No, that's not what I want. I want to listen to the expert. And then I want to have my say, and then I want to go. So it's exactly the same in a video conference, exactly what you said that some people want that information to they want to sit and listen, they want to almost be able to switch the camera off and just to listen to a presentation. Other people coming on to participate. So yeah, your purpose absolutely is is you know, this is a participatory session. This is a workshop versus it's just a presentation or kind of more like a webinar type thing. So yes, very important to have that clear purpose.
Kirsten Wyatt
All right, your next one is your favorite. So I want to …….
Becky Hirst
Yeah my favorite. Woof Woof. I've got a couple of dogs. And I have I and i'm i've got a property here in Australia, a couple of acres, and my office is on my property. So I have my dogs pretty much all the time. But for work calls, I just remind people, you can have your dogs in the background, you know, none of us are hiding here, we're at home. But it's just about thinking about minimizing any potential disturbances that you might have, such as dogs barking, such as you know, I get deliveries to my office. And the last thing I want whilst I'm say running a training session where you've got 20 people from around the world and you're in the middle of something intense, the last thing I want is my DHL driver kind of banging at the door saying I've got a parcel for you. So things like you know, popping up signs just to say you're on a work call, things like putting the dog somewhere else so that they're not going to bark or suddenly be asking for something in the middle of a call scratching at your legs. And anything that just might cause you a distraction or cause you know, any kind of disturbance to your process, whatever it is, I recommend just thinking about that, to minimize those disturbances. Yep. And I've had so many, you know, I've had to get connects back to the mute one. You know, I've been on a fairly serious workshop or stakeholder kind of roundtable discussion online. And I had this sound that sounded like a truck, and somebody wasn't on mute. And it was actually their dog snoring. It was brilliant. and you know actually, it actually broke the ice. And she was like, Oh, I'm so sorry. That's my dog snoring, you know, and everybody just laughed, and suddenly it was a lighter mood. So you know that we are again, we're only human, and we can't hide from the fact we're at home, particularly this year. But yeah, just just do what you can for your own sanity to just minimize those disturbances if you need to. Yeah.
Kirsten Wyatt
Well, it does feel mortifying. Like I have two dogs as well. And as many of our listeners know, who have heard them in the background. Yeah, I mean, it never stops being embarrassing, even if you give them fair warning. So preparing for it.
Becky Hirst
Yeah. And I've got my dogs in the background now. And I'm Crikey, they could woof. And why is it that we're so mortified if my dog's barking. It's our life. And, you know, maybe this is this goes to a bigger conversation, you know, we've opened up our working lives to our home lives. And I'm feeling even more comfortable than I ever did about talking that, you know, I work from home, and I've got children and I've got dogs and that my partner shares my office with me, you know, he comes and goes. You know, I feel so much more comfortable in sharing that with clients or community, whoever I'm working with, than perhaps I did at the start of the year, and I think it's because all of us have opened up our lives …… to our reservoir of work colleagues. You know, people that are zooming in from their bedrooms or their their lounge rooms or wherever they are, we've we've given our colleagues or clients, in my instance, a real insight into our actual lives. So it's been really it's been a big Yeah, I'm gonna keep saying that. [Laughter] And that kind of leads us into number ten I think, which is about where are you? So in the book, I include a picture of that very famous, I assume you guys saw it in the US, the guy I think it was a BBC interview where he was trying to do a really serious work call and his kid came in, in the background kind of mucking around and and he just did not know how to react, you know and, and he was kind of blocking around and you know, there's been so much reflection since then on how he should have handled it. But it's really just thinking about your background or your your on screen presence. So similar to that you know what you're wearing and how you want your personal brand to come across, even when you're working from home, in the middle of lockdown, and thinking it just about your background, you know, things like tools like Zoom, I think maybe even Skype and Microsoft Teams, I think you can blur backgrounds, you can put virtual backgrounds, and I've seen all of those used really nicely, I find I move about too much on the screen, I stand up whilst I'm facilitating online conversations. So I, I move a lot. And I find that helps with the energy of video call if I give a lot of energy. So I move too much for the virtual backgrounds to keep up with me or you know that the blurry so it all looks too messy. So I just make sure you know, in my background, are appropriate books or appropriate piece of art and that my plant looks well cared for. And just think about you again, how you're presenting yourself. And you know, there is no hiding from it. Again, like I said early on in the call the watching people on the news, but you know, people in the UK in these tiny little houses presenting the news, and there's no hiding from where you live and where you're having a video in front, but just just be conscious of it, I guess. And I shared at the very end of the book, you know, worst case, just just laugh it all off. And I acknowledge that we're all human. And you know, these things happen. And we are we're at home or working. We're doing the best we can. That's what my mother always says. We're doing the best we can. Yeah. So those are my 10 tips.
Kirsten Wyatt
Well, there was a great clip, it was just from I think this past weekend, it was the the State of Pennsylvania Attorney General and he was remarking on the presidential ballot count. And the the more subtle observation in his background was that he had count from the Sesame Street, signifying you know, let's count the ballots. He had that mail truck to signify Let's count mail in ballots. And then he had a Ruth Bader Ginsburg Supreme Court Justice in the background. And so it was very subtle. But then the best part was his son just came cruising into the scene and noticed he was on national news, and then just very, very quietly, walked right back out. And so it was kind of like the progression of the BBC guy, but this was a teenage son, but it was, again, a perfect example of where are you? What message does it send?
Becky Hirst
I mean, and that, you know, that guy on the BBC, he really took one for the team, didn't he? For all of us.
Kirsten Wyatt
Yes. Well, and that kid was so funny, too, that it made it even better.
Becky Hirst
Yeah, you know, he's broken the ice for us all now that Yeah, like I say, we're human. So the last piece of advice that I would share is probably I've kind of weaved it throughout is that we are only human, and that we are still all learning these tools. So so just any opportunity, you get to use these tools in a kind of really casual, informal way. So I suggest doing it, you know, just team meetings or if you have family or across the country or across the world, in my instance, play around with it. I've learned most about Skype, which I use with my family, through watching my eight year old daughter engaged with Skype because she clicks on everything, she can't help herself. And so she does all this sort of reactions, she's sitting on a family Skype call, pressing everything and changing the background and doing all that. So just muck about with it, I think and just get comfortable with it. And also, don't worry that this is now it forevermore. It was the same for people in Melbourne, just a month ago here in Australia. They were they were all in lockdown, they still had a lot of cases. And I was saying to them, you know, you're in the middle of this awful time, but know that that there is hope and that that we will be back to face to face meetings, don't despair. This isn't the be all and end all. But it's really handy tool that, you know, I think it was just sent to us. 2020 was sent to us for a reason. And one of the reasons was to just learn this new way of communicating that actually is really efficient, saves a lot of energy and resources. You know, you don't need to cater for a Zoom meeting. You don't need to book a venue it. It has really it's got really positive efficient things. So but it's not the be all and end all. So absolutely don't worry. And we will return to face to face meeting but just get used to this as an extra tool  that's up our sleeves as a way to engage with each other.
Kirsten Wyatt
And I love what you said at the top about you know if you have a co worker or if you have a team that needs a little bit more help adjusting to Zoom, you know, send them a link to this episode, send them a link to Becky's book. Sometimes those those ways of learning together can help solve some of these, you know, challenges that that might be out there. So …..
Becky Hirst
And remind, to remind everybody the least, the thing that we should be least worrying about at the moment is how we come across on a Zoom call, that we've all got so much going on in our minds of overwhelm, the world in general. It's been a very anxious year you know. So so really keep keep the Zoom side of things just is fun it is and it's survival for a lot of us and getting through these these months with work or with family. And but yeah, so don't sort of blow out of proportion and just enjoy it, muck about with it. Click all the buttons like my eight year old does, see what you learn.
Kirsten Wyatt
All right one last question for you. If you could be the GovLove DJ, what song would you pick as our exit music for this episode?
Becky Hirst
Now I thought about this in advance and I had I have a playlist for everything and I thought okay, what could be I've talked a lot about Zoom here as the technology. So I searched Spotify for zoom and there is a song song, there's a song called Zoom, Zoom Zoom, We're Going to the Moon and I think that has to be the song.
Kirsten Wyatt
Okay. We will make our producers Ben Kittelson and Mike Montgomery find it in Spotify, and we'll add it to this episode. I want to thank you for joining me today and for sharing all of your your wisdom and experience with us.
Becky Hirst
You are more than welcome. Thank you for having me.
Kirsten Wyatt
A reminder to our listeners. You can get your own copy of Becky's ebook. Just send her an email at [email protected]. We'll also link to it from this episode's web page. GovLove is produced by a rotating cast of ELGL volunteers and I want to give a shout out to our two new hosts Lauren Palmer and Tony Thompson and our new producer Michael Montgomery aka Pizza Mike. ELGL is the Engaging Local Government Leaders network. You can reach us at elgl.org/Govlove or on Twitter @govlovepodcast. Thank you for listening. This has been GovLove, a podcast about local government.
---