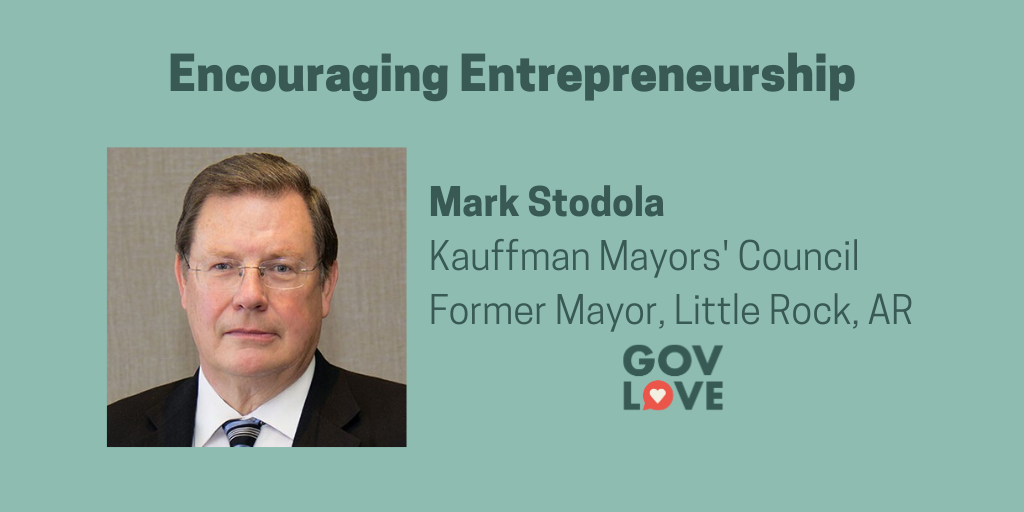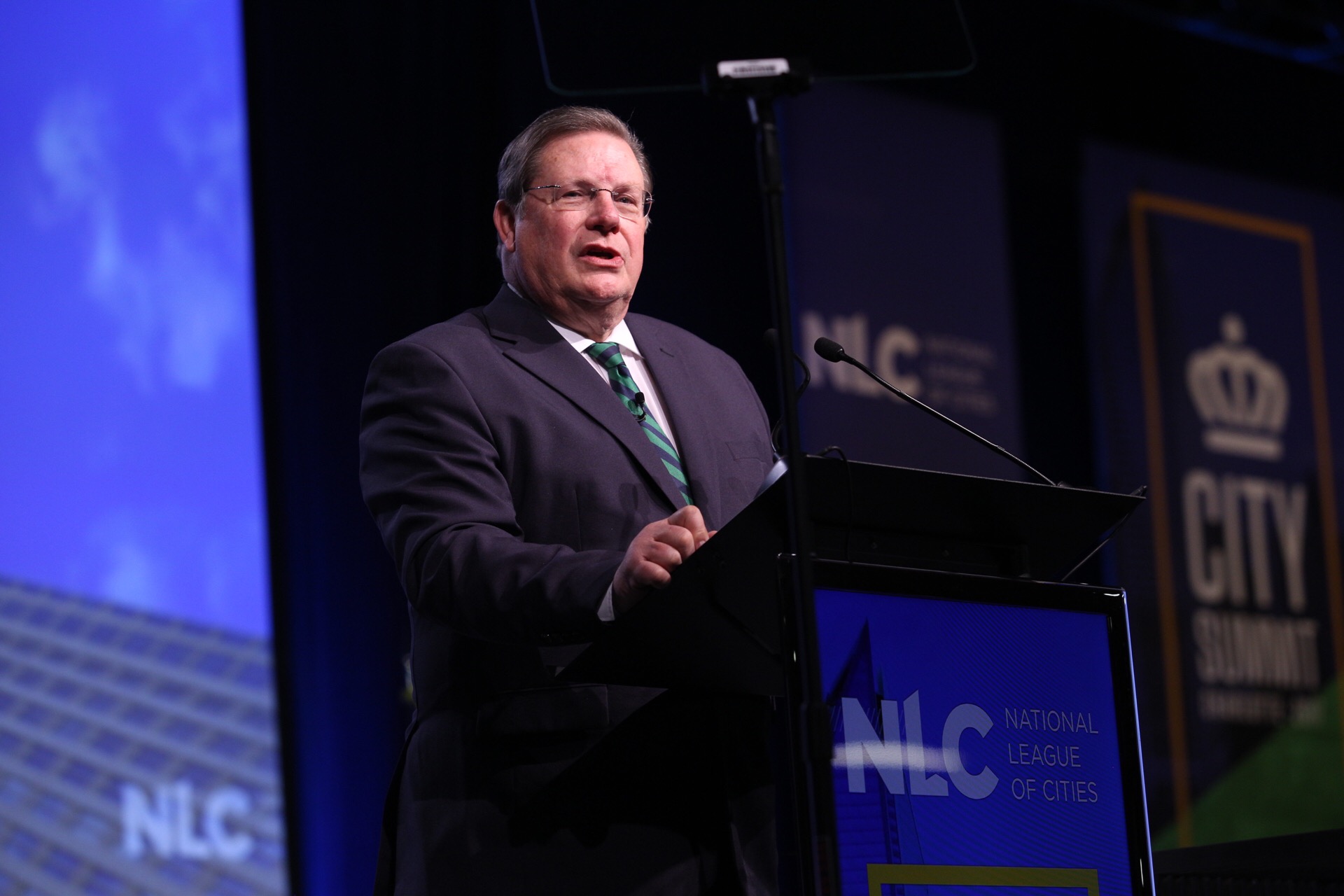 Mark Stodola
Attorney, Barber Law Firm
Former Mayor of Little Rock, Arkansas
Bio | Twitter
---
Thinking outside the box about economic development. Mark Stodola, former Mayor of Little Rock, Arkansas and attorney, jointed the podcast to talk about the work of the Kauffman Mayors' Council and the importance of entrepreneurship. He talked about his work as Mayor including his time as President of the National League of Cities (NLC). He also discussed the work of the Kauffman Foundation to support small businesses.
This interview is part of a four part series with the Kauffman Mayors' Council. The Mayors' Council harnesses the knowledge and experience of former mayors to support cities across the county in efforts to build equitable community wealth.
Host: Alyssa Dinberg
---
---
Learn More
Advice From 3 Former Mayors: Grow Your Own Entrepreneurs
About the Kauffman Mayors' Council
Mark Stodola National League of Cities
The Blueprint for Community Business Success
---
Episode Transcript
Alyssa Dinberg
Coming to you from Denver, Colorado, this is GovLove, a podcast about local government. GovLove is produced by ELGL, the Engaging Local Government Leaders network. We engage the brightest minds in local government. I'm Alyssa Dinberg and I'm joined by a member of the Kauffman Mayor's Council, the former Mayor of Little Rock, Arkansas Mark Stodola. During his tenure as Mayor of Little Rock, Mark became president of the National League of Cities in 2017, the largest organization representing American cities and their leaders. As President of NLC, Stodola advocated on behalf of more than 19,000 cities and towns, focusing on the critical issues of municipal infrastructure, public safety, economic development, telecommunications, smart city applications, and preparing the city's workforce for the future of work. Welcome to GovLove. Thank you so much for being here.
Mark Stodola
Thank you, Alyssa. I'm happy to be with you and with all of your listeners.
Alyssa Dinberg
Yeah, we're really excited to have you here. This episode is one in a four part series with the Kauffman Mayor's Council. We'll be talking with all four members in the coming weeks about a number of topics, and the reflections on the current public health crisis and efforts on the economic recovery. Today we'll talk to Mayor Stodola about the Kauffman Mayor's Council and its role in working with current mayors, nonprofits and city governments to lead sustainable change. So as we do with every single episode, we started out with one of GovLove's signature lightning round. And this is intended just so that our listeners can get to know you a little bit. Are you ready to get started?
Mark Stodola
I think so. Yeah.
Alyssa Dinberg
Okay, so these are just meant to be fun questions so we can get to know you a little bit better. So my first question is when you were 10 years old, what did you want to be when you grew up?
Mark Stodola
Well, I wanted to be a Park Ranger. My family had a cabin up in the woods of northern Minnesota and we would spend time up there in the summertime and I got a chance to spend a lot of time outside. And I thought that's what I wanted to be until I decided I wanted to be an astronaut. And that's what I wanted to be until I ultimately became a lawyer. [Laughter]
Alyssa Dinberg
So it all kind of was within public service. Never really strayed too far from it.
Mark Stodola
Not really.
Alyssa Dinberg
All right. Are you still a practicing lawyer?
Mark Stodola
I am. Yes, I am. Once a lawyer, always a lawyer. Once a mayor always a mayor. So yes, I'm back. I spent 12 years as mayor of Little Rock from 2007 to the end of 2018 and returned to the profession of law. I've always maintained my professional relationship there. I'm back with a law firm, one of the major law firms in Little Rock.
Alyssa Dinberg
Great. So my next question and I've been asking everyone that I've been interviewing during our current health situation. What is your best self-care tip during quarantine?
Mark Stodola
Well, I guess it would have to be hand sanitizer or Lysol wipes. You know, I think I'm fairly compulsive about using those, and having a station of hand sanitizer as many places as possible. I will confess that prior to COVID I probably was not anywhere near that serious about, about making sure that I had hand sanitizer in every different room.
Alyssa Dinberg
I think a lot of us can say that. I have never washed my hands so much my entire life….
Mark Stodola
I know it's crazy.
Alyssa Dinberg
….as in the past two months. Yeah. Yeah, that's definitely a good self-care tip. It's a health self-care and it's also mental. It makes me feel better. All right, next question. What a food that you like, that everyone likes but you do not?
Mark Stodola
Well, you kind of told me I might have that question on this issue and i've been thinking about it and i have to tell you, it's probably peas. I am not a person who likes peas.
Alyssa Dinberg
Peas. Hmm.
Mark Stodola
Green peas. No, I'm just not too fond of those. And if I never have another one, it won't be too soon.
Alyssa Dinberg
Do you like, like string beans?
Mark Stodola
Oh I like string beans, and I like Black Eyed Peas. And I like all those kinds.
Alyssa Dinberg
Okay.
Mark Stodola
It's the green peas.
Alyssa Dinberg
So you do not like regular peas. Okay. All right. So that means I think I already know what your answer will not be for my last question. And this is a question that I ask on every single episode that I do. If you were a vegetable, what vegetable would you be and why?
Mark Stodola
I would be an artichoke.
Alyssa Dinberg
Hmm. Haven't gotten that one yet.
Mark Stodola
I thought that might be a surprise to you. Because it has so many, many different layers, and if you steam them the right amount of time and peel them off, they are very soft and, and it's a very delicious vegetable to eat.
Alyssa Dinberg
Huh. Interesting.
Mark Stodola
And there's so many different layers. It's kind of like me. I got so many different layers of my personality that you know, come out at different times in different places.
Alyssa Dinberg
That's a really good answer. I love that. Um, so let's shift our attention to the work that the mayor's council does. So can you tell me a little bit about what the Mayor's Council is and how you were first approached about the idea of serving on the council?
Mark Stodola
Sure, I'd be happy to. The Mayor's Council is composed of four former mayor's from around the country. Myself in Little Rock, Sly James from Kansas City, Betsy Hodges, the former Mayor of Minneapolis and RJ Berry, the former Mayor of Albuquerque. And last year the council was created by the Kauffman Foundation under the leadership of the folks there, and Evan Absher is our director who really has helped to bring a cohesiveness to the four of us as we go around the country and help to promote entrepreneurship to our fellow colleagues around the country. I first was approached, because in Little Rock, we had begun our own efforts at entrepreneurship some time before. I think it's an interesting story. And I'll briefly go through it with you. Back when I first became mayor in 2007, we only had a half a penny sales tax. And every city around us and every city in Northwest Arkansas where Walmart and Tyson's, and all those major corporations are, all had at least a two cents city sales tax. And so here we were the capital city and we were really dragging behind. So knowing, no fear, I decided in the midst of the Great Recession to go forward with a city sales tax. And ultimately we were successful. We passed it with eight percentage points. And we were able to add an extra penny to the, to the city sales tax, of which we dedicated $22 million for a Technology Park. The legislature had created a framework for developing these technology centers and provided some certain thoughts on how to fund them but of course, we that was back in 2005. But of course, no one ever really was able to figure out how to get that done. But we added that to the sales tax and since we were successful, we were able to then start with trying to create a technology park. It took two or three years to find a location and it was fairly controversial in doing so. We ultimately located it downtown right on Main Street. Main Street had been dead for 30 plus years and one of my agendas was to revitalize Main Street with arts and culture and with the Technology Park, science and technology. And so in the process of doing that, we created a a nonprofit organization called the Venture Center. And the Venture Center was designed to be an accelerator to help young entrepreneurs in the development of their ideas and their creations and hopefully help them not only with mentors, but with first stage development funding and all of the like. And through that I got to know the Kauffman Foundation and what they were all about. I had began to come to some of their, to their annual mayor's meetings. We're about to have our eighth Mayor's Conference on entrepreneurship coming up in the fall. But as, so as I began to come in to those conferences and learn more about entrepreneurship and truly what it meant and what the challenges were, I got to know some of the folks there and some of the people there and Evan Absher was one of the, one of the folks that was on their staff who was very, very helpful to me. I put together a, a Mayor's Entrepreneurship Summit for the state and brought in about 125 people from all around the state to do a mayor's summit on entrepreneurship, along with some of our high tech companies that we had here in Little Rock, and it turned out to be very successful, and helped to promote the idea of entrepreneurship in Middle America and towns that were not just known for this, such as the Silicon Valley in Austin and Chicago and Boston and New York. Here we are right in the heartland of the country, in a city of 200,000, and actually going through the paces to see what, as a mayor we could do or what I could do to try and create developing companies that would be part of the backbone of our, of our working economy. And of course, then, I guess maybe because of my efforts, Evan, when the, when the council was starting to be formed, reached out to me and asked me if I'd be a member of the Council, and I said a very eagerly that I would be.
Alyssa Dinberg
Great. That's, that's amazing. I, so I, um, I used to work in Kansas City, I used to work with Mayor James and I know of the Mayor's Council. So I'm really excited to be doing this interview to learn a little bit more, because I really didn't know much about it. Umm, so one of the really cool things and I want you to tell me a little bit more about it is the fact that you get to continue to focus on mayors and cities as a member of the Mayor's Council, even though you're all former mayors. So what makes local governments special and can you talk a little bit about what that's like?
Mark Stodola
Sure. I guess, you know, we're we consider ourselves to be veterans of, of not only local government, but of the challenges that local government faces every day. And that creates a real bond, I think between not only between the four of us but a constant bond with our colleagues that are still in office and that are still exploring new ways to make their cities better. And so I really jumped at the chance to have an opportunity to continue to work with colleagues that I know and I can continue to converse with and, and help them as a mentor to explore and look at different ways that they can help to create a robust economy in their own cities. You know, local government is where the rubber meets the road as people are, I want to say it's, it's where action is actually taken, where pragmatism has to prevail, and where you can't just sit there and sit back and hope that somebody else does the work. We know that that cities are the, you know, the real melting pot of all things daily that happened in our lives, whether it's, you know, when we wake up, the shower that we take, the meals that we eat, the electricity that runs the refrigerator, to the gas that's in our cars, to the tires on our, on our vehicles, to the streets and the potholes that have to be fixed. Everything that a person does, basically, even when they're sleeping, has really got some municipal governmental involvement in it. And I think, you know, I don't know that when, when any Mayor decided to run for office, in that particular office that we really thought about it in that context, but certainly after 12 years, I've became a very strong believer that probably the most important level of government is local government. It's the most immediate, it provides the most gratification and satisfaction to citizens. Certainly this COVID pandemic is, is refocusing and reiterating that, that concept as we have to supply our citizens on a daily basis with the necessities of life to get through this, this craziness that we're going through right now.
Alyssa Dinberg
How frequently do you and the other mayors get together?
Mark Stodola
Well, on the Mayor's Council, we get together all the time. We, we have a weekly zoom conference call meeting. And so we get to see each other and talk and discuss with, with our partners at Tightline company that works with Kauffman to help keep us coordinated and with the Kauffman leadership with Evan Absher, and we meet weekly and discuss the issues that are before us. So before the pandemic actually hit, we would go to a variety of conferences around the country and promote the mayor's conference on entrepreneurship. We'd go to the NLC meetings, the National League of Cities meetings, we go to the US Conference of Mayors, the African American Mayor's Association and the like, and actually sit down with mayors and city council people and, and some of their technology experts on staff and we would encourage them to sign up and take on a specific project related to entrepreneurship that would be coming up in the focus of our conference.
Alyssa Dinberg
That's great. It sounds like you really are trying to spread your footprint across all the professions which is fantastic.
Mark Stodola
Well, we are. I mean, the Kauffman Foundation, really has an agenda to really try and create a new definition is just to the economy of the country, recognizing that the backbone of the economy is small business, and so they have come forward with what they call America's new business plan, Start Us Up. And the objective of how to rebuild a better city is really designed to try and bring over 200 new cities into the entrepreneurship circle and in Middle America and not just, not just the major metropolitan areas of the country, but in cities and towns throughout the heart of, the heartland of America.
Alyssa Dinberg
Fantastic. So when you were Mayor of Little Rock, you wrote an open letter writing about how you were turning down the opportunity to compete for Amazon during its city pitch competition. Yet, that's actually how we traditionally think about economic development, as tax incentives and luring companies. Can you talk a little bit about why it can be hard to get mayor's to think outside the box on economic development?
Mark Stodola
Traditionally, and you make a very good point of it. Traditionally, economic development was defined in a larger scale. It was defined as big boxes in the area of retail or manufacturing. In fact, if you look at the statutory schemes in many states, in terms of incentives, they're all designed toward manufacturing. Our states are very similar in that regard. We don't have major incentives for retail or for small business entrepreneurship. There are a lot of tax advantages and a lot of opportunities for support, in terms of the workforce for major manufacturers that want to either move here or want to relocate, or if they're foreign direct investment, and that's been traditionally the economic development role that a lot of cities have gone after. And so getting cities and getting their leaders to think outside the box really means you've got to really hone in and really emphasize that the heart of most economies is in small, small business. It's in, it's in creating jobs in a true entrepreneurship like way and that has really been borne out during this pandemic, as we see what the huge high unemployment rate is, that has been caused by the Coronavirus. I mean it is, it is, it has been a you know, a knife in the heart of small business, you know, whether it's a coffee shop or the restaurant or the nail salon or the barber shop, all of these small businesses, these great entrepreneurs that you know, are creating their own jobs and creating their own level of income has really taken a hit. And I think the pandemic is really reinforcing awareness of that, that I don't think was totally appreciated before. And I hope that we can really use that as a guidance in the future. I hope we can really use that to help to point out how important it is that we do everything we can to help small businesses succeed. And a lot of that deals with trying to focus on some of our minority businesses, our foreign born entrepreneurs and the access to capital, the ability to try and get them economically prepared to be able to give a loan and to be able to pay back a loan, whether it be an SBA loan or whether it be a traditional loan. And so those are the things that the Mayor's Conference is all about. The Mayor's Conference will, as I think I mentioned, is going to be a virtual conference, which I think has been pretty creative. And we're working on how to really make that effective. But we're going to be asking mayors who sign up and their staff to commit to a specific objective. It might be that they're on the beginning of the whole awareness of entrepreneurship. And it might be establishing a Million Cups where entrepreneurs come together. And when they've got an idea, they share their idea with the rest of their fellow entrepreneurs that are there and get feedback. Or it may be that it's an accelerator and that it's more advanced and they're actually, they've got an you know, they not only have a business but they've got a plan and they've got a market and they need the mentors and assistance to make sure they can bring it into livelihood. And so in this instance, there'll be probably 10 different specific agenda items at the conference. And we will ask, we will ask the cities to, to pick one and to commit to it through the course of the next year. And then working in conjunction with the National League of Cities, we will be monitoring their activity, we will be providing mentorship and advice. That's one of the jobs that I'll have and as well as my colleagues on the Mayor's Council is to work with these cities to try and make sure that they, they find success in the commitment that they've made.
Alyssa Dinberg
That's fantastic. So can you give us any more information on what the specific focus on entrepreneurship at the Annual Mayor's Conference on entrepreneurship will be about?
Mark Stodola
Well, as I said, there'll be and this is something that has evolved over time, as I said, this is our eighth conference. There'll be probably 10 different specific opportunities to demonstrate a city's commitment to  entrepreneurship. So, you know, as I said, it may be, here's how you, here's how you can create a Million Cups environment in your city to try and bring entrepreneurs together so they can share their experiences and share their ideas, and then learn how to go farther and further along the way to, to developing them. Or it may be taking and developing the Kauffman Foundations Fast Track program, which is about a 13 week program. Sometimes it's done in conjunction with universities and the Small Business Administration. It actually puts people through a program to actually bring their business into reality. Everything from a business plan to a resume, to where are your funding sources, to identifying your market. And how do you identify those markets? And how do you reach them? How do you, how do you use are using social media using advertising? What are you doing to actually make sure that you have a market for the idea that you have? So you know, the conference will, obviously focuses on how mayors and their technology folks can create young high growth companies that we know are the majority of new jobs in our cities. And, you know, most of these jobs are provided by small businesses and nonprofits, whether that's restaurant tours, or coffee shops or bars or theaters. You know, all of these things make our communities so much more vibrant, and a desirable place to live. And yet, we know that because of the challenges of funding, the economic crisis, that they're also most at risk of failing and so we'll have systems there to help prevent them from failing as well.
Alyssa Dinberg
It sounds like a really exciting conference and at the end of the episode, we will point our listeners in the direction of where to learn more about it and how to attend if they're interested. And so when you were mayor, you served as the president of the National League of Cities and you chose the Future of Work as your focus area for the term as president. Can you tell us a little bit about why you chose that and how the Kauffman Mayor's Council is also very interested in helping mayor's think about the future for work?
Mark Stodola
I will, but I want to mention one other thing if I could, first. You mentioned the fact that we chose not to compete for the Amazon HQ 2 location and it was a fascinating exercise, which I think turned out to be very fortuitous for the City of Little Rock. When it first was announced, I'm met with our chamber, who do our economic development work with us. And we first thought that we ought to go after it. And the more we began to pull in partners, and look at what their requirements were, the more we realized that the quality of life that we had in Little Rock, the ease of transportation, the fact that you could go anywhere in the city in 20 minutes, without having to worry about spending hours on a train or in a bus, the fact that we had the quality of life and trails and in the beauty of the city, and the vibrancy of our downtown. We didn't really want it to be spoiled with all of a sudden, Amazon dropping in 50,000 people and trying to figure out how that was going to really work. And so we basically wrote them a Dear John letter and put it in the Washington Post which Jeff Bezos, the founder of Amazon also owns and basically said, look, you are not for us. You know, if you really want the kind of quality of life that your workers we think want, then, you know, you should be looking at this in a whole different light in terms of what you can bring to a community and maybe you shouldn't have one great big HQ 2, maybe you should have five or six of them around the country and divide these several thousands and thousands of employees that you're proposing to drop in on a community into five or six or seven or eight communities. And so it was, it was actually a bit of genius. We had a whole team of people doing social media at the time with a new website and with new information about our economic development activities in Little Rock. And we named it Love Little Rock. And we got unbelievable social prominence all over the country, hundreds of articles. Advertising Age, said it was brilliant. And I don't know that we knew that at the time, but it certainly turned out to be that way. And, and lo and behold, about a week ago, it was announced that Amazon is building a 3 million square foot distribution facility in our port authority and going to be adding 1500 jobs to our community. And I think maybe, decided they took a little bit of our advice. And so I'm very excited about that as a, as a way of looking out of, you know, looking at things out of the box. And I think from an entrepreneurship standpoint, one of the things I hope I can bring to the table is the ability for our mayor's to look out of the box at what they can do to help their young businesses and to look at what is a natural fit. I think one of the things that's very important, and one of the things that one learns, in, in looking at a community as you look at what is natural, what is a natural fit from an entrepreneurship standpoint. Case in point, we've done three different FinTech, financial technology accelerator programs, in our venture center now. And it has drawn entrepreneurs from all over the world, we get usually 300 applications, and we choose 10. And we do it in conjunction with TIS, which is a major FinTech company, one of the largest in the world, provides one of the largest in the world, provides all the back of the house software for banks and they put money into it. The state puts money into it and invest in these companies as they go through a 13 week accelerator to bring their, to bring their inventions to bear. And many of those companies have decided to move to Little Rock. We got companies that moved from out of the country to Little Rock. We got companies from Chicago and New York that decided that the quality of life in Little Rock is a little bit nicer, a little bit better, even with the summer heat, than where they were. So that's been unexpected, but exciting opportunity to develop. And then to your point of the issue of the future of work, it's obvious that as we get into 2020, and beyond that, the future of work is changing, and it's changing radically. You know, my father maybe had one job in his in his in his tenure. I've had probably six different jobs and my, my 23 year old twin sons will have six jobs at the same time. I was very fortunate in my mayoral term to be involved with the National League of Cities and ultimately was humbled and honored to be elected as the president of the National League of Cities, in the fall of 17, going through 2018 and at the end of my tenure as mayor, when I chose not to run for a fourth term, and one of the things as mayor and as president of the National League of Cities is that you really looked for a focus and agenda for your tenure. And I chose the Future of Work as the focus of my term as President. And I did that because it became evident to me that the nature of work in our, in our world was radically changing. You've got aging baby boomers who are aging out of the workforce, and yet they provide valuable skills, whether they be plumbers or electricians or heat and air, folks. And so the trades are something that I don't think we're working very hard on to try and make sure we've got people to replace these people that provide very valuable services. And I also knew that we have a group of people who get somehow through school or in or out of school or drop out of school that wind up in the community with no, with no skills whatsoever. And as, as want with survival of the fittest, you know, they rob, cheat, steal and burglarize and, and create all sorts of crimes and create all sorts of problems in our community. And as mayor, I was well aware of that contingency of people who were non skilled, unskilled, that that had no, had no background, no education of any sort that would lend themselves to getting a decent job and providing a decent living for their family. And so they've turned to whatever they could to be able to survive. And then ultimately, a third wave of people and that is the new entrepreneurs, the people with the high tech skills and with the ideas and the creativity of solving the next great problem in our communities or in our in our world. And so I've really put it into, I really put the future of work into three buckets. And we had the as a, as a mayor or as anyone in a leadership capacity, putting, putting emphasis on all three of those. And so as we now know, and a four year college degree is not necessarily a ticket to a great level of employment, that you usually need an advanced degree to go further. We know that we have people who have great independent spirit and may not even have a degree at all of any kind, and become some of the greatest entrepreneurs that we've seen in our country. And then ultimately trying to take those unskilled youth and young people, the dropouts and try and teach them and try and train them and give them some skills so that they can be productive. And so I began to develop those themes about the Future of Work. And, and how it was necessary for people in leadership positions, mayor's in particular, to try and address that because it impacted their community in every single different way. And as we go on into the 21st century, the technological advancements artificial automation, robotics, all of these issues are going to transform the workforce. And it's important that we be adaptable. And we understand that and that we have our citizens adequately trained. Great example to give you is that in Arkansas, we used to be one of the great sewing manufacturers in the country. We had Levi jeans in a variety of our different cities and, and with plants there that would be would have seamstresses that were cutting and sewing and putting Levi's together. Now we have, they do, we have a we have a company from China called TY Garments that has located in Little Rock 400 jobs. It's a, and they do garments for Adidas, and Armani. And the skill set that is needed for that is not somebody that can sit behind a sewing machine. But as somebody who can sit by a computer and cut out the size of the garments, the difference, the different, you know the different dimensions, and make sure that those get into an automatic sewing piece of equipment. And that will even do the embroidery that's necessary on many of the garments. And so it's a totally different skill set. And yet, it's still in the garment manufacturing business only as a 21st century version of it. So in other words, we've got to be able to have people skilled to do that. Now, I'll tell you that when the Chinese company came to Little Rock, you know, they were a little worried about where they're gonna find, find a workforce capable of doing that. But we got some, we got some good people together and got some training over in China on the computers over there. And they came back over here. And we've got a very eager workforce. And they're doing a great job now with these computers, in terms of being able to create some very, really wonderful garments that are sold throughout the world.
Alyssa Dinberg
That's fantastic. It's really great to see that your focus has made lasting impacts and is still contributing to the City of Little Rock. And so I have one more question before we end our interview. What is your advice for mayor's leaving office and how they can contribute after they've left elected office?
Mark Stodola
A great question. You know, I after 12 years, I decided that I had accomplished about as much as I could, and thought I still have some opportunities to contribute in different ways. Not only by returning to the professional law, and I've been General Counsel to the airport and to a variety of cities and counties throughout the, throughout the state. And it was just another stage for my life to move, to move toward. And so I chose not to run again. But I, but at the same time, I was really worried about what that would feel like. And I want to, I wanted to stay relevant. I wanted it to be relevant and to be able to participate and contribute to my community in some way. And so, my advice is that, once a person leaves office, they've got to find a way to stay relevant. I'm doing that in a variety of ways. Certainly the Mayor's Council with the Kauffman Foundation is a wonderful way to stay involved and to stay relevant. I'm also a consultant for the Arkansas Municipal League and I write articles in their magazine and I'm educating young people around the state about the importance of municipal government and in jobs in local government, you know, jobs like being an Assistant City Manager like yourself. And, and, and the professionalism that's necessary and the competence and the degree of technical knowledge that one needs to have to learn how to take care of a city government. I know, I know Boulder, Colorado is probably very similar to Little Rock, we've got 15 or 16 different departments, everything from planning to personnel to public works to finance to the legal department, the planning department and it just goes on and on. And each one of those takes a particular skill set and, and one of my roles with the Arkansas Municipal League to stay involved and stay relevant is to go out here and to help educate young people about all the great opportunities there are for a good, a good living and a good job by working in local government. So that's to me, the most critical, critical piece that I can offer to people once they leave elective office is to find that niche, find that opportunity to still give back to your community.
Alyssa Dinberg
I think that's really good advice, especially for the mayor's that aren't planning on moving up into other elected official positions. Finding a way to contribute and give back to your community and stay engaged is really, really important.
Mark Stodola
Absolutely.
Alyssa Dinberg
Well, thank you so much. I have one more question. And this is how we end every single episode. If you could be the GovLove DJ for the day, what song would you pick as your exit music for this episode?
Mark Stodola
Well, I hope that in this podcast that you will play it because it's
Alyssa Dinberg
Yes, we do.
Mark Stodola
I saw a favorite of mine. And it's so "We Built This City" by Jefferson Starship.
Alyssa Dinberg
It's a great song. Perfect.
Mark Stodola
We Built This City and I actually, actually I have to confess, I used it as my entrance song when I would come off onto the stage for our National League of Cities conferences. And even after I left, even after I left office last year during the conference, they did a poll and they had four or five songs on there and said, which one do you think is the best song to be played for these conferences? And guess what? My song, We Built This City by Jefferson Starship won the day.
Alyssa Dinberg
That's fantastic. That's a perfect song to end this. All right. Well, thank you so much for coming on and talking to me today. This was a really interesting episode, and I hope that our listeners enjoy it. As I mentioned, one of the biggest areas of focus for the Mayor's Council is helping with the Kauffman Foundation's Mayor's Conference on Entrepreneurship. The conference is going to be held virtually this year, on September 17th and 18th. And if you're interested in learning more about the conference or registering you can visit @mayorsconference.kauffman.org You can reach out to Kauffman Mayor's Council by emailing them at [email protected]. For our listeners, you can reach us at elgl.org/Govlove or on Twitter @Govlovepodcast. GovLove is hosted by ELGL and ELGL is the Engaging Local Government Leaders network. We're a social startup with the mission of engaging the brightest minds in local government. Please subscribe to GovLove through your favorite podcast service and leave us a review so more people know GovLove is the podcast for local government. If you have a story for us, we want to hear it. Send us a message on Twitter or email [email protected]. Thanks for listening. This has been GovLove, a podcast about local government.
---