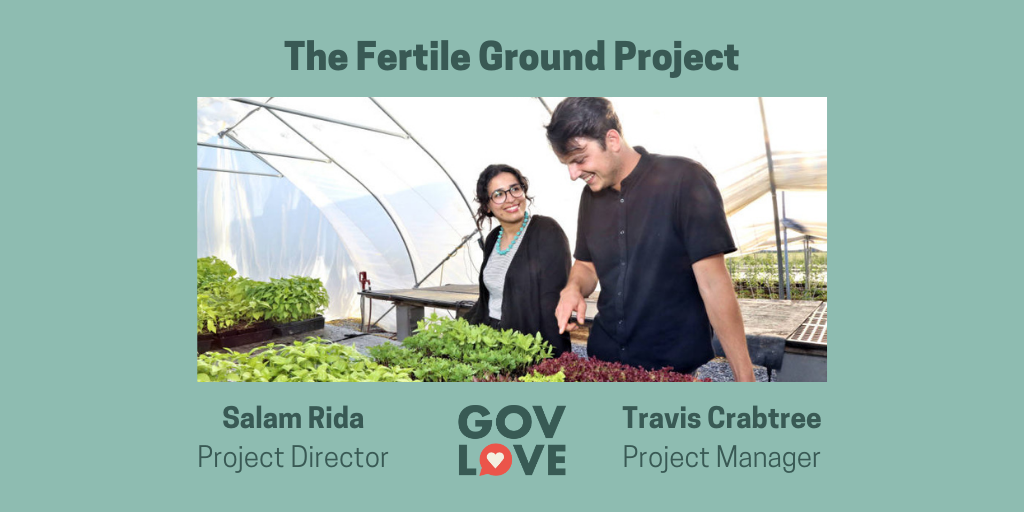 Salam Rida
Project Director
Fertile Ground Project
LinkedIn | Twitter
Travis Crabtree
Project Manager
Fertile Ground Project
LinkedIn
---
Inspiring dialogue through art. Salam Rida, Project Director, and Travis Crabtree, Project Manager, discuss the Fertile Ground Project in Jackson, Mississippi. This project uses public art to talk about urban farming, the availability of healthy food, and the history of land use in the City of Jackson. Salam and Travis shared what led to the project and how food access intersects with history, class, race, and planning.
This episode is part of ELGL's Creative Community series, a partnership with ArtPlace America and CivicArts to write, explore, share, and learn about creative placemaking.
Host: Ben Kittelson
---
---
Learn More
Fertile Ground Project Website
City of Jackson Fertile Ground Project
Bloomberg Public Art Challenge
'Fertile Ground' Explores How Jackson, Mississippi, Is Charting a Better Food Future
The Mississippi Arts Hour | Salam Rida and Travis Crabtree
Ready for Change: Travis Crabtree & Salam Rida
Taubman College Alumni Secure $1M Bloomberg Grant for Public Art Project in Jackson, MS
---
Episode Transcript
Message
This is Brian Murphy, ELGL's Data Manager. The ELGL Diversity Dashboard is the first national data collection on the gender, race and age of local government leadership. We're excited to launch our third full year of data collection. This year, we're expanding our collection to include all levels of local government positions, not just Chief Administrative Officers, in an effort to get a better understanding of diversity across a wider variety of local government positions. This year's survey is looking for responses from local government leaders working in many different positions. We look forward to hearing from department heads, project managers, analysts and others as we hope to get data on the diversity of local government leadership. You can find more information on the survey and a link to respond at elgl.org/diversity-dashboard. We hope you'll respond and follow the data as we work to make local government more diverse.
Ben Kittelson
Hey ya'll. This is GovLove, a podcast about local government brought to you by Engaging Local Government Leaders. I'm Ben Kittelson, consultant at the Novak Consulting Group and GovLove co-host. We've got a great episode for you today. We're talking about reimagining food access within a southern urban context. And today's episode is part of our creative communities series in partnership with the ArtPlace America and Civic Arts. For our listeners, GovLove is looking for your feedback. You can go to govlovesurvey.com and tell us a little about what you think about the podcast. Knowing more about you and kind of what you think about GovLove helps us make podcasts even better. That's govlovesurvey.com. Now let me introduce our guests today. We have Salam Rida, who's the Creative Director at Carbon Office, Project Director for the Fertile Ground Project, and the former Urban Designer at the City of Jackson, Mississippi. She was at the city from 2018 to 2020, and has a Master's in Architecture from the University of Michigan, and a Bachelor's from Michigan as well. And then our second guest, Travis Crabtree is the Creative Director at Carbon Office. He's a Project Manager at the Fertile Ground Project and was also an urban designer at Jackson, Mississippi. He received his Master's in Architecture from the University of Michigan and a Bachelor's at Mississippi State. So with that, welcome both of you to GovLove. Thank you so much for joining us.
Salam Rida
Thanks for having us.
Travis Crabtree
Thanks for having us.
Ben Kittelson
Cool. So before we kind of dive into our conversation about the Fertile Ground Project, we have a tradition on GovLove to do a lightning round to get to know our guests a little better. So Salam, I will make you go first. What book are you currently reading?
Salam Rida
So lately, I have not had the attention span to read anything. But I've been listening to a lot of different audible books. I find that going on walks and listening to books has been a lot better for me than being able to sit down and read an entire book. But the current book that I'm listening to is All We Can Save: Truth, Courage and Solutions for the Climate Crisis, which is a series of essays from women who are on the forefront of climate and sustainability policy and solutions, just in regards to the climate crisis. And the audible book is actually really great because it's read by like a bunch of different celebrities like Jane Fonda and a bunch of different people. It's been it's been a really great read. So it's been really nice listening to that.
Ben Kittelson
Very Cool. Travis, what about you?
Travis Crabtree
I recently purchased Timelapse by Overview last week. It's basically a series of aerial photography and stories about different geographies around the world that are taken by satellite photos, that are sort of tracking the time and influence of anthropogenic sort of civilization and civilization patterns and and how sort of different patterns are emerging and what the effects of that are, are the implications of that on, you know, the earth and climate change. So both of us, climate change stuff. [Laughter]
Ben Kittelson
Yeah. I sense a theme here. So that's awesome. So Travis, we'll make you kick off the second question. Are you watching or bingeing any TV right now?
Travis Crabtree
Yeah, I mean, it's a it's Halloween. It's October. So we have been on the Halloween binge. Mostly has just been an assortment of different stuff, but we're really into some of the sci fi things that are that are out on Netflix. Salam and I watch Sabrina together, which is a story about a witch. But yeah, other than I mean, we were more seasonal with, with what we've been watching.
Salam Rida
I would say that umm, although I'm embarrassed that you told him that we're watching Sabrina, [laughter] one of the things that I do love to binge watch, and I think Travis and I binge watch it every year, at least one is The Wire. I know that's like a super nerdy, um, like local government answer to give, but it's honestly one of the best shows on television ever. Um,
Travis Crabtree
I didn't want to be cliche. [Laughter]
Salam Rida
Yeah, I'm gonna be cliche that we binge watch that, like once a year. And I feel like every single time I watch it, I find something new that I didn't notice in the last one. So it's nice.
Ben Kittelson
Nice. Yeah, it's been too long for me to, I need to go back and re watch The Wire. But we're also on a Halloween kick. And Disney plus has like the old Halloween Town movies. I don't know if you've ever seen those like ….
Salam Rida
I like those movies. Yeah. Yeah.
Ben Kittelson
We watched the first one last night. I think we have to run through all four of them before Halloween. [Laughter]
Salam Rida
That's definitely like, that's from our time. Like, that's from our generation's time. Yeah.
Ben Kittelson
All right, the last lightning round question for you. And Salam, we can we can start with you. Where do you go for inspiration?
Salam Rida
Well, we one of our COVID projects this year, in March, when everything shut down was, we built, we took, we were supposed to take a trip to Europe. We were gonna go to Germany, Copenhagen, Italy, and then back back to United States, for a month. So all the money that we had been saving to do that this summer, we ended up taking that money and building a side yard. So we have this really nice porch that we built this spring. And I just really love sitting out there. And I have like a little garden that I've been working on over the past couple of months. And I've got sun flowers and string beans, and daisies, and just all types of stuff growing. And it's just really nice to just go out there with a cup of coffee and sit out and we have a little creek in the back of our yard that runs through. And it's just really peaceful.
Travis Crabtree
Yeah, I would just echo. We were supposed to go to Europe this summer. And we'd primarily done that because we've been sort of researching post industrial infrastructure in the Germany area, the rural region, and like Scandinavia area, adaptive reuse projects there that are like doing extremely sustainable, green things. And we were, we were supposed to go there the summer. Obviously COVID ruined those plans. But I'd say like that region up there and how they're reinventing existing industrial things is extremely inspirational for us and and the work that we're doing is, we're reimagining a city that has been divested from and abandonment and you know, abandoned industry.
Ben Kittelson
Very cool. Very cool. Um, and I didn't I didn't mention this during the our, the introductions, but I bet our listeners are wondering, based on your guys's answers, you guys are, are married and work together. So there's lots of I want to make sure I got that right, you got that. It was like, how does this work, because they are really close.
Salam Rida
We are yeah, partners in life and partners in work as well. But we are two completely different people, but we share a lot of the same interests.
Ben Kittelson
Awesome. So one thing I always like to ask folks about is kind of their career path. And so in, in kind of preparing for this interview this interview when we were scheduling, you guys had some some news and some some change in your career. So we can we can talk about that as well. But for maybe Salam can go first cut, how did you end up kind of where you are today? Like what was your path to this current position and kind of in leading this Fertile Ground Project work?
Salam Rida
Yeah, you know, my path has not been, I've not taken the conventional route or the easy route to get where I am today. You know, if someone would have told me four years ago that I would be living in Jackson, Mississippi, working for local government, I would say, you know, what reality do you live in, because I'm originally from Detroit. So to move all the way to the south was just a complete cultural, you know, whirlwind for me. But when Travis and I moved down to Mississippi in 2017, we came here to work on the Ecoshed, which is the project of the moment for us through our practice Carbon Office, and we wanted to get to know people and we wanted to just learn a lot more about Jackson. And so there were two positions open at the planning department. And we were hired by Dr. Kumar, which is our former planning director, current planning director is Jordan Hillman. And he wanted to do a radical rethinking about our planning department. For a really long time, the city of Jackson focused on a lot of the more regulatory zoning policies, code enforcement work, and there wasn't really any division doing more experimental, sustainable public work. And my background is in architecture and urban design. But I would say that my my background is not in a very technical skill set as much as it is in like master planning or reimagining cities. And so it was a really great opportunity to cut my teeth on the local government level, and work with the City of Jackson, and work for a very supportive Mayor, Mayor Lumumba, and we're for a city that actually reminds me a lot of my home city, which is Detroit. So I'm far away, but it still feels like home here. And the projects that we've been able to work on have been really dear to my heart and close to a lot of my beliefs. So it's been exciting and new and different, and not what I would have expected at all. But working for local government is just, it was a wealth of experience that I would never turn away, ever. That's my background. Briefly.
Ben Kittelson
Travis, anything you want to add to that?
Travis Crabtree
Yeah, I mean, obviously, I moved to Mississippi with Salam for the Ecoshed project. I'm originally from Jackson, Mississippi. So I, I went to Detroit then came back. But I have a background in landscape architecture, and Master's in urban design. So there's very limited things that you can, well not limited things that you can do with an urban design degree. But their city government is probably one of the more advantageous positions you can be in with the urban design degree. So, you know, we we ended up moving to Jackson and working for the City of Jackson planning department and really showed the potential of what urban design can bring, and what value urban design can bring within a city government setting. So now we're just doing urban design consulting here in Jackson, Mississippi. And before really, before we got there, there wasn't just a huge emphasis on master planning and thinking big picture, at least from more so from the creative sense. There we there were things existing, like public art, there's a lot of public art initiatives in Jackson and some some transportation stuff. But it really has been enlightening to work within a space where we're everything is just really new and fresh, and not so constrained. And the typical sort of mundane government processes that are a lot more technical and rigid. We've really had a, we've had a, we've been really fortunate to have a lot of flexibility and freedom and how we are practicing urban design in Jackson.
Ben Kittelson
Very cool. I kind of alluded to kind of your change in employment. So what led to, you guys both recently the left the City of Jackson to do, like you mentioned the consulting stuff full time. So what kind of led to that decision and what made you want to pursue this this kind of other work, then we can kind of dive into your, your Fertile Ground project work?
Travis Crabtree
Yeah, we felt that well, we were there for almost two and a half years and established a division there and sort of grew it to a good point to where we felt comfortable where we would be able to move towards the private sector on a consulting basis. We felt that we could be more effective outside of the city and consulting on various projects versus being an internal type of employee. But there are obviously pros and cons. But what ultimately led us to doing that was the project that we originally moved here for which is the Ecoshed, which is a mixed use co working incubator space that we you know, sort of run, but it's also I was gonna, it's also the headquarters for Carbon Office, which is our sort of urban design, consulting practice. So we basically developed this really, really nice co-working environment building that we're going to be able to work in instead of a city municipal building [laughter] that you can imagine, you can imagine what that that looks like. So, you know, not to say that we're just, we like, there were definitely benefits to being within the city, building environment from a spatial standpoint, but we felt really the need to be more so within a creative environment that was more interdisciplinary. Because the environment that we were working within, over at the city was a little bit more fragmented, and a lot more sort of divisions and not as interdisciplinary with the people that are sort of on the ground and within the community working.
Ben Kittelson
I want to have you guys on to talk about the Fertile Ground Project, which is like, I think, a pretty cool combination of like food and art and history. So but to kind of back maybe up to the beginning of the project, can you can you tell our listeners, like, what was kind of the origins of that of that project, and what were y'all kind of aiming to do when it was created?
Salam Rida
Sure. Um, so as you know, in Mississippi, and a lot of parts of the South have a very complex relationship with food, dating back to slavery and sharecropping periods where food was used as a tool of control. Today, in urban cities, we see food swamps, and food deserts are another form of control. And big food has really kind of been become a really integrated part in the Mississippi food system. And when Travis and I first started working at the city, we did a pretty robust debt data analysis, so that we could understand a little bit more about, you know, the urban design and infrastructure that that impacts and affects the way that we see and understand food insecurity within the city. And the point of the Bloomberg public art challenge is to unpack a civic issue using public art as a medium. And so we started thinking, okay, you know, Mississippi places last in a lot of health disparities and obesity. And so that's kind of what helped reinforce our focus on food and security. But we really wanted to get to the crux of why does it does it does it affect people this way, and how. So urban design and the way that our city is laid out, although we don't experience it in plan is a but when you look at the data and plan, it really reinforces and and how big of the food disparity we experience within our within our city boundary. So we discovered that 60% of Jackson is actually considered a food food desert, which means 73 of the 113 square miles within the city is classified as a USDA Food desert. That's a huge area of the city. And we started mapping where all of our fast food restaurants are located, where convenience stores are located, where gas stations are located, created all these maps and assets that helped represent the geographical coverage of these locations. And it really started to create just like a really great, a really important thesis, which is, you know, how cities drive the way that food impacts its citizens. And so we thought that through long range planning and through the City of Jackson, we, it is part of our jobs to inform and encourage citizens to understand this, this dilemma. And so using public art to unpack a lot of these conversations, allows, allows the information to not only be more accessible, but a more interactive level, through programming and engagement at these public sites. And we have several different sites all around the city. This is a public art project that mostly touches the red lining boundaries of the city between between where the city is, um, has been historically divested from and the side of the city that and some sides of the city that have been invested in over the past few years, so that the red line almost becomes a bridge between the two. And so that people can see both sides of the of the tracks, which is where our red red line is, historically located is along the railroad tracks in Jackson. And so that's kind of where all of our public art is located and I can definitely dive into more about the different type ologies that we have that exists at each different site, each site and each community acts in its own way in relation to a specific food theme or topic. And I can unpack that a little bit further. But I also wanted Travis to add anything if, if he, if he thinks I missed anything.
Travis Crabtree
Yeah, I would just add that it's it's an extremely interesting topic to talk about within urban planning and urban design, talking about food access, because I mean, often times, you know, in school, there's there, we talked about access when it comes to, or in research, we talk about access when it comes to education, and health care, and housing, and transit. But food is often one that is a critical element that makes the community healthier or, you know, unhealthy. And that has so many implications on other systems, right. So just, you know, I think food is a critical systematic element in food access within neighborhoods, healthy food access, and the quality of food access, as well as the quantity is an extremely area interesting area of research right now, for planners and urban designers.
Ben Kittelson
Yeah, so I'm gonna follow up on that in a second here, but there was two terms that you use, I want to make sure we kind of like define. So a food desert, I think it's pretty common. I know I've heard that in all the jobs I've had in local government. But and so I don't know if you want to give a quick like, one on one on what that is. And then what is a food swamp? Because that was a new term that I hadn't heard before I kind of read a little bit about this project.
Travis Crabtree
Yeah, the difference is essentially a food desert is a geography. It's a it's a geography within a city or a rural area that does not have access to any food, and is actually a USDA metric that is based off of low income and low access, sort of census data. It basically creates a count of grocery stores and food sources within a census tract. A food swamp is a little bit more of a, it's a little bit newer terminology, where it's calculating sort of the abundance of unhealthy food options within a geographic region, or within a neighborhood. So the amount of fast food restaurants, corner stores that are selling unhealthy foods and gas stations that are selling unhealthy foods, typically within more divested communities, is sort of the trend there. You'll see high basically high volumes of food swamps and high clusters and densities of food swamps, and, and food deserts within mostly divested communities, or extremely rural communities that have really never been invested in before. And then there is the opposite, which we sort of have claimed during this project, which is the food Oasis, which is the area that has access to very, very healthy foods, like the farmers market level produce that's coming from the local food source, and often is placed within affluent neighborhoods.
Ben Kittelson
Okay, and then, like for food to access, like, I know, it made sense when you were talking, Travis and that like, access to transportation or schools like that, that's, that makes sense. It's a planning issue and like that local governments have control over, you know, where bus routes go or where we build schools, but food seems like less obvious of a planning issue or, or less of a connection to kind of the urban design or urban planning world. So what makes this kind of a, like a new trending topic in this field and and like, why is this kind of like the, why is this something that local governments should be thinking about and planning for and I don't know who should who should take that question. But Salam or…
Travis Crabtree
I'll start it real quick and if you want to pick up on it Salam, I think that for me, it's it's extremely compelling of a topic because as an urban planner, because it just intersects so many levels of, levels of issues. It's almost like a it's a silver, not a silver bullet, but a really, it's got a lot of good things when you start planning for food access within a city. So for instance, Jackson and Detroit that are sort of similar cities in size and geography, has a lot of abandonment and vacant and blighted land that currently that probably will not ever go back to what it was originally designed for and planned for and zoned for. Obviously, this happened all across the country. But one thing that Jackson Detroit has is an abundant amount of like grassland and vacant land, and they're very spread out and low density, that makes it a compelling option to introduce more green infrastructure into the city, that is, that is actually growing food, you know, within neighborhoods, and growing and extremely close to the communities that that need it the most. So, you know, from urban planning standpoint, you know, looking at how we can produce food is an extremely compelling idea. How we're redistributing, like that, that food that's being grown within a city or within the region, is super compelling. And, you know, where is it ultimately going to restaurant wise, you know, within the city, how far and how big is the ecological footprint of the food system that you're supporting. So we think that urban farming is an extremely undertapped resource to introduce into urban planning into cities, especially rural cities that are like Jackson, Mississippi that, you know, 113 square miles, lots of vacant land, it's almost, you would already you would already assume that, you know, 50% of Jackson is a suburban landscape because of how low density it is. So, you know, we were really thinking about that through sort of a land use perspective on, you can imagine a whole taxonomy of different sort of plugins, or different typologies, that you can plug in to different neighborhoods, whether it be an urban farm, which is different from a community garden, which is different from the learning garden, or a grocery store, or a farmers market. So I think that that's a whole like tool set that urban planners can really start to use and create much, much healthier neighborhoods than we have been building.
Salam Rida
Yeah, I would, I would just echo what Travis was saying. And just make sure that, you know, reinforcing the idea that every city, every 10 to 20 years goes through a comprehensive replanning period. We're currently going through ours at the City of Jackson. We're working on our comp plan. And this is a topic of conversation that intersects intersects geography, class, race, it touches on all of these different critical components to what makes the city what it is, and in order, and food is just something that impacts all of us. We all eat. Everyone is, in my opinion a food, a food action agent based on the fact that they eat. So, you know, we need to be critical about our food system, and understand that sustainably, over the next couple of years, meeting the demands of cities, you know, we've already experienced it with COVID, the impact of global supply chain demand, and what happens when a pandemic hits. And it completely transforms the way that we nourish and feed ourselves as a society. So when we decentralize some of these systems within our cities, we're not only, you know, creating a reliable food source, but we're creating an economic system. We're creating community systems, we're creating dignity for the people within our communities. And so that's a critical component and cities, you know, in a sense, need to help lead the charge or at least be a connector. And citizens need to demand action from their local, state and federal representatives. I think cities really act more as a connector than they are necessarily maybe the one leading the charge. But I think from a more of a policy standpoint, it depends on your local government and the way that it interacts with your state government. There are some things that we can change within our local policies within the city. And then there are some things that we can that is only beholden to the state representatives to make those changes. So you know, that's that's really how I see cities being responsible for taking action against food insecurity.
Ben Kittelson
Well Salam I think you might have touched on this earlier, but one of the, in kind of preparing for this interview, like I read, was reading about the project. And one of the things that's also unique about Jackson is that Mississippi is this kind of industrial agricultural hub in in a lot of ways. So how does that kind of impact this conversation as well? Because I mean, some of these issues you're talking about, like they could exist, you know, in Greensboro, North Carolina, or like you said Detroit, Michigan, like the they're pretty common threads. But what what, what's maybe how does that kind of industrial agricultural piece complicate Jackson? And are there any other kind of local things that make this a pressing issue for for Jackson?
Salam Rida
Sure. So if you go to our Mississippi agricultural site, one of the things that we are critical about is how the industrialized agricultural system has diverted a lot of the funds from local and small farmers within the region, a lot of our industrial and industrial agricultural systems actually, are being exported out of state and not necessarily feeding people within the state of Mississippi. So some of our largest industrial agricultural categories that get exported, and this isn't necessarily Jackson proper, but the state of Mississippi in general is like egg farming, poultry farming, forestry, and so when you have these large economic systems, the state is incentivizing a lot of these larger farmers. And so what, who ends up being left behind in this process, local and small farmers within the region, you know, for example, you know, local farmers within the city of Jackson boundary, do, unfortunately do not receive as much assistance from the USDA, because we're considered a city. And so urban farms, there's just not a lot of subsidies out there for urban farmers. And this is something that we never even realized was an issue until we started working and speaking with a lot of the local farmers within our area. So until urban farming and regenerative farming in general, becomes a platform that people can lobby for and actually fight for. Hopefully, as people continue to see the value of soil and regenerative farming, we will start to slowly leave behind some of these larger, you know, propping up some of these larger industrial farming institutions that we've been reliant on that have been depleting our soil over the past couple of years, and focusing more on feeding our communities and treating the earth properly so that we're able to, you know, harvest the fruits of our labors. And so that's kind of one of the biggest things that we talked critically about in the program documentary as well, is being we're super critical of our industrial agricultural system in the States.
Travis Crabtree
Yeah, I think that there's also just a lack of education on what agriculture is for people, people having this, a lot of a lot of folks, especially here have a sense that that, like large scale monoculture industrial farming is, is the stuff that you that's, that's what they sort of envision when they see when they think of farming, and a lot of those things are more so staple crops that are oftentimes refined foods or manufactured foods that are like soy beans, you know, going into, you know, different products or corn, nuts, then going into different products, cotton, and like Salam said there's other sort of commodity crops, but we're really actually not growing, especially within our region, as as much specialty crops as people would think. So what USDA calls specialty crops are essentially anything that isn't a commodity crop. So like a tomato is considered a specialty crop, and it's surprising that, you know, tomatoes, most of the tomatoes that are coming into Mississippi are from California or Mexico. You know, we have a climate a perfect climate for growing tomatoes. Why isn't it supported more? And I think it's because people are a little bit just really removed from their food system and supporting their food system. So, if people you know, one benefit, I think of urban farming and bringing the agrarian landscape closer to the city is people will go and experience and visit it more and care for it more and therefore support that system more and not be just totally absent minded when they go into a grocery store and purchase a you know, piece of piece of fruit or vegetable. They actually you know, have you know a sort of commitment and a purpose to purchase from that farmer. And you know, people are just sort of learning as you bring it closer to you, people are learning more about you know, growing food.
Ben Kittelson
So like this, I mean, this topic is super fascinating. But how did you guys bring art into it? Like? It seems like there's a lot to chew on here without kind of an art element. What was the approach there? And what do you want to do with kind of the art piece of this project?
Travis Crabtree
Yeah, the art is there just to, it's there to catch the attention, I think. And that's the best thing that art does for the project is, it's there to really grab your attention and to make a statement. There's a variety of ways that we've created public art to make certain statements about whether it be you know, the state incentivizing the monoculture, industrial farming like Salam mentioned earlier, all the way to historical stories and cultural stories of you know, how important food was in the kitchen at one time, and how it sort of moved away from being the family meal and the family dinner being important to more so fast food and convenience. So there's a lot of narratives that you can use, and a lot of a lot of different stories that you can play off of with public art, to really grab and public art, I think just ultimately grabs the attention towards this as a civic issue. But we also wanted to develop spaces that, we strategically selected spaces that could then be built upon as public space, to then receive economic development around that public art that would then try to enhance the food access within that specific neighborhood or to increase food access within that neighborhood.
Salam Rida
Yeah, so the project is driven by the opportunity to creatively reimagine how we design and experience our city like Travis was saying, and you know, public art is just a great way to do that. And so, you know, in our temporary public art projects around the city help, they celebrate the creativity of the local artists within Jackson. So we're also propping up people who artists who historically have also not been very well invested in within the city. Enhancing an urban identity is also really critical to us, like Travis was mentioning. It has allowed us to use narratives like Travis was saying, to tell a story about people who've grown up in that area who, who've experienced food insecurity, but who are also offering a hopeful message for how we can make a difference and how we can reshape the past and look towards the future with public art serving as that example. And so, like Travis said, a lot of the different sites that we've touched on, we've seen not only more people on the street, walking past it, checking it out, taking pictures of it, posting it on social media, so they're interacting with it. But we've also seen a significant change in the way that people view their space. And that includes our neighbors, our community members and our business community members. So you see a lot more of the local community that are near these public art installations, taking more agency upon themselves to beautify their neighborhood. And that, to me, encourages more public private collaboration, and strengthens our local economies, and the way that we, and the way that we need to move within the city of Jackson. But it did require us to take the first step as city, as city members to encourage that type of thinking and, and experience of being in the city. So that that encourages a domino effect of how people become active members, and producers of space and not simply just consumers of space. And so that's like a really big part of how we think about our public art projects is that, you know, we need to not only bring a sculpture or a mural into the environment, but we're also thinking about the infrastructure, we're thinking about, how are we lighting the space, we're thinking about long term maintenance. And so, you know, it feels like on the outside, it might seem like we're just putting something there, but there is a larger master planning process of where each piece goes and what we hope it eventually leads to.
Ben Kittelson
Well, and on that note, what what went into, how did you decide this is where we need an installation, and this is kind of maybe the message that it that it should embody. Like what I don't know if there's some examples that would kind of help with that, or how did you guys kind of approach that?
Travis Crabtree
Ooh, that's a good question. That's a very complicated question. Because as you know, each one on these sites requires a MOU, Memorandum of Understanding. And everyone is different. And there are sites that are privately owned, there are sites that are quasi public, and ones that are public. And actually, the city of Jackson, we they own a good amount of land, but they don't have that many public parks and land within like, great, like good strategic sort of planning areas, I would say. I mean, they're, you know, I'd say maybe 30% of the parks, or 40% of the parks are that. But we wanted to sort of break the break out of the boundary of just doing it on city land, we wanted to go within, you know, the street, the public space, but also onto different sort of private structures and private galleries and and sort of think about the city as a whole and not just be limited to where we were ownership wise placing things. Because the city in the past really hasn't just been that great about private public partnerships. And there was just some really strategic spots that we wanted so badly to put something that we felt that we weren't gonna allow that to sort of be an issue for us. So like Salam, mentioned in the beginning of the interview, we tried to focus them along the red line within Jackson, which is the most predominant red line is the railroad tracks, which really separates the east and the west side of the city. The eastern side of the city is sort of bifurcated between, between the Pearl River and the railroad tracks, which is the more affluent side, the east and to the north, and to the west, and to the south, is less affluent, a little bit more divested part of the city. So we try to really place the interventions along that line to bring neighborhoods together to essentially the red line as Salam was mentioning earlier. And we had to strategic we strategically chose locations that were food deserts, or a food swamp. We had one project that was within the food oasis. But they were mostly within those two types. It had to be a USDA Food desert, or next to a food swamp, which, you know, is a high cluster of sort of fast food, fast food restaurants.
Salam Rida
Yeah. And we also positioned them near, near sites that we knew had a pretty robust community, or had amenities around it that could help support the long term maintenance of the site and help build capacity with organizing capacity around the public art project. So an example of that is our Galloway living room project. If you go on our website, you can take a look. It's a learning garden at Galloway Elementary, which is a Jackson public school. We had to create an MOU between JPS, the Community Foundation and the City of Jackson to utilize that land because it was on JPS's property or is on JPS's property. And we chose that school for several reasons. It was located within a food swamp, it was also a it's also across the street from the Jackson Medical Foundation, which is like a, which is a former mall that's been turned into a large medical campus. And it's also near operation Shoestring which is this nonprofit that works with after school with students after school and parents. And so we created a site Council in a you know, we funded a strategic planning partner that would organize these meetings on a monthly basis to help engage the community and the teachers and the principal at the school, so that it didn't all fall on us or the city to be the community engagement agent at that site. Since we did have so many sites that we had to engage with. So there was an entire budget directed towards community engagement at that site. And we were able to help build capacity around that public art installation so that it has longevity. There's a there's a big, um, you know, issue with people starting community gardens, and learning gardens that are usually ushered in by some type of superhero finger that feels really compelled to do this thing. But then once that person is gone, it kind of falls to the wayside. So how do we not make that same mistake and so by creating a community around the learning garden, we're able to have a site that can function outside of the project, as well as be a site that's connected to the project. But it also is its own site.
Ben Kittelson
Very cool. How many sites are there total?
Salam Rida
Oh, I feel like it's always a work in progress.
Travis Crabtree
There's over 10 different installations. And some of them have been permanent, some of them have been ephemeral. But there's, you know, probably 10 to 15 ones that they really range in scale. And then we have three more that are supposed to be happening in 2021.
Ben Kittelson
Cool, very cool. And Salam, you touched on this a little bit, but what was it like kind of engaging with artists in this project? And kind of how did you guys approach that? And, and then like the, like your example of kind of bringing the community to make it sustainable and kind of longer lasting? And but what was that couple was kind of your approaches, you know, coming from this project and the city at the time, how did you engage with those groups?
Salam Rida
Sure, we had several calls at the beginning of the application process, and we had to have several of our artists kind of confirmed at the beginning. And we reached out to both. From that call, we've reached out to both local and regional and national artists that we thought would be interesting partners in this project. And so that was kind of the first phase of our artists interaction. And then, to me, the most dynamic artists interaction phase that we actually had was during the beginning of COVID, when we had to postpone or fertile ground Expo. So in addition, so prior to COVID, in addition to all of the public art projects, we were going to convene at the peak of all the installations in April of 2020, to have 30 different events over a three day weekend, which ranged from yeah, workshops about how to make your own food to how to plan your garden for the fall to, you know, come larger, more philosophical conversations about the issues of food access, and we had people from all around the world were going to come and give talks, and we actually ended up having to postpone that because it was, you know, in the in the midst of COVID kind of unraveling and us trying to understand what was truly happening. And so in around April, when we were pretty down about the whole fact that we had to postpone our Expo, we took that energy and recentered it into creating a new public art series that would encourage people to be outside, it would also help artists who are struggling financially at this time who might have been impacted from COVID. And be a really great outdoor activity to do with your with your friends and family. So we created a mural series competition that helped, that got together five, five different artists at four different sites all across the City of Jackson. And these were sites that were not originally included in our original Fertile Ground project proposal. But we had to get creative. And we wanted to do something we wanted to give back to the community since we couldn't have the Expo. And we thought this mural series would be a really great opportunity to do that. So we held a open call competition, we created a template and of each site and the the artists were asked to create the design beforehand. And then we had a representative from each member of that community sit on a blind jury. And everyone had about a week to go through the applications. We had over 50 people submit. And so from those 50, we chose five, one of the locations and gallery ended up choosing two different emerging artists teams to do a mural at their gallery in Midtown. And so yeah, that was about a $35,000 public art project at five different, four different sites, five different murals, but it was worth it. And it was really amazing to work with the artists, everyone was extremely collaborative. The artists, once they were chosen would come to the site, speak to the community, talk a little bit about their piece, go back and reincorporate maybe small changes that the community had. And then they came in and painted the mural. Each artist took about a week to two weeks to paint their murals. And it's just been a really great public art piece, and just a really way great way to be creative during a time where, you know, you don't know how to plan for the future. And that's what so much of what Travis and I do is planning for the future. And during this time it was, it was a great outlet for us to at least know that we had this thing that people could do safely on their own because the teams were usually one to two people. So people could socially distance themselves and work on these murals. And then in addition to the mural series, we also had a grand mural series or ground mural that was completed to help the restaurants in our, one of our business districts, the …. business district. And so we were able to create a, you know, we looked at, like what they did at Domino Park, in New York, and with the circles and we emulated that. We created a 10 by 10 grid for, for people to take a square, and socially distance themselves, but still be able to patron the restaurants in that area. So if you go on our website, the project is called Common Ground. And it's a super playful art installation.
Ben Kittelson
And did you guys engage with like, farmers and chefs through this too? Or was it focused mostly on artists?
Travis Crabtree
Yeah, it was definitely a lot of different farmers and, and food professionals, chefs. That's really what made the project, I think, really successful. And having such a big impact was how interdisciplinary it was, as far as art was sort of the platform to bring these different audiences together, whether it be the farmer, the chef, the food entrepreneur, the food policy advocate people, and, and policy makers, and artists together, you know, sort of under one roof. And yeah, I mean, I think that we, we've learned so much about farming through this process, so much about the local food system within Jackson and, and you know, how people are being supported as small farmers, or as small food businesses, and really breaking down breaking down the whole system of what it takes to run trade businesses, whether you'd be a farmer, and, or a, you know, food entrepreneur. So that was all extremely, extremely informative, just to understand, you know, how do we increase access to healthy food, is really, the goal out of the whole project is how do we increase it and for us, our theory is, if we're able to change the urban design, and the landscape, to become just an abundance of healthy food options, and healthy food, like food entrepreneurs, and farmers, and, you know, employment opportunities for, for, you know, providing food for neighborhoods, then like, I think that, you know, we can really create a healthy food ecosystem in Jackson. And Jackson's really, really primed to do it because of how much land we have. And, you know, just our current economic situation and what industries currently exist here. And agro tourism is, is really a very viable option for Jackson. Jackson actually has a pretty good tourism sort of scene and in terms of people coming for the civil rights tours and the different civil rights landmarks. Um, but I also think that the agricultural component can can really become a very innovative and dynamic element that could be added to the city and to enhance the city.
Ben Kittelson
Very cool. Well, you guys both kind of touched on this already. But the what what do you kind of have planned next for the Fertile Ground Project? You mentioned, you know, there's been some, some wrenches in the machinery due to COVID. But what's what's kind of next on your, on the plan for Fertile Ground?
Salam Rida
So, right now, we're kind of in a hiatus period where we're working with our team for next spring's installation. We just finished our last installation of the year, which was a piece by Kara Walker at Ann Gallery called Figa, which is the remainings sugar sculptor fish from the from the subtlety, which was debuted at also the Domino Sugar Factory in New York. And, yeah, that we just wrapped that up and so right now we're planning for April, or through June 2021. Again, you know, we don't really know what the status of social events will look like next spring, but we're hopeful. And we're working on planning two different events, in addition to doing some small breakout workshops that will be virtual and in person. So we're working with Dr. Cindy Ayres of Footprint Farms. She is a local urban farmer within the city boundary of Jackson, Mississippi. And she is working on expanding her site. And so there will be a dinner at her farm with catered by Nick Wallace, who is a local chef in in Mississippi, and they will be activating it as a fundraiser. But she has this really lovely forum. And we're super excited to have people out there. And in addition to that, we are working with two different designs firms RVTR and Acoa Key out of Ann Arbor, Michigan, and they will be installing a public art installation in the …. street historic neighborhood in the business district, which is a historically black neighborhood, historic black business district, within the City of Jackson, and it's, it's in downtown. And so they are doing this really amazing, super far out there installation piece, about the different cultural histories and narratives around food in Mississippi. So touching on the native and indigenous communities, the European settler community, and the African community, and taking different fruits and vegetables from those cultural histories, and creating these sculptural elements that sit on the site, in addition to some urban gardening, and other sculptural installations and, and this really beautiful gate structure that will be connected to the site. So I feel like I just explained a crazy installation, which it will be absolutely amazing. That's like one of my favorite, I'm super excited for that one to be installed. But that's kind of what we're working on for next year. And then we're also trying to write more grants and expand the nonprofit. So in creating this public art project, we also helped establish it as a nonprofit organization so that it can live outside of this Bloomberg Public Art Challenge grant cycle, and receive more funding for the future. So we are currently working on receive, you know, writing grants to receive future funding and hopefully hire more people who can help us organize and project manage the installations for next year. So that's kind of what we're working on right now.
Ben Kittelson
Very cool. And if folks, if our listeners want to learn more about kind of the project, or you know, see the art, what's the best place to do that? Is it like your website?
Salam Rida
Yeah. So you could go, you can go to www.fertilegroundjxn.com. And go to the work tab, and that will take you to all of our installations that we've already completed. And then for the most up to date information about what we're doing and how we're doing it, you can check us out on Facebook and Instagram, @thefertilegroundproject.
Ben Kittelson
Awesome. Awesome. So I've got one more kind of question before we get to our our signature last question of the of GovLove interviews. The, so for, if I'm work for, you know, another city and I'm interested in, I hear this interview hear you guys talk about and want to learn, like more about my local food system. Do you guys have any advice or, or, you know, resources or that that folks should check out if they want to kind of learn more about, you know, the local food system in their area and kind of how their city or their local government can get involved with, you know, improving access or being a convener, as you guys mentioned, kind of in their community?
Travis Crabtree
Yeah, I would start by looking at maps. Because it's always fun to look at maps, I would go to the USDA website and look at their food desert locator. That will sort of give you a idea of how food insecure your city is, and it'll start to sort of grades the surface. I think that like looking at the data at that level is is very big and it is isn't really addressing maybe the micro hyperlocal problems. But you know, just starting there. And I think another important thing that is emerging in every city is sort of urban farming movement and urban farming type of organization that is collectively trying to build more like, enhance more food systems, local food systems within cities. So like looking for a nonprofit organization or a community organization that is trying to do that and get a read on, you know, what, what projects are they're working on and how comprehensive they're trying to be, and what direction they're trying to take it. I would say, for us, you know, our goal is to ultimately use urban design public art, to then enhance this problem of food access, or to enhance food access for different neighborhoods. Whereas some organizations just want to feed people, you know, and be a food pantry, which is, which is perfect, which is great. That's, you know, that's one piece of the puzzle. But for for us, the more compelling side as designers is to be on the other end, that's helping to redesign the city around better food access, and provide more public art that is, is trying to address those issues. So if you can find, you know, public art organizations that are either doing that, or find urban farming organizations that are trying to do that, or even the planning department, the City of Detroit planning department, actually, actually not Detroit, City of Atlanta has its own urban agriculture division, which is pretty cool. So it really depends on what city you're in, and how robust the movement is there for better food access and urban farming within cities.
Salam Rida
Yeah, I would say definitely going, the USDA is a very different site to go on. But it's important to go on a site like USDA. That's just a hub of information and a great aggregator of data from like a super macro level, so that you could get a better understanding of what your community looks like. But in terms of doing something, or learning more in depth, I would I love Civil Eats. It's a daily news blog. And it's an independent media source that posts really compelling stories about food, and environmental injustices and all types of information. And so I would, and FoodCorps. FoodCorps exists in most cities. So I would bait like, like, I think it exists in almost every state, and at least one city. So I would check out FoodCorps if that if food issues and food access is something that you're interested in learning more about, and diving deeper into and looking for different job opportunities, I would start there. And they really aggregate out and they list their sources. So if you want to learn more in depth, I would I love looking at both of them. And just going from there.
Ben Kittelson
Very cool. Awesome. That's great. So we'll make sure to link to those in the show notes for this episode as well. And so for kind of our our last traditional question on GovLove interviews is, if you could be the GovLove DJ, what song would y'all pick as the exit music for this episode? And I might force you guys to have to have to come to a consensus [laughter] on your on your song. So
Salam Rida
Can I go Travis?
Travis Crabtree
I'll pass this to Salam.
Salam Rida
Yeah, I'm usually the DJ too. I'm gonna plug our friend Tyler Tadlock. He's also the graphic designer for the Fertile Ground Project, is super integral part of why the project looks as amazing as it does. And he has a, he has a music project. And it's called Spirituals, and he put out a really great single this year called Lyre, and his name is Spirituals and so I would check him out. That song is really good. Awesome. Awesome.
Ben Kittelson
We'll get that that queued up. So with that, that that ends our episode for today. Salam, Travis, thank you so much for coming on and talk with me. I really appreciate your time.
Travis Crabtree
Thanks, Ben.
Salam Rida
Thank you. It's been great.
Ben Kittelson
Yeah, and for our listeners GovLove is brought to you by Engaging Local Government Leaders. You can reach us online at elgl.org/govlove or on Twitter at the handle @govlovepodcast. And the best way to support GovLove is by joining ELGL.  Membership is $40 for an individual and $20 for a student You can also sign up your whole organization. You should subscribe to GovLove on your favorite podcast app. If you're already subscribed, go tell a friend or colleague about this podcast. Help us spread the word that GovLove is the go to place for local government stories. And with that, thank you for listening. This has been GovLove, a podcast about local government.
---