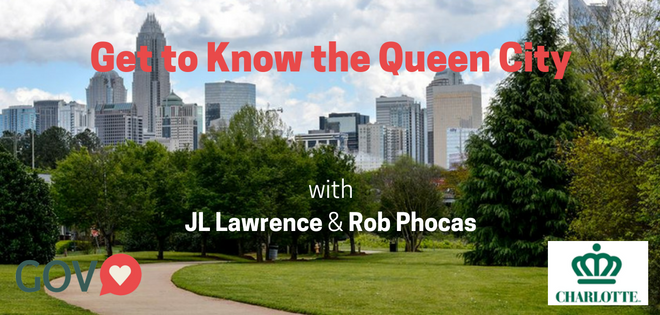 Earlier this month GovLove went on the road to Charlotte, North Carolina. Also known as the Queen City, Charlotte is home to over 827,000 people and is the largest, fastest growing city in North Carolina. We were invited to the North Carolina Local Government Budget Association (NCLGBA) Winter Conference, so we took our show on the road.
We wanted to find out more about the work going on at the City of Charlotte so we sat down with two administrators doing really cool stuff for the Charlotte region:
First we talked with Jason "JL" Lawrence a transit planner and citizen engagement guru. We learned about the Charlotte Area Transit System (CATS), the city's light rail system, as well as his efforts to engage residents in new ways using a repurposed food truck. CrownTownHall won a grant from the Knight Cities Foundation to take citizen engagement mobile.
Then we chatted with Rob Phocas the Energy and Sustainability Manager at the City of Charlotte. Rob told us about the work of Envision Charlotte, an effort to use smart city initiatives to make downtown (or "uptown" as locals refer to it as) the most sustainable business district in the country. We learned about this community led effort as well as plans to train the next generation of tech works in Charlotte high schools and more.
Meet the Guests 
Jason "JL" Lawrence
Transportation Planner
Charlotte Area Transit System
CrownTown Hall | CATS
Rob Phocas
Energy & Sustainability Manager
Charlotte, NC
LinkedIn | Twitter
Extra Credit
3 Charlotte projects among Knight Cities Challenge award winners
Plans for rail route in south Charlotte
Finding your spark – Rob Phocas at TEDxDuke
Charlotte names Rob Phocas energy and sustainability manager
Innovative Environmental Sustainability Projects Coming to Charlotte
Charlotte Area Transit System Facebook