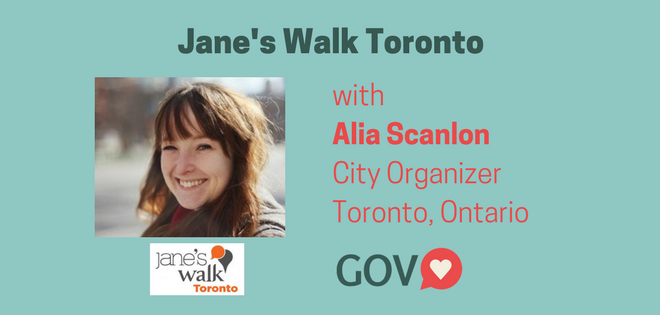 Alia Scanlon
City Organizer
Jane's Walk Toronto
Bio | LinkedIn | Jane's Walk Twitter
The GovLove international team returns with the City Organizer of Jane's Walk Toronto, Alia Scanlon. She talks about the mission of Jane's Walk, an organization that puts on free, locally organized walking tours, in which people get together to explore, talk about and celebrate their neighborhoods. These walking tours celebrate the legacy of Jane Jacobs an urbanist, author and planner (as well as an ELGL inspiration).
GovLove International is hosted by John Allore, the assistant budget director of Durham, NC and produced by Tony Reed, the assistant city manager of Mt. Angel, OR.
.

.
---
Keep Reading
What I Am with Alia Scanlon, City of Aspen, CO
The best Jane's Walk 2017 tours in Toronto
---
The GovLove International Team:
John Allore
GovLove International Host
Assistant Budget Director
Durham, NC
LinkedIn | Twitter
Tony Reed
GovLove International Producer
Assistant City Manager
Mt. Angel, OR
LinkedIn | Twitter