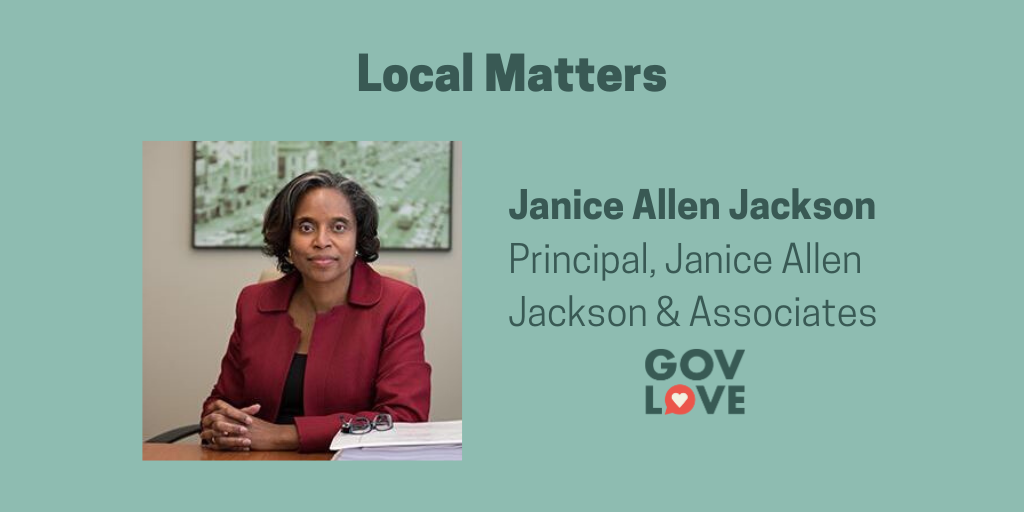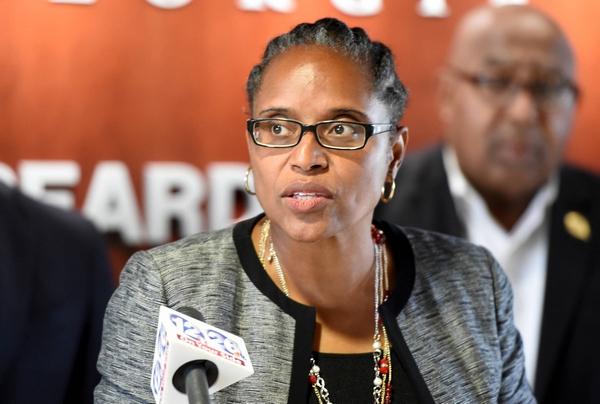 Janice Allen Jackson
Principal, Janice Allen Jackson & Associates LLC
Host of Local Matters
Bio | Twitter | LinkedIn
---
Public service and voter education. Janice Allen Jackson, Principal at Janice Allen Jackson & Associates and Host of Local Matters, joined the podcast to talk about her career path in local government and her current efforts to engage and educate voters through her podcast. She discussed how the conversation about defunding police should shift to interdisciplinary public safety. Janice also shared stories from her time leading the cities of Albany and Augusta, Georgia.
Host: Ben Kittelson
---
---
Learn More
Local Matters Podcast Episodes
Rewind: Defunding Police – An Interactive Discussion
New Augusta administrator Janice Allen Jackson begins work today
---
Episode Transcript
Ben Kittelson
Hey ya'll. This is GovLove, a podcast about local government brought to you by Engaging Local Government Leaders. I'm Ben Kittelson, consultant at the Novak Consulting Group and GovLove co-host. We've got a great episode for you today. We are talking local matters. But before we get into the episode, I do want to just remind our audience that the ELGL annual conference #ELGL20 will be going digital. It's now going to take place October 12th through 16th, online. We're going to announce the details soon, but we're spreading the conference out over a full week to avoid Zoom burnout. And as a reminder, if you want to support GovLove, the best way to do that is by becoming an ELGL member. ELGL is a professional association engaging the brightest minds in local government. GovLove is also looking for your feedback. You can visit govlovesurvey.com and tell us a little bit about you and what you think about the podcast. Knowing more about you helps us make GovLove better. That's govlovesurvey.com. Now let me introduce today's guest, Janice Allen Jackson who is currently the Principal of Janice Allen Jackson and Associates, and host of Local Matters, a radio show and podcast about educating people on civics and the role of local government. Before moving to the audio world, Janice served in local government for over 30 years. Most recently, she was the Administrator of Augusta, Georgia, the consolidated government there, she was also Assistant County Manager in Mecklenburg County, North Carolina and the City Manager of Albany, Georgia. With that, welcome to GovLove Janice. Thank you so much for joining us.
Janice Allen Jackson
Thanks so much for having me Ben.
Ben Kittelson
Awesome. Well, I'm excited. We were talking a little bit about this before we start recording, but we have a tradition on GovLove to start with a lightning round. So some fun questions to get you to get to know you a little better. My first question for you, what was the first concert that you went to?
Janice Allen Jackson
You know, I looked at that question and I honestly do not remember the very first one. I can tell you which one had the greatest impact on me. How's that?
Ben Kittelson
That counts. Yeah.
Janice Allen Jackson
When I was a senior in high school, I saw Lionel Richie and the Commodores perform. The concert was on a school night. It was like a Tuesday or Wednesday night. And I was anxious about whether my parents would allow me to go. But they did. And I was so excited because not too long after that Lionel broke off as a solo act. So it wasn't the traditional Commodores that we had come to love. But that was my very favorite concert of all the early ones that I attended.
Ben Kittelson
That's awesome. That's a great, you should just that's your first concert. Just kidding. Just make that your, Yeah. That's amazing. Awesome. So my next question for you. What book are you reading?
Janice Allen Jackson
The book that I started most recently is "Nothing to Prove: Why We Can Stop Trying So Hard". The author is Jennie Allen. She is in ministry. And she just wrote a book about the challenges of being a woman in particular in leadership roles. She's also a pastor's wife. And she just talked about the challenge of feeling like you have to prove that you're capable, having to prove that you're worthy, having to prove that you can juggle the ministry duties with being a wife and with being a mother, and just how much pressure we place on ourselves unnecessarily when we're trying to carry out multiple roles. I can sort of relate to it because in local government, you know, you're in a, you're a public figure. Everybody has these preconceived notions about what you're supposed to be when you're a public figure, and they're looking for ways that you can disappoint ma'am. So her book really, really resonated with me. I'm glad I picked it up, it was actually a freebie. My church has a library. So I happened to be in the church library looking for something else. And it is one of the things I found on my wait, that's something else.
Ben Kittelson
Interesting. That sounds like an interesting book, and definitely aligns with some of the work we've done at ELGL around kind of encouraging and, and trying to highlight the need for more women in local government and, but there there's definitely like, other pieces to that, that it's not just having representation, having more women in the profession, but making sure that they have the support and are able to be you know, treated like any other, any other local government administrator and they don't have that like that extra, you know, layer of, of analysis or a burden put upon them that, that you're talking about there. Yeah.
Janice Allen Jackson
Yep, it's just sort of take the pressure off yourself.
Ben Kittelson
MmHmm. So my next lightning round question for you. Are you binge watching any TV right now?
Janice Allen Jackson
I am and I just found out that the show I'm watching it on Hulu. And I just found out the show was canceled. So I'm really disappointed that I won't be able to binge for much longer. But it is Council of Dads. It was developed in sort of the same vein as This is Us and of course This is Us has been enormously popular. Council of Dads is similar to that, unfortunately was recently canceled. I just read last night it was cancelled after one season. But it's one of those shows that really encourages you to think about real life. You know, it's about a woman whose husband passed away of cancer. She has five kids, ranging in age from one that just graduated from college and another that's a newborn essentially. And the baby was actually born just a couple months before the father died. And so his idea was that he asked all of his male friends or several of his close male friends to become the Council of Dads to replace him after he passed away. So it is really thought provoking. It pulls at your heartstrings. The kids are really just bright, empathetic, loving kids, but they're going through the same types of struggles that my kids or your kids would go through as they try to navigate life in the wake of their father having passed. So it really is a cool show. Sorry to see it go. Well, we are enjoying the binge watching. Or course my other binge watching endeavors have to do with the Food Network. One of the ways that I relieve stress is cooking. So watching shows like Chopped and Beat Bobby Flay and all that, it really expanded my interest in, in food and helped me say, yeah, I want to try that after all, you know. So those are my favorites in TV.
Ben Kittelson
Very cool. Very cool. I have to add the Council of Dads to the list on, the binge watching something that turns out it was canceled is like a like I totally relate with that. That is a it's a it's a struggle that only exists in this day and age of like binge watching.
Janice Allen Jackson
Exactly. We didn't have those choices earlier. But yeah.
Ben Kittelson
All right. My last lightning round question for you. Where do you go for inspiration?
Janice Allen Jackson
You know, as I referenced earlier, I am a person of faith. I am a member of the Good Shepherd Baptist Church here in Augusta, Georgia. And we offer a number of resources to help build yourself as a person. I've made reference to the church library. We've got a Bible Academy, those types things really helped me. We've got a supportive membership at the church as well. So those give me the type of deep inspiration. Also, it's no wonder at everything that you can find on YouTube these days. One day, I just happened to be listening to something, you know, if you just start let YouTube play, it'll just put it on auto, it'll just keep playing things that it thinks you're interested in. And one day, I ran across a video by Steve Harvey, the comedian. And he really talked about his upbringing and the number of times he was told he couldn't do something. You know, this this idea, he said, when he was a little fellow, you know, fifth grade or so, the teacher asked them, asked all the kids to write down on a piece of paper, what they wanted to do. And what he wanted to do was be on television. You know, everybody else said things. Oh, I want to be a teacher. I want to be a police officer, you know those sorts of routine careers that we see in everyday life. But as a 10 year old, he had the vision of being on TV. And of course, he couldn't carry it any further than that. He didn't know exactly what he wanted to do or how he wanted to do it. He just wanted to be on television. And everybody thought that, that was ridiculous, particularly for him because he had a speech impediment as a young boy. And he, he said that and he felt like the teacher really tried to humiliate him in front of the entire class, when all he did was honestly say what his dream was. And he went home and his mother thought that you know it was, his mother assumed that the teacher was right and he was wrong, which further you know, dampened his spirits. But then his dad came home and his dad talked through the whole episode with him. And he said, well, son, if you want to be on TV, that's okay. You just rewrite that down, and you keep that on that piece of paper and you put that piece of paper in your dresser drawer, and you pull it out every day and you look at it and read it to yourself. And that was the best advice that his father could have ever given to him. And he therefore says his father was his biggest supporter, because he encouraged him to follow a dream that nobody else thought he could accomplish. So there are things like that, that I take as inspiration because, you know what, you know, Steve was 10. You know, my kids are college students. I'm middle age, but we still all have dreams. I think if we don't have dreams, I think that's a problem. We all should have dreams. And we should be able to, you know, commit those things and not be ashamed to commit those things to writing, pulling it out occasionally and saying, hey, you know, this is what I want to do, and remind ourselves that that all things are possible. So I take my inspiration from a lot of different places, some of it comes from a more spiritual place. Some of it comes from watching other people's experiences. Some of it just comes from talking to folks that can be supportive about dreams. So I think there are any number of places that we can pull inspiration from.
Ben Kittelson
That's great. Yeah, I like that. And, and so I kind of to get into our maybe the meat of our conversation, I'd mentioned a little bit about your career path and some of the places you you've spent time in local government. But I'm curious, how did you end up in local government. What was kind of your path to this profession?
Janice Allen Jackson
You know, that's an interesting question Ben. I was, from the time I was in high school, I was interested in the ways that government exists to help people. I remember reading an article about cabinet level appointments and thinking that hey, you know, that they do good work for, it was federal government at that time. They did good work for people. I went to undergraduate school, majored in public policy. And that was, I think, the first public policy major at the College of William and Mary. And because my advisor came to me and said, hey, we're starting this new interdisciplinary major in public policy, and we think you'd be a good first student to try it. So I thought about it for a couple days, and I did it. And I knew policy interested me. I knew government interested me. I was interested in the idea of providing service, you know, using my talents to provide service to people in some way. But it didn't all come together for me until I was in Richmond, Virginia, I had graduated from college, wanted to work for a couple of years because I needed a break. Quite frankly, I didn't want to go straight to graduate school. So I was sitting in my little one bedroom apartment in Richmond, Virginia, I was reading the newspaper, the Richmond Times Dispatch and the City of Richmond at that time was looking for a new city manager because their policy manager was retiring. And they were going through the process and you know, talking about what the city was looking for. And, you know, I learned more about the roles and responsibilities of somebody in those in that career. And I thought to myself, you know, I was 23 years old, I thought to myself, I could do that. And that was when the light sparked for me, there was a real light came on and the spark began about, hey, local government is probably a more appropriate private place for me. You know, at the federal level, you provide service but you're so far away from the people that you serve. Likewise with the state government. The thing I like most about local government is that you are living next door to the people that you provide service to. You see them at the grocery store, you see them when you're at the movies, you see them when you're at your place of worship, you're right there with the folks that you serve, meaning you get instantaneous feedback from them about what it is that they like and don't like about the direction that your government is taking. So it just seemed like a really good fit for me in terms of skill set as well, as well as in terms of that proximity to who you serve.
Ben Kittelson
Yeah, one, but I mean, spending 30 years in the profession, it seems like it was it was a good fit. [Laughter]
Janice Allen Jackson
Yeah, yeah.
Ben Kittelson
You made the right choice.
Janice Allen Jackson
It has been.
Ben Kittelson
So now you're doing a radio show called Local Matters and it is a podcast. What can you, can you tell our listeners a little about what Local Matters is, what you're trying to do with that show? And then and maybe what made you want to kind of pursue this?
Janice Allen Jackson
You know what, it all came from someone, it all came from someone who suggested to me that I do a radio show. She said, hey, you know, I think you should start a radio show and I had never given that any thought at all. I mean, this never. And I was then after that, sometime after that I was sitting there with members of my sorority. I'm a member of Delta Sigma Theta sorority, Incorporated. We, I pledged during my college years, but we stay active over the lifetime. And I'm a member of the Augusta, Georgia alumni chapter. I was sitting there, we were in a social action committee meeting and we were talking about getting folks registered to vote. And I started thinking to myself, hey, you know, we spent all this energy getting people registered to vote. I'm not gonna miss that they know what to do when they get in the ballot booth. And the voting booth. And I just gave that some thought. Later on I was talking to a local minister, who said that he and his church often would use their church man to pick up folks and take them to the polls. They would bring other church members with them to watch the kids of the voters because they go, hey, don't you want to go vote and they would say, well, I don't have anybody to watch my kids, but we've got somebody to watch your kids. So they were taking care of all that stuff for people. And then the folks still didn't understand exactly what they were supposed to do when they got to the polling place. They just didn't see the connection between them casting a vote and their quality of life. So that was the genesis for me of what a radio show and podcast needed it to be about. I say at the intro of every show is we're here to make you a more confident voter and a more informed citizen. Because people just don't get it. There is so much about the way local government operates. There's so much about government structure. There's just so much about the roles and responsibilities of those that you elect. I said, what it looks like to me is that this is a key to hiring somebody for a job when you haven't read the job description first. So that is the basis of my show. During the elections, obviously, I spent time covering the races that were on the ballot. Georgia has a vast array of questions on the ballot that the Democratic and Republican parties can add to their ballots, asking for the public's opinion on various matters, you know, things like should felons be allowed to vote, you know, just as an example of some of the questions that were asked. So I went through those advisory questions. I went through any referendum, you know, sales tax referenda that were on the ballot, I had invited candidates to come in and answer a couple simple questions like, hey, what's your greatest accomplishment in your public life? So people could understand, hey, you know, what has this person really done? And what would tell me what would lead me to believe that this is somebody that could take on the huge responsibilities associated with being a local Commissioner? So we talked about that. We talked about some of the shifts as a result of consolidation even though Augusta consolidated 20 plus years ago. Some people understand the aspects of the structure that changed as a result of that consolidation. So I've just sort of gone through those things. Here recently I've been focusing on the aspects of police reform, police defunding, as people are calling it to kind of help people understand how we get where we are with our current situation and how you move to something that may serve them in a better way. So I've just really want to inform people about what this local government animal is. Because, you know, in the national media in particular, and even in local media, there's a lot of conversation about what happens at the state or not state so much, but the national level, you know, everybody talking about 2020 elections, we're going to elect the president. Well yeah you are, but there are a whole bunch of other folks you elect in 2020. And I just talk about how local government many times has a greater impact on what happens to in your life than you know what happens at the national level, because even with the police discussion, well, who does that? Your local government does that. So that was really, you know, the genesis of the effort and I am really glad that I decided to do it.
Ben Kittelson
Yeah. I love that. And I totally agree. Like we, it's crazy. Like, I think I've talked about this maybe on the podcast before, but I got, you know, I was a politics and economics major, like, you go all the way through high school and college and like you really never, I never took a class on local government, like, you know, it's all this focus on the federal level and, you know, maybe if you're lucky, a couple classes on like the state or the state level or something, but, you know, there's not that same focus on the local level. So there's totally a, I agree, like, totally a gap there and, and finding a way to fill it and educate folks is great. So you mentioned the defunding the police issue, so that you actually helped ELGL host a discussion about this recently. So I, maybe I'll just kind of cede the floor and let you talk about it. But what do you think local governments should be considering as they have these kind of defunding the police you know, conversations. Like what, I guess what's kind of your kind of opinion, what should places be thinking about as they approach these questions?
Janice Allen Jackson
You know what? First is to understand what that means, as we talk. On that day, somebody, one of the guests, she was a city manager in a community in Missouri said, I wish we could come up with something else to call this other than defunding the police. Because that is a really misleading term. And when you say defund, that makes me think you're gonna take all the money away and there won't be a police force. And today, or maybe yesterday, I started seeing commercials, the political campaign ads, where it is an illustration of someone calling the police department, and they say, well, due to defunding the police, we can't answer your call right now. But if this is a right press one, if it's a home invasion, press two, you know, that sort of thing. And I was like, oh my goodness, this will scare people to death. So what I started thinking was, let's a.) come up with a better way to describe what we have, and that was the origin of that webinar. That was how we kind of got in touch with your folks. They are engaged in local government. And I said, you know, I think there's a better way to conduct this conversation. So that was how we came up with the idea of doing it. And let's explain what it is and what it's not. And then we'll kind of talk from there. So I've been just enthralled by it. As I said, I've talked about it on my podcast a couple of times. And I've done further research, because I'm just sort of enthralled, obviously, the local government level, you know, that going back to ancient history, local governments were created, largely to provide public safety services. When you look at how that has evolved over time and needs to evolve, and I found all of it just just really interesting and wanted to put it in context. So we had a wonderful discussion. The, after I thought about that question of what you should call this, what I came up with, I wasn't smart enough to cook enough to come up with it that day, but after I gave it some thought over the next several days, it is more like interdisciplinary public safety.
Ben Kittelson
Ooh I like that. It's really wonky, but I like it.
Janice Allen Jackson
Yes it's a little wonky. But that's a better description than defunding the police, much less incendiary than defunding the police. The notion is, safety, environments of safety are not just created with a nightstick and a pistol and a jail. You know, there are other ways to create safe environments and one of the issues that this country, I have to say a mistake that this country made was that, you know, going back to late 60s 70s, early 80s. We de-institutionalized folks with mental illness, and we didn't create any places for them to go or appropriate treatment systems for them. So, around that same time, not coincidentally, as the number of folks in mental institutions decreased, the number of folks in jails increased. So if there are effective and appropriate ways to treat mental illness, we relieve the need for mass numbers of police officers. So what I see that as is, gradually getting to the point and I emphasize gradual because none of this happens overnight, but it is gradually getting to the point where you need more police services, you're gradually decreasing the demand for police services by providing appropriate levels of other services. So you may put additional money into recreation. You know, I had a recreation director. We had a recreation director in Albany in the mid 90s. Every year at budget time when the police department was asking for more resources, he would say, well, if you give the rec department more resources, you don't need as many police resources. You know, there's a direct correlation between how you fund some other services and what you need for law enforcement. So we talked about recreation we talked about mental health, we talked about job training, we talked about entrepreneurship, education, you know, all those sorts of things. If you get folks involved in constructive activities, there's going to be less of a need for law enforcement. So the right way, when I say interdisciplinary public safety, it's because all those other disciplines get additional resources, where they can really provide a strong degree of services that gradually decrease your need for for police services.
Ben Kittelson
Yeah, yeah. I like this approach or, like, one of the things I've been kind of kicking around as this debate has, you know, kind of engulfed the country is like, this is such a cool like, fun public administration, like problem to solve like, like, what if you got to rethink like how we respond to emergency calls for service and, and maybe you know, it's no longer this many calls are responded to with the blunt instrument of you know, a police officer, you know, the blunt expensive instrument a police officer. And instead you can think about deploying different resources to respond to calls for service and setting up ways to reduce calls for service. Like, in general, like, I just think that's like, even if you don't want to engage with, like, you know, the history of policing and the way it's been used, you know, in our country to, you know, keep different groups in mind, throughout, you know, in different areas and in different parts of the country. Like, even if you just kind of don't want to gauge that, and you just have to set that aside, just thinking about like, hey, maybe I don't need an armed officer to respond to, you know, a kid yelling in a park or something like, and just thinking about different, like, ways that we can mediate problems in our communities and different ways to respond to to calls for service. And then like, I know, our company, we've done a few I've been involved in a few, you know, police's, like department assessments and we look at calls for service and you know, are able to calculate the, you know, the number of officers you need to respond to that workload profile. Like I wonder if like, you can't take like a deeper dive into the data and say, well, with these kind of, we have this many calls, maybe we can we have one mental health worker, and we're able to, you know, you know, with one mental health worker responding to calls on every shift, and that's less police officers you need or something like that, or one mediator, and that's less police officers in need. And rather than trying to train folks on all these different skill sets, you know, put people that are already trained and specialized in into responding to calls for service.
Janice Allen Jackson
Yes and there may be some calls where you need both the mental health worker and the police officer. But those decisions, there needs to be a better way to make those decisions and more resources in place if that's going to be a more appropriate solution. You know, the case in Atlanta, most recently with Rayshard Brooks where, you know, you just it started off with a guy who fell asleep in line at Wendy's. And my, some of the discussions I've had with people, they're sort of like, well did the Wendy's workers even need to call the police to begin with you know. This may have been even more easily resolved if a couple of the, you know, the manager and the staff person at Wendy's walked out and knocked on the window and said, hey, sir, can you move your vehicle? You know, could they have taken care of that without calling the police at all? You know? So there are lots of questions I think that we're going to have to ask ourselves, I'm sure that, you know, it's dark, it's Atlanta, you know, midnight, you know, what have you, they may have had some fear and apprehension about doing that, you know, who knows, but it just causes you to really kind of rethink everything. And I think for, you know, as painful and as horrible as many of these incidents have been, I see them as opportunities for us to really make some substantial change. And that's also one of the things that I focused on in the discussion last week was, you know, any reforms that are made you know, they're the three S's, they have to be sensible as in they have to respond directly to the problems and issues that an individual community has. Be, they need to be sustainable, as in, you know, they should last, you know, you should be able to keep this up. You know, a lot of what I'm hearing now, unfortunately, is knee jerk sorts of reactions where we really need long term solutions that address the problem directly. And then also they need to be substantial. You know, there are a lot of more superficial changes that are taking place. You know, I like to say, you know, I'm glad that you're taking Uncle Ben off the rice but does that feel any better when my twenty four year old son is driving while black? So we have to build some really comprehensive responses to those issues, but I think if our country is finally open to it, I think we can make some really positive changes that don't disrespect the role of the police because there is a need for law enforcement. It has existed since the beginning of time, as I talked about, you know, this goes back to biblical days that there was a need for law enforcement. So there's always going to be some need for it. But I think this gives us an opportunity to put it in better perspective and also increase the role and respect of those who are, you know, mental health workers, social workers, like I said, even recreation, you know, all those folks, there's a there's a way that they can help us decrease the need for police service.
Ben Kittelson
Yeah, it's a it's not dissimilar to like how, you know, fire departments have been able to decrease the number of fires in cities by you know, adjusting building codes and making buildings safer on their design and like, you know, in materials, rather than just like staffing of fire departments more and more.
Janice Allen Jackson
Right right. And those are the most expensive things, as you know, you know, these fire engines are, some of them are 800 grand for a fire engine. So yeah, there are a lot less expensive ways to go about this.
Ben Kittelson
Yeah, it's like creative, like problem solving that gets at the root of it, rather than just responding to the symptom. Awesome. Well, when kind of I was preparing for this interview, I wanted to make sure to ask you about some of the stops you've made along the way in your career before starting Local Matters. So, um, you know, we don't, we don't maybe we don't have to go all the way back in time. But one of your places you spent, a big chunk of your career was in the City of Albany, Georgia. So can you tell our listeners a little about that community and then and what it was like what it's like and you know what you got to work on there?
Janice Allen Jackson
Sure. First off, I got to get destroyed on the pronunciation. The official phonetic pronunciation is Awl-benny, [laughter] Albany is how it is said there. I was there for 12 years. I like to tell people I cut my teeth in local government in Albany. It was it is big enough that it's a full service government but small enough that when you're in the city manager's office, you kind of touch everything that happens. So it was an ideal laboratory for me, if you will. It was also ideal in learning about the expectations of the public. Because again, like that whole business I mentioned earlier about being at the grocery store, you know, Albany had several TV and newspaper daily newspaper, of course, had a Fox TV station as well as NBC I believe it was NBC and at least two TV stations. I can't remember now. It might have been three. So, you know, we were, the news was often the city government. So that meant that when I was at the grocery store, everybody recognized me because I was doing those news interviews talking about whatever new ordinances or activities the city government was involved in. So it really helped me build connections with the public and to understand more about what their expectations for government were. So that was the best experience I could have ever had being there. I did that like I said 12 years assistant city manager for three years and manager for nine. Probably the most significant thing that I could describe for you and a lot of good experiences most significant was that we had a huge flood. We called it the Great Flood of 1994, where at one point we had evacuated two thirds of the county's residents from their home.
Ben Kittelson
Oh, wow.
Janice Allen Jackson
You can imagine that. The county population at that time was about 100,000. And it was an all hands on deck, 24/7 responsibility at the height of that flood. Everybody just working together, city and county governments, our elected officials, our police and fire, engineering, talk about a multidisciplinary experience from the standpoint of everybody had to get involved in order to make that work. We had folks you know, they people were moving in with their family members, they were moving in with their, moving into hotels if they could afford to do that. I mean, it was it was just it was the most insane time ever. We also had substantial participation from our state government, state troopers came down. The DNR sent their helicopters, I mean, it was truly a multi jurisdictional multidisciplinary effort to try to manage that flood. And I like I said that I learned a lot about engineering and infrastructure and pipes and all that stuff.
Ben Kittelson
I can imagine.
Janice Allen Jackson
But it was an effort and really working together. I was the assistant city manager at that time and it was my job to handle public information. So I was the person on the radio and TV stations, giving people the latest updates. And I learned a lot about human nature too from the standpoint that you know, we had sent our police and fire personnel around you know, just out telling people hey, the floodwaters coming. You've got to leave this neighborhood because the you know engineering staff was able to predict, hey, water should be at X location by X time. So those people have to move. And in addition to the radio and TV communication, we were sending our folks out the you know, the fire and police personnel out to get people and we had a few folks that were stubborn and would not leave home. And our fire person, I remember talking to some of them directly because again, the organization was small and we had about 900 employees at that time. So, you know, it was not unusual for me to and our outpost was in fire station one. So I was actually talking to the firemen you know, tell them no actually get directly from them what their experiences were when they went out into the field to try to give people that message. And one of the firemen felt so bad, one of the people who would not leave wound up dying, you know, round floodwaters and I actually talked to the fireman and he said, you know, I had been by there three times and I just could not get them to leave. And I saw the heartbreak on his face, you know, feeling like he had failed, because he couldn't convince them to go. And it was just it was just a really, really tough time for us. Following that was the challenge of trying to rebuild the community. We were fortunate enough to get CDBG funding from the federal government. And that was a lesson in and of itself, because the federal government tells you, oh, we're giving you $66 million, but it's not like they send you a check the next day. [Laughter] You know, that was a process in and of itself, dealing with the Georgia Emergency Management Agency, either federal emergency agency, coming up with redevelopment plans that were sensitive to the needs of the community was a big one for us. Because even though they had suffered that flood, many folks wanted to go back to their communities. You know, there were some who went through the buyout program and said, hey, I'm out of here. There were plenty of others said no, this is where I've spent the last forty years of my life, I want to be there. I want to go back. So then our planning staff, our building inspection staff, you know, working in conjunction with GEMA and FEMA had to come up with ways to determine if it was going to be safe. So we wound up building neighborhoods where every house was five or eight feet off the ground. But it was what folks wanted, it allowed them to return to their home communities. School system had the same discussion about whether they would rebuild schools in the area. So it was a, it was a great study, firsthand in community development. Also, we grapple with the issue of many of those who were impacted by the flood were our lowest income residents. 70% of them were renters. You know, is there a way to make people homeowners out of this using you know, leveraging those funds that we got from the federal government, with the SBA loans and you know, all that process, so it was really a great experience to go through both the immediate disaster itself and then the rebuilding process in order to bring our community back.
Ben Kittelson
Yeah, no, that's fascinating. Like the yeah, the response and then the rebuild, like, what a unique, like, chance to like learn and get the shape of community. You are right. That's really cool. For now to kind of like skip forward in your in your career, your most recent stop was at this, this consolidated City County Government of Augusta. Can you get to, what maybe for folks that like, you know, haven't interacted much with a consolidated city and county, what makes that kind of form of government unique? I know you mentioned a little bit when talking about the radio show that you know, people that live there still don't quite understand what it what it means what the changes have kind of resulted in but maybe for you know, our, our nerdy local government audience what, what kind of makes it unique to run an organization like that?
Janice Allen Jackson
You know, it is it feels unwieldy at times to, be on. [Laughter] And I was out here, I'll tell you, Augusta is my hometown. So when I came to take a job, that was me returning to my hometown, I was working in the government for the first time. I worked in Augusta's government for the first time after having worked in other places. Augusta had a city government. And there are a lot of things that played into the decision to consolidate those Augusta city government and there was Richmond County government. They were entirely separate. If you go back to 1950, Augusta's population topped out being which is not completely unheard of. There are a number of other cities that are better like that across the country, where the city population topped out in 1950. As I said, then it was about 70,000 people and the old city limits of Augusta was geographically was pretty small. As time went on, people began to vacate the inner city, but they stayed in Richmond County. They were just further out, they move further out to less congested areas, newer housing, new subdivisions, better opportunities in terms of retail, you know, grocery stores and everything began to spread out, so people spread out with them. And they looked up one day and the city, city's population had dropped from the 70,000 down to about 40. 40-42 somewhere in there by the time consolidation happened in the mid 90s, mid 1995. So, as you would imagine, as they lost population, they also lost money. And the city just wasn't functional anymore. They had a strong Mayor form of government at that time, and because there was a strong mayor in the city, there are lots of things he could do that hid the financial condition of the city for a long time. People didn't have any idea of how bad things had gotten. But you know, rubber hits the road at some point and the you know what hits the fan and it all came out. And they didn't have any choice. They had to consolidate. And they had put referendums to the public for on a couple of occasions to consolidate, and folks didn't understand how critical the situation was. So they always voted against it. And then the state legislature got involved and they came up with negotiating a new charter and eventually they were able to get it passed. So then we're one of 1996, this new consolidated government took shape. So what was happening at that time, just population wise to give you an idea, what I mentioned about the city population in the Old City Limits having dropped from 70,000 to approximately 42,000. The county population was still growing. It was in the 180s 190s. You know, so there were people here, they just wouldn't, they refused to live in the old city limits. So the population of Augusta, if you look at the demographics, it'll say it jumped from 42,000 to, you know, 200,000 to 180 to 190-200,000. Yeah, that happened because of the consolidation. The, one of the more interesting challenges even though I wasn't here, I would read the newspapers to stay informed. One of the more interesting challenges was that there was a sheriff's office that patrolled the unincorporated areas, and there was the old Augusta police department that patrolled the city limits. They made the decision to consolidate all of that under the sheriff's office. So as a result, Augusta has the largest full service sheriff's office I think in this state, because even in the larger counties of which you know, metro Atlanta there are several large counties, but the sheriff's office They have full responsibility for trouble in everything. They just run the jail, maybe have limited patrol responsibilities. This group patrols everything and runs the jail. So it's the biggest department in the city government now, you know, with 750 to 800 personnel. So you had the police challenge, you had the salary challenges, because the old city didn't have much money. They weren't giving out pay raises very often. So there was a huge disparity in pay for those folks who were coming over from city government when they attempted to consolidate. Then they had to make decisions about hey, who do we could keep and who do we not keep and what do we do with all these employees? So there were a huge number of challenges associated with the consolidation. One of the other challenges, as you might imagine, was race. You know, the idea that blacks would lose political power if the city and county were consolidated. There was the issue of, you know, we can't have another strong mayor, because look what happened to us the last time we had one, you know, there were a bunch of things going on that we, that nobody knew about. So they had to try to find a fix for that. So there was just a series of things that had to happen in order to make consolidation successful. And it really has been a challenge. When you also that together with all of the shifts that happened over time over the past 22 to 23 years, to …… years. So it really, really is interesting. So as I came in as administrator, I kind of had to learn about all that stuff. You really can't effectively, I don't believe you can effectively manage an organization without understanding its history. You know, how did we get here? And often I would be told, well, you know, the old city did X, and the old county did Y. So this is how we wound up with Z. [Laughter] So I had to understand all that as a way to really effectively manage the organization.
Ben Kittelson
Is there an example of maybe how that legacy impacted like, your kind of day to day job even, you know, as late as like, I think, 2019 you were still there. So like, like, you know, what is that like 25 years after consolidation? Like, is there an example of like something or like a, like, you know, this is this is this is exactly why, like, you know, what this is this exemplifies what is going on kind of with the kind of legacy that, you know, I guess Augusta is dealing with?
Janice Allen Jackson
Yeah, this is a simple example, but it would come into play. You know, I came in you know, most employees work 40 hours a week. That's pretty good. And looking at say, why are our folks only officially working 37 and a half hour weeks? How did that happen? And they said, well in the Old City you know, they were full time and they only work 35 hours a week. And the county worked 40 hours a week. So we split the difference and make full time 37 and a half.
Ben Kittelson
[Laughter] Well, that's, that's one way to do it.
Janice Allen Jackson
[Laughter] Really, they only work 35 hours a week and they may say, yeah, that's kind of probably how they went bankrupt. I said okay. Okay. [Laughter] Oh, yeah, that's a little bit of a humorous example, but it has carried over until this day.
Ben Kittelson
Wow. Wow. That's interesting. I love that comment about understanding an organization's history to be able to like lead it. That's a I think a really good lesson for our for our listeners. So we have one more tradition on GovLove. We like to let our guest pick our exit music. So if you could be the GovLove DJ, could you, what song would you pick as your exit music for today's episode?
Janice Allen Jackson
You know, my favorite, the one with most applicability is probably an Isley Brothers hit from way back, gosh, I was a little kid when this came out, called "I've Got Work To Do". And now in my consulting practice, I look around and even though I'm not officially in local government at this time, there is so much local government related work that has to be done. There's so much work that has to be done in terms of informing citizens that they truly can be confident voters and engaged citizens. The whole civic engagement piece I mean, a government exists to serve citizens and governments always need to look for ways to get them more engaged as the entire police reform/defunding/interdisciplinary approach to public safety takes place. Part of my work in consulting is, I want to develop this as part of my practice is, working with cities and counties to reshape their approach to law enforcement so that it truly is interdisciplinary. There are always complex problems to be solved, there are always leaders to be developed, and all of that is a part of my practice. So I see that there is a lot of work to do. And so, and I'm always one that has, you know, the energy level turned up to 100. So, I've just, you know, love just getting out there and making the quality of government better, not just for the public because you want to be good for the public but you also want it to be good for the people who work there. So I've got lots of work to do.
Ben Kittelson
Awesome. That's a great pic. Love Isley Brothers. So, that ends our episode for today. Janice, thank you so much for coming on and talk with me.
Janice Allen Jackson
All right, great. Thank you for having me.
Ben Kittelson
For our listeners, GovLove is brought to you by Engaging Local Government Leaders. You can reach us online at elgl.org/govlove or on Twitter at the handle @govlovepodcasts. The best way to support GovLove is by joining ELGL. Membership is $40 for an individual or 20 bucks for a student. You can also sign up your whole organization. Subscribe to GovLove on your favorite podcast app. And if you're already subscribed, go tell a friend or colleague about this podcast. Help us spread the word that GovLove is the go to place for local government stories. And with that, thank you for listening. This has been GovLove, a podcast about local government.
---