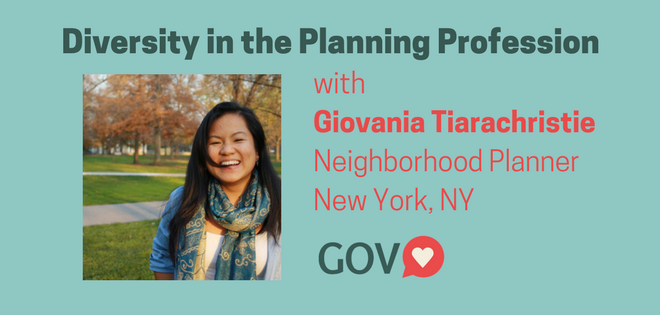 Giovania Tiarachristie
Neighborhood Planner, Dept. of Housing Preservation and Development
City of New York, NY
LinkedIn
Giovania Tiarachristie argues that if planning was a room, the elephant in it would be race. Giovania is the author of an amazing report exploring the barriers to recruiting and retaining planners of color. In this episode she discusses her report, the hazards of colorblindness, the value diversity can bring, micro-aggressions and so much more. Her report on diversity in planning has lessons and solutions for employers in any field or public sector organization.
.

.
Extra Credit
The Elephant in the Planning Room: Overcoming Barriers to Recruitment and Retention of People of Color in the Planning Profession
Elephant in the Planning Room – Presentation
Diversity Committee releases recommendations for diversifying the planning profession in the New York Metro Area
Giovania Tiarachristie Appointed to APA Diversity Task Force