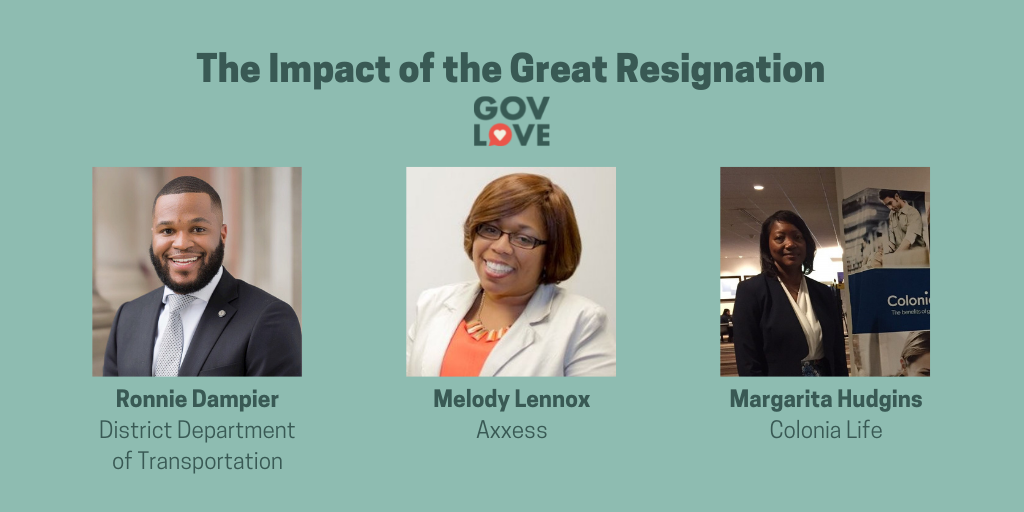 Ronnie Dampier
Chief of Staff
District Department of Transportation
LinkedIn
Melody Lennox
Senior Vice President of People Operations
Axxess
LinkedIn
Margarita Hudgins
Assistant Vice President
Colonial Life
LinkedIn
---
Three guests joined the podcast to talk about the Great Resignation, the impact on the local government workforce, and how to engage staff. Ronnie Dampier is the Chief of Staff for the District Department of Transportation in Washington, DC. Melody Lennox is the Senior Vice President of People Operations for Axxess. Magarita Hudgins is the Assistant Vice President of Colonial Life. They shared challenges and best practices regarding retention.
This episode was recorded from the National Forum for Black Public Administrators (NFBPA) Forum 2022 in Grand Rapids, Michigan.
Host: Toney Thompson
---
---
Learn More
Who Is Driving the Great Resignation?
Majority of workers who quit a job in 2021 cite low pay, no opportunities for advancement, feeling disrespected
The Great Resignation? More like The Great Renegotiation
Women leaders need to hear these 5 important tips from Melody Lenox