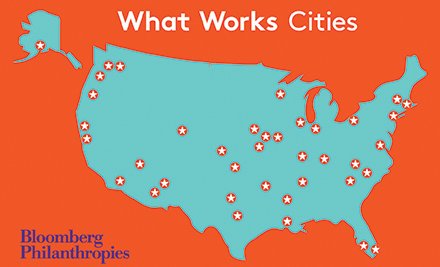 Two weeks in a row?!?! That's right, ELGL Live! Returns for a second straight week. If you disobeyed our advice to participate in the interview with Michael Karlik, comedian and creator of City Council Chronicles, you can make things whole by listening to the recording.
This Friday at 12:00 p.m EST/9:00 a.m. PST, ELGL co-founder Kent Wyatt will interview Zach Markovits (LinkedIn and Twitter), Director of City Programs for the What Works Cities initiative. The interview is a prelude to Zach's appearance at the CPBB Conference.
What Work Cities (Facebook, Twitter, and World Wide Web), launched in April 2015, is one of the largest-ever philanthropic efforts to enhance cities' use of data and evidence. The initiative will provide technical assistance to 100 cities on a rolling basis through 2018 and offer cities around the country tools and resources they need to succeed.  What Works Cities was named by Forbes as "one of the biggest philanthropic bets on social change from 2015."
Fun Fact: ELGL and What Works Cities use Slack as an internal communication tool. Link: What Works Cities' network uses Slack to trade open data ideas.
The Very Latest
What Works Cities is in the news with the addition of 12 new cities including ELGL organizational members – City of Fort Lauderdale, FL and City of Gresham, OR. According to the What Works Cities website,
Gresham, OR will work with the Behavioral Insights Team to develop the capacity to conduct low-cost, rapid evaluations of their programs so that managers have better information to make adjustments and improve results.
Fort Lauderdale, FL will work with the Sunlight Foundation and the Center for Government Excellence at Johns Hopkins University (GovEx) to establish and improve open data practices in order to make their cities' data more accessible to city managers and the public, engage residents around government priorities and services, and increase transparency and accountability.
Here are a few news stories surrounding the announcement of the new What Works Cities participants.
A number of ELGL organizational members (Charlotte, NC, Seattle, WA, and Tacoma, WA) are current What Works Cities.
What Works Cities collaborates with participating municipalities to review their current use of data and evidence, understand where they are utilizing best practices and identify areas for growth.
What's Next?
You can participate in the interview by tweeting your questions to ELGL or submitting them via Periscope during the interview.
Tune into Periscope for the broadcast on Friday. What's Periscope? Live Streaming Local Government