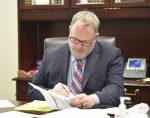 Michael Halford
Guilford County, NC
County Manager
---
Resilient, Thoughtful, Collaborative
Michael Halford is, and has been for many years, a dedicated and compassionate change leader for North Carolina local government. Michael does not shy away from difficult or complex conversations but instead embraces them because he understands that it is a necessary part of the discomfort that comes with positive change and growth. Michael cares deeply about his colleagues in other jurisdictions and within the organization he is working for.
I won't list the many awards and accomplishments but I will say he has had a decorated and trailblazing career. In his new role as County Manager for Guilford County he has already helped to reestablish priorities for the community, set clear values for the organization, and thoughtfully craft a community engagement strategy around the historical Federal investment we have received to help counteract historical inequities. Michael is working to build a team of leaders that is ready to face many new challenges and he is doing it with same care and compassion that he has demonstrated for his entire career.
For these reasons and many others I believe Michael Halford deserves a top place on the list of top local government influencers. For those looking for positive influential leadership that they can aspire to, he is a great example of rising to face many challenges while not compromising personal integrity.
A well deserved honor for a humble and kind person. A personal mantra I have heard communicated many times is "help others, help others" and I think that pretty much sums it up. Thanks for your time and consideration.
Michael has launched so many local government careers. You'd be hard pressed to find someone else who has provided training, leadership, and guidance to as many people as he has.
---
The 2021 Top 100 Influencers List is made possible by ELGL's partnership with CivicPlus.