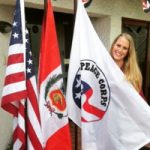 Cassidy Mutnansky
City of St. Petersburg -Healthy St.Pete
Health in All Policies Planner
---
Innovative, Creative, Collaborative
Cassidy is the first Health Planner in the City of St. Petersburg and has taken on this novel role by collaborating with departments across the city to help implement a health lens when planning new policies, procedures and programs. She has taken this role to a new level by serving as the lead on the social and health equity committee tasked with distributing and best utilizing American Rescue Plan Act funds.
Cassidy eloquently delivered messaging in town hall style meetings throughout the city along with managers and directors of other city departments. She has navigated through unknown territory to figure out how to meet the needs of the community while using the funds appropriately.
Cassidy is an innovator who does a phenomenal job assessing a situation, analyzing what has been done in the past, and implementing a strategic plan to help the organization reach their goals in the future. The City of St. Petersburg and the Healthy St. Pete initiative are fortunate to have this creative and innovative leader on their team.
---
The 2021 Top 100 Influencers List is made possible by ELGL's partnership with CivicPlus.