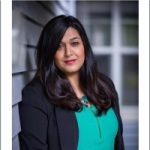 Nadia Hasan
City of Beaverton, OR
City Councilor
---
Courageous, Equitable, Compassionate
Nadia is the first Muslim and first woman of color on Beaverton's City Council. She passionately pursues equity, and does not slow down. She believes in the work, and she gives it her all. She's tired. Yet nevertheless she has persisted.
Nadia is the absolute best. She is a hero for our city, and yet she is so humble. She is inspiring a new wave of leadership.
Nadia spoke with ELGL and CivicPulse at the 2021 ICMA conference, offering her perspective on why it is important to measure and report on diversity in local government leadership. With candor and grace she shared her own perspectives on how diversity strengthens an organization and why representation matters.
---
The 2021 Top 100 Influencers List is made possible by ELGL's partnership with CivicPlus.