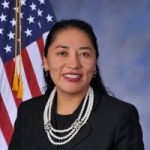 Adriana Trujillo-Villa
City of Haines City, FL
Operations Manager
---
Energetic, Collaborative, Inclusive
Adriana is committed to bringing along other leaders and supporting diverse leadership styles. She is an engaged learner and continues to support those around her.
Adriana has more than fifteen years of combined experience in public and private sectors including positions in county, city, and tribal government; business and local media. She is experienced in municipal public works management and operations, as well as Florida Growth Management regulations. I am nominating her because of her proven excellent background in project management, economic development and capital improvement projects. She is also a clear communicator with the ability to work with staff, community, civic leaders, business owners, volunteers, and elected officials. She deserves a spot on the Traeger List!
---
The 2021 Top 100 Influencers List is made possible by ELGL's partnership with CivicPlus.