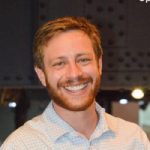 Michael Baskin
Montgomery County Government. MD
Chief Innovation Officer
---
Conscientious, Persistent, Connector
I've never met anyone who goes ABOVE the above and beyond like Michael! He relentlessly seeks and implements new ways of spreading innovation in government, primarily by creating structures that enable team members who are already in place. Michael understands that, while innovation in government may be valued, it is not often practiced at work because conventional structures make it too difficult to do so.
Michael has this incredible way of genuinely connecting with people. He is the ultimate convener, connector, and cheerleader who truly wants government – and the people that work in the #localgov space – to be the best they can be. Michael is the real deal, folks.
Michael Baskin is magic! So incredibly grateful that he is in this world of #localgov. The field – and our communities – are better because of it. 🙂
To that end, Michael and his team work alongside Montgomery County department staff to expand their capacity and tap into their own expertise to solve their toughest challenges. Michael never acts alone and constantly brings others along. He is always working to make things better—whether it's a new tool to make hiring more transparent, starting meetings with a round of well-being check-ins and ending them with a moment of gratitude, or building new partnerships across governments and higher education institutions to test new ways of working. Michael is also an expert facilitator, connector, and advocate.
Beyond the day-to-day at MoCo, Michael interviews current and former government leaders to collect stories and deeply understand different place-based lessons learned; he runs ongoing online events—open to the public—to help those outside of his jurisdiction develop professionally; and he is an eager and willing collaborator with others beyond government, primarily in academia and philanthropy.
To get even more specific, here are some of Michael's above-and-beyonds:
1) Runs ongoing Open Innovation events (anyone can register through eventbrite) such as spreading and teaching Liberating Structures, Civic Design Conversations, Innovation and Accelerator Open Office Hours, How Design Turns Insight Into Action, and many more!
2) Launched and runs an Innovation Accelerator program (https://www.montgomerycountymd.gov/innovation/accelerator/), which is an introduction to structured problem solving and community for MoCo staff. The program is rooted in community organizing inside of government where local government leaders recognize their own power to create change. The program has grown beyond MoCo staff; it's also been taken by folks from Madison, WI and the Washington Metropolitan Area Transit Authority (WMATA).
3) Michael hosts other innovators in government to share their stories via a "Celebrity Interview" series, and is partnering with ELGL to turn this into a podcast.
4) Michael serves as a formal and informal mentor and thought partner to other government leaders, including mentoring three people through ELGL's mentorship program.
5) Michael launched the DesignXPeople Fellowship to match local designers with government problem solvers to learn from each other as they deliver projects together, which has, in turn, helped at least one designer land a job in local government with Boston's MBTA.
6) Michael ran CityLab Unleashed where he hosted= more open and inclusive tag-along events to tap into the energy of Bloomberg's CityLab.
7) Sometimes Michael appears in Brendan Babb's twitter feed (which is kind of a big deal)
8) Prior to MoCo, Michael did excellent work in Chattanooga (around police recruiting, PEAK, budgeting for outcomes, participatory design process for the Mayor's Youth Council). Also, before joining MoCo, he facilitated Cities Count, which brought together city Census leads from around the country in community to ensure everyone counted.
9) Michael helped launch the National League of Cities' initiative, Cities Vote as well as the National Conference on Citizenship's Democracy Fellows programs.
I'd like to share an example that I think illustrates Michael's above above-and-beyond. In my role at Stanford Impact Labs, I coach faculty on how to do impact-focused research with practitioners and how to co-create their research agenda with government collaborators. I reached out to Michael to see if he could help me design an excellent cohort gathering for 12 Stanford faculty members that would be meaningful to them and to the work.
Michael willingly agreed to meet with me and my colleague, outside of his working (and sleeping) hours since we are on the west coast. While he could have just sent us some references or given us a few tips and suggestions, Michael took the time to meet with us, listen to and question what we were really trying to achieve, ask questions to provoke our thinking, ask us what would be helpful, then throw out a bunch of ideas and resources—exactly what we said would be helpful—and finally give us his final recommendations on the agenda and activities that he thought would work best.
He gave us so much content to work with and think through and provided us with a structure that we could refine prior to the session. The session went INCREDIBLY well, as affirmed by the participants and the feedback they shared at the end of the session in the plus/delta format that Michael suggested. This session had absolutely nothing to do with Montgomery County. In fact, no one in government will ever know it happened or the ways Michael helped us (and, hopefully, the way we helped researchers help their government partners). But that's the point. Michael's work has a ripple effect, sometimes where the direct benefit to people and projects is visible, and often where the positive impact he has goes well beyond him and his purview.
---
The 2021 Top 100 Influencers List is made possible by ELGL's partnership with CivicPlus.