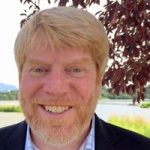 Brendan Babb
Municipality of Anchorage
i-team Director/Chief Innovation Officer
---
Collaborative, Innovative, Connector
Brendan is excited to share and cheer on great projects from other cities and share amazing work from Anchorage. Brendan is interested in how cities can replicate strong projects. Private sector and academia discourage sharing trade secrets or unpublished research with others, while government is thrilled if something from their city can help other people in other cities. Brendan works to encourage the sharing and collaboration of the private sector, non-profits, cities, counties, states and the federal government.
Brendan is lucky to be a member of very strong peer networks including ELGL, Bloomberg Cities, What Works Cities, i-teams, Cities of Service and Code for America. Thanks to these networks and the generosity of peers, Brendan has helped people think about Anchorage for innovation opportunities and helped make people have to drastically expand their US maps to include Anchorage and Alaska.
---
The 2021 Top 100 Influencers List is made possible by ELGL's partnership with CivicPlus.