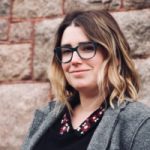 Brianna Sunryd
Amherst, MA
Communications Manager & Community Participation Officer
---
Helpful, Kind, Smart
Brianna is a rock star! Everything she touches becomes better because of her experience and perspective. She is focused on community engagement and finding new ways to bring all voices into community conversations. She is gifted user of communications platforms, and thinks strategically about communications for the agency.
Brianna is also the first to step up and say "let's try it" and this drives innovation. Thanks to her work, we have seen the organization's business process improvement efforts implemented. Lastly, we need more creative brains in local government and Brianna is one of the best.
---
The 2021 Top 100 Influencers List is made possible by ELGL's partnership with CivicPlus.