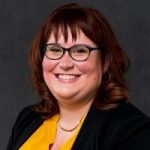 Danielle Rogers
City of Newton, IA
Community Marketing Manager
---
Smart, Passionate, Quirky
I recently had the pleasure of presenting alongside Danielle (sharing communication and marketing knowledge with other Iowa cities) at the Iowa City Managers Association annual conference and her stage presence and excitement energized the entire room like I had never seen before! Afterwards, one of the conference hosts came up to us and said it was the best presentation of the entire conference — and that's 100% because of Danielle. I know she also recently spoke at the Iowa League of Cities conference and can only imagine she blew it out of the park.
Danielle is getting very creative with tourism marketing and promotion of her community and working with IEDA and other communities to promote Iowa as a place to live, work and play through #ThisIsIowa and other campaigns.
She is know in the metro as being a resource for others in local government; using social media to not only tell Newton's story but the story of local government.
Danielle embodies the Traeger spirit, her energy and commitment to improving local government is truly inspiring.
Danielle is a rare talent for a community like Newton, Iowa. Like so many other communities, Newton has stories, and challenges, and opportunities, and it's own quirky personalities that truly shape what it is. Danielle has her finger on the pulse of ALL of it. And not just because her job is to market the community, but also because she is a part of every heartbeat of the city.
New craft beer pub targets Newton for their expansion? There's Danielle behind the bar offering a pint and a smile. Need a volunteer for community fundraiser? You don't have to look far to see Danielle leading the pack, volunteering above and beyond to ensure the event runs smoothly and goals are achieved. Urgent communication and coordinator needed in a time of crisis?
Danielle is the first to stand up ask what is needed to be done, picking up additional responsibilities and roles to benefit a community in time of need. She is passionate, she is committed, and she is always at the forefront of our evolving means of communication and engagement.
I don't know that I have met Danielle with anything LESS than enthusiasm for the day, the question, or the challenge in front of her. If you wanted to find somewhere to wear the colors of your community and do so with an eagerness and enthusiasm.
When I need a co-presenter to talk about all things communications and social media, there's one person I can rely on to lend a helping hand. (at least she hasn't told me no yet.. ) Danielle goes above and beyond her community to make sure her residents are informed about everything that is happening.
During the derecho that hit in 2020, the city's social media accounts were the only source of communication to residents. Danielle constantly updated them and made to respond to every question that came in. In addition to her job with the city, she helped her local emergency operations center during the pandemic. She is the true embodiment of a public servant, always there for her community by sharing her wealth of communications and social media knowledge and stepping up during challenging times.
---
The 2021 Top 100 Influencers List is made possible by ELGL's partnership with CivicPlus.