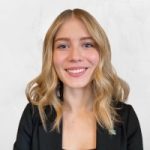 Sophie McGinley
City of Eugene
Assistant Planner
---
Passionate, Inclusive, Humble
Sophie is an incredible person who truly embodies the spirit of local government and public service. She has gone above and beyond in her work with the City of Eugene and helped create the most innovative, inclusive public engagement process I've ever seen the city conduct for her current missing middle housing code amendment project.
She helped the city work with Healthy Democracy to create a lottery selected, representative, paid committee for the project as well as a paid equity panel for the engagement process. She also manages the @Eugplanning instagram and Facebook accounts and has been creating content that is understandable and interesting for a broad audience including younger folks. She also worked with university students to engage them in the process.
Sophie champions equity and inclusion in every aspect of her work. On top of this, she serves as the Chair of the Springfield Planning Commission, is involved in a local transportation advocacy nonprofit, and makes time to present at conferences, events, and in classrooms while still being an amazing friend and mentor to the people around her. She does everything she can to work in alignment with her values and isn't afraid to shake things up and push for what she believes in.
---
The 2021 Top 100 Influencers List is made possible by ELGL's partnership with CivicPlus.