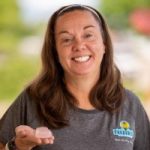 Angela Wilson
Town of Frederick, CO
Communications & Engagement Manager
---
Passionate, Dedicated, Exuberant
In Angela's four years at the Town of Frederick, she has shaped the tone and personality of the Town's communications through her relentless efforts. Wearing her heart on her sleeve, Angela diligently shows up every day to do her best in her work and effort in managing her team. Angela is a contagious beacon of positivity and energy.
She walks into the office each morning singing, bringing laughter and happiness to the office. Angela is committed to exemplifying the culture principles of the Town of Frederick: Family, Respect, Empowerment, and Dedicated. She treats every resident, employee and person with the same level of attention and is willing to go the extra mile to find the answers to the random questions she receives. Angela is dedicated to her job and shares an equal dedication to personal growth and learning by attending training. She continually demonstrates a commitment to empowering the team she manages and people she works alongside.
Angela is not only a great boss and coworker but a great leader and influencer. The world would certainly be a better place if there were more people like Angela in it!
---
The 2021 Top 100 Influencers List is made possible by ELGL's partnership with CivicPlus.