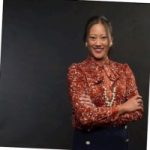 Robyn Afrik
Ottawa County
Diversity, Equity and Inclusion Director
---
Resilient, Courageous, Compassionate
I am nominating Robyn Afrik because she is the epitome of positive influence on a community. As Ottawa County's first DEI Director, Robyn is in charge of implementing the County's DEI strategic plan, operationalizing DEI efforts, reducing implicit bias from decision-making processes, and collaborating with other local municipalities in the community to make Ottawa County a place where everyone belongs. In the DEI Office's first year, Robyn helped to establish over 50 multi-sector partnerships and responded to over 90 requests for service in the first 60 days of the DEI Office's implementation.
The disruptive events that have unrolled in the past couple of years have truly changed the way we all operate. Instead of waiting for answers to these enduring problems, Robyn has viewed crisis as an opportunity to innovate and grow, and brought equity to the forefront of many crucial conversations. For instance, the DEI Office partnered with other departments and community organizations to address disparities in Ottawa County that were amplified by COVID-19. Robyn also facilitated vital and courageous conversations among leaders, employees and the community following the aftermath of George Floyd's death. The ongoing conversations and focus on these issues resulted in health equity and policing equity being the main topics at Ottawa County's 6th Annual Diversity Forum (https://www.miottawa.org/CI/diversity-forum.htm).
During a time where DEI efforts have been increasingly central in organizational planning and public debate, Robyn never shies away from difficult conversations and always jumps at an opportunity to help and guide others to take action to create more diverse, equitable, and inclusive practices. Robyn always strives to build up the people around her and is incredibly thoughtful with her listening, guidance, and advice. Even on the harder days, Robyn leads with energy, passion, and encouragement. She often goes out of her way to share a new resource or check-in with how a colleague is doing, and I think that speaks volumes about her character because she is at the office working until midnight on some days! I have no doubt that Robyn will do many more amazing things and create positive ripples in her community, and I cannot wait to see the impact she continues to have.
Outside of the government world, Robyn is an adjunct professor at Hope College, a national speaker, consultant, and author on issues related to diversity, equity and inclusion. She co-authored Becoming Like Creoles Living and Leading at the Intersections of Injustice, Culture and Religion (Fortress Press), and designed national partnerships and projects through Afrik Advantage LLC, a minority woman owned business, building cross sectors of communities, businesses and faith-based organizations, while developing inclusive leaders and key strategic DEI priorities.
---
The 2021 Top 100 Influencers List is made possible by ELGL's partnership with CivicPlus.