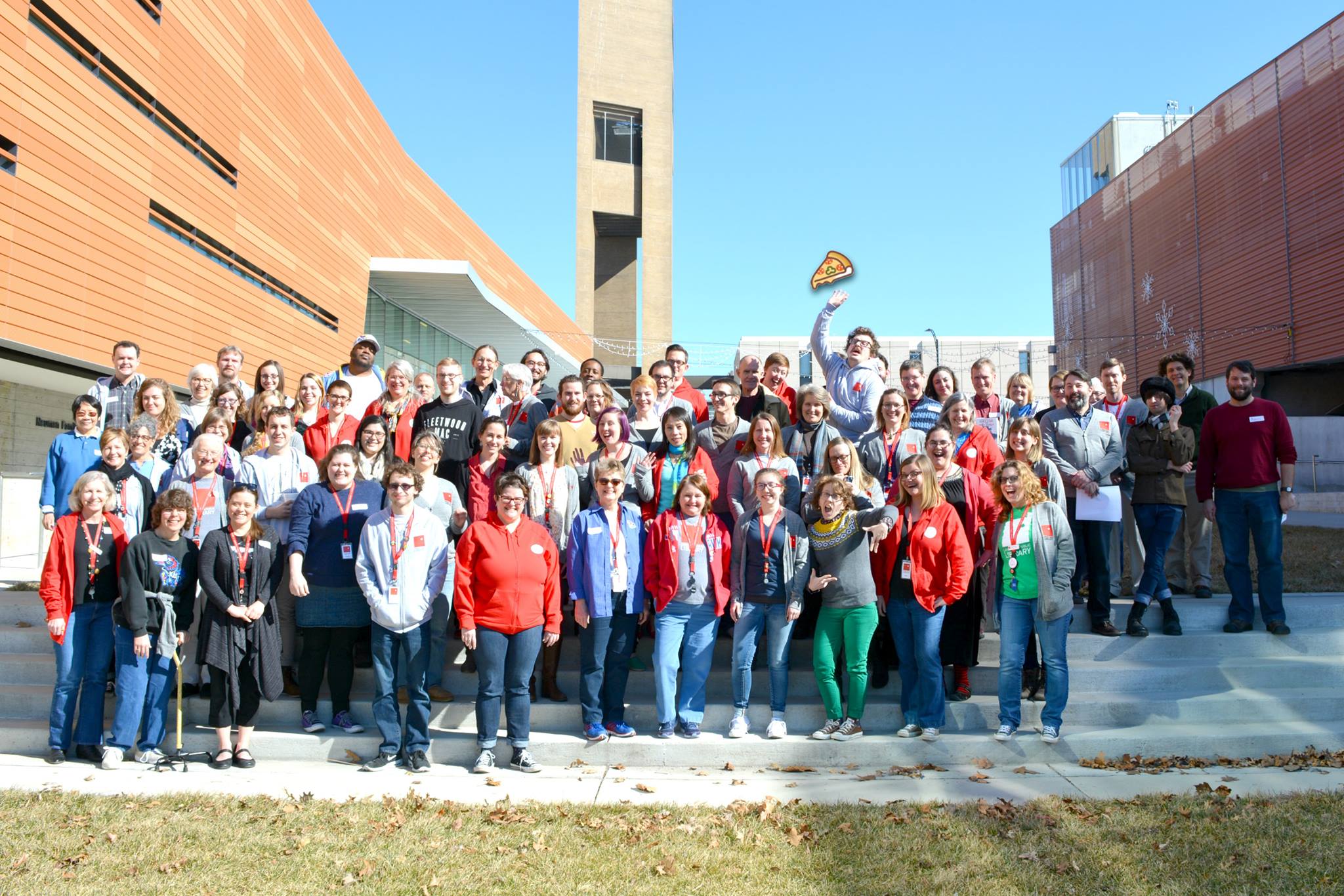 In this series, guest columnists write about what's working at their library, how they are adjusting to the digital age, and what their community expects from a library. Logan Isaman, AmeriCorps VISTA Community Outreach Coordinator, highlights how the Lawrence, Kansas Library is adjusting to the needs of their community.
---
Much like the people of Pawnee, Indiana, we know you've never heard of us—so let's get to know each other! We have a Ladybird to your J.J.'s, a Replay to your Snakehole, and a Baby Jay to your Li'l Sebastian. The only difference is that our library is not, in fact, a Hellmouth full of fire-breathing, vulture-like shushers.
We're lucky enough to exist in one of the rare towns in this country that hasn't forgotten how much it loves its library. Our community demands that we remain current, teach usable information, and keep everyone thoroughly entertained; they demand that we stand both with them and for them. Not only do we listen, but we strive to Imagine More in everything we do.
After receiving requests from parents for wider family representation, we started a drag queen storytime with Deja's Reading Rainbow. Upon learning of the controversy surrounding a recent book by local author Laura Moriarty, we decided to host an event to allow her to explicitly address the concerns that have been raised. When we heard our community asking questions about gender identity, we jumped at the opportunity to host a conversation with transgender educator and activist Scott Turner Schofield.
For our annual Read Across Lawrence program in which we encourage the entire community to read the same book, we've chosen R.J. Palacio's Wonder to encourage open dialogue about bullying and all the things that make us not-so-different. Anti-bullying activist and TEDx alum Lizzie Velasquez — contemptuously referred to as 'The World's Ugliest Woman' — is coming to share her message of self-acceptance and spreading kindness in our everyday lives this March.
Looking beyond the library's walls and out into the community has been high on our agenda this year. Building from our beloved #getcarded social media campaign featuring patrons who have signed up for a library card that week, we piloted a remote library card signup system that has signed up 120 people for library cards at various locations around town and at events unassociated with the library to date. Every time we show up at local events, the most common things we hear from people who approach us is: "Oh, I already have a card, I just wanted to say that I love seeing you out and about!"
Have you ever known a library's logo to serve as a symbol of solidarity? In Lawrence, that's exactly what it has become. Our library is synonymous with equity for all. We are a bastion, a powerhouse, a community hub, and a safe space for all walks of life to come together in celebration of the things that make us beautifully diverse.
We believe that libraries represent inclusivity, opportunity, education, and tolerance. We stand with marginalized communities. We want everyone to have equal access to the information, resources, and services available to them, and we take our role in that extremely seriously.
Plus teens genuinely want to hang out here, so we're doing something right. Like last Thursday's off-the-hook Harry Potter Book Night featuring wizard rock from Harry and the Potters.
---
Fun Facts about Lawrence Public Library
In 2014, we transformed from a 70s-era concrete bunker and re-opened our doors to a gorgeous new library remodeled for a modern taste.

We've been voted

Best Place for Family Fun

three years in a row.

Our giant floor-to-ceiling windows provide the best natural light in town.

The water coming from our fountains was once voted

Best Tasting Water

in a blind taste test sponsored by

Lawrence Magazine

and deemed numero uno by a panel of local chefs and news personalities.

There are super comfy Starfleet Command chairs in every corner waiting to be read in.

A passionate, dedicated

podcast-producing

Book Squad

connecting readers with their own personal librarians since 2013

Every Thursday throughout the winter, we set up S.A.D. lamps for people to read in front of and get their circadian rhythm back in gear.

Teens compete in monthly

Super Smash Bros

tournaments.

We conducted a Community Information Needs Assessment in 2016 and have systematically used that information to change library signage, late fee policy, and outreach methods.

We have our whole community reading R.J. Palacio's

Wonder

and are encouraging deeper conversations about how we can all "Choose Kind".

Our local internet provider, Midco, donated an entire lab's worth of new computers to us this year. Not only does our community now have access to top-notch tech, but staff have had their 6+-year-old computers replaced by newer models that had been in the lab for public use.
---
Supplemental Reading