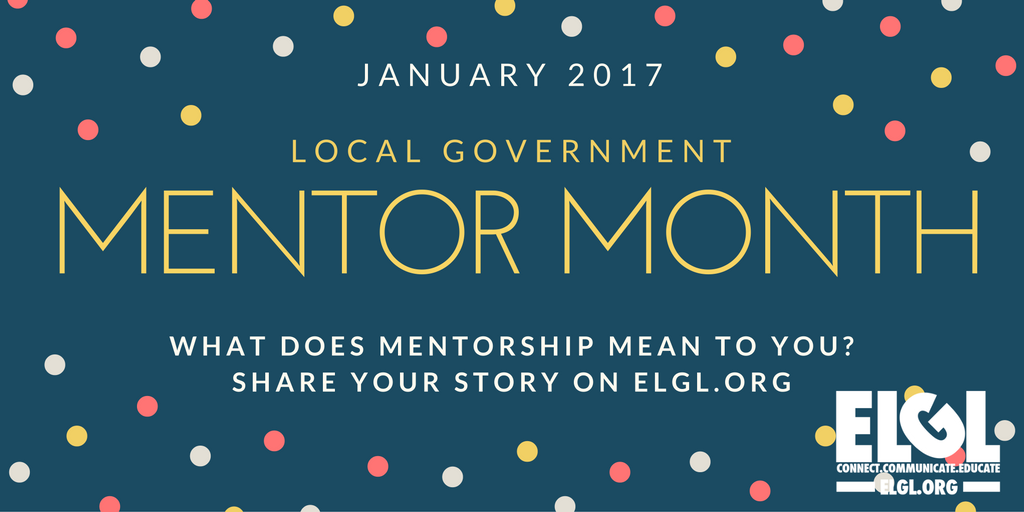 January 2017 is Local Government Mentor Month! All month long, we'll be learning from people about how to be an effective mentor (as well as celebrating the people who have mentored us). In this installment Kathy Lang, Environmental Services Department IT Manager, City of San José gets real about her relationship with mentoring. Connect with Kathy on Twitter and LinkedIn.
---
Relationship status:  It's complicated.
I didn't start out wanting to be a mentor. We had a formal program at work but I didn't participate. I sat comfortably in my Confidence Gap, nurturing my inability to see that anyone would be interested in what I had to say. Then came 2009 and the recession. I, along with many others, suffered what I thought was a major career setback. To help employees cope with the changes, the City started a Career Mentoring program. I was recruited by a colleague to help shape the ad hoc program. We coordinated resume reviews, mock interviews, skills advice and practice but most of all we provided support groups and partnerships. Everyone who participated was incredibly brave to face the challenge of imagining a new career. What I learned in the process was that the skills practice and information was great but the human aspect of gathering to share our stories, fears, challenges and ultimate victories was more powerful than I knew. I saw how this type of program could change a person's life – going from despair to hope to excitement over new opportunities. This was an a-ha moment for me and the beginning of a long relationship with mentoring.
My first experience as mentor was a little "crunchy." I took to heart the mantra that the Mentee controls the program and should be made responsible for creating goals and managing the partnership. I wasn't supposed to give them answers until they had figured out the question. Well what happens when someone says they want to learn about leadership? Where do you even start with that? I spent the entire program trying to help her define what her idea of leadership is. At the end of that program when asked what she learned, my Mentee responded, "She likes to have you read a lot of articles." Okay, epic fail on my part but that taught me a very valuable lesson. As a Mentor, be an active participant and throw away the rule book so you can treat each situation as unique.
People enter mentoring programs for a variety of reasons – they want to learn more about their organizational culture and how to successfully navigate it; they want to learn technical skills; they want to create a network to help them in their career. My experience has been with people who want to get a promotion. Recently my mentoring partner who was looking to change her career mentioned that she likes to work with seniors. She didn't know that we have a division devoted to senior services. I put her in touch with that manager to learn more about what they do. She came back from that meeting so energized and excited with a promise from that manager to continue the conversation in the future. I was excited to feel that I had created a new opportunity she didn't know existed before!
I have had many mentors in my life but two really stand out. I will save their names for my "Thanks to my Mentor" post later this month but I can say that the thing they have in common is that they know everyone! Both are about "six degrees of Kevin Bacon" away from any influential, notable local gov figures. They have both introduced me to the movers and shakers of this profession and helped coach or even sponsor me. They have taught me that networking is critical to your career growth.
So here are my takeaways about being a Mentor:
Just do it! You might not have a lot of confidence now but believe me, you will develop it over time.
You do not have to have all the answers. Always be honest with your partner. If they ask a question and you don't know the answer, commit to finding an answer or at least another resource that can answer the question.
Know yourself. I took the Gallup StrengthsFinder inventory recently and my top five Gallup Strengths are Empathy, Maximizer, Developer, Belief and Strategic. Knowing those characteristics allows me to tailor my strengths to help others.
Remember that this is a two-way conversation. Traditional methods will say that it is up to the mentee to drive the partnership. I mostly agree with that but I might rephrase it as "it is up to the mentee to have the drive and determination to make a change and it is up to me to help chart the course."
Connections are key to helping others. Build up your own strong network so you have a variety of resources you can call upon to help you out.
Mentoring will remind you why you got into this business. Let's admit it – after 15 or 20 years it's hard to remember our youthful enthusiasm for doing good and making a difference. Let the next generation help you remember the good times!
Mentors get as much out of the partnership as Mentees!
Remember when I sat in my Confidence Gap and felt I had nothing much to offer other people? I discovered that when I told my personal story over and over I suddenly realized how much I have to share! I have spent 30 amazing, unique, sometimes weird and strange years in public service. I want to give back to my profession as much as it has given to me over the years.
Whether it's formal or casual, structured or loose there is mentoring all around you. You may already be a mentor or mentee and just don't know it yet. When you have that a-ha moment and realize how valuable (and easy) mentoring is, I hope you will share your story with others.
Kathy and Mentoring
Relationship status: