This company was nominated for a 2017 Haverford Award! Each year, ELGL recognizes the best companies working in partnership with local government. Nominate or upvote a company today!
---
Company name:  
ResourceX (Resource Exploration)
Company web address:  
Company Twitter handle: 
Company LinkedIn profile: 
https://www.linkedin.com/company/15144354
Primary contact for ELGL members (full name + email address): 
Chris Fabian cfabian@resourcex.net
Write a haiku about your services:
How to P.B.B.
Set Goals, Align Resources
Realign the rest
Now share two sentences about what you do:
We create software solutions that help local government leaders prioritize all of their community's resources.
We exist to so that every community can unearth, marshal and re-direct all of our resources (our taxes, our people, our public and private institutions) to dramatically improve how we achieve safer communities, healthier people, thriving local economies and the Results that serve the betterment of society.
If your CEO were a character on "West Wing," who would they be and why?
Character is Charlie Young (Personal Aide to the President) Why- This young man is not to be underestimated physically or intellectually. He often spots minute details that are the key to a critical problem way before anybody else.
Please name two ELGL member local governments that use your product/service.
City of Bainbridge Island, Washington
City of Boulder, Colorado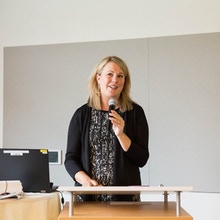 I'm the co-founder and executive director of ELGL. I love my job. Other things I love: local government, my family, my dog Michael Jordan, sandwiches, naps, books, and skee-ball.