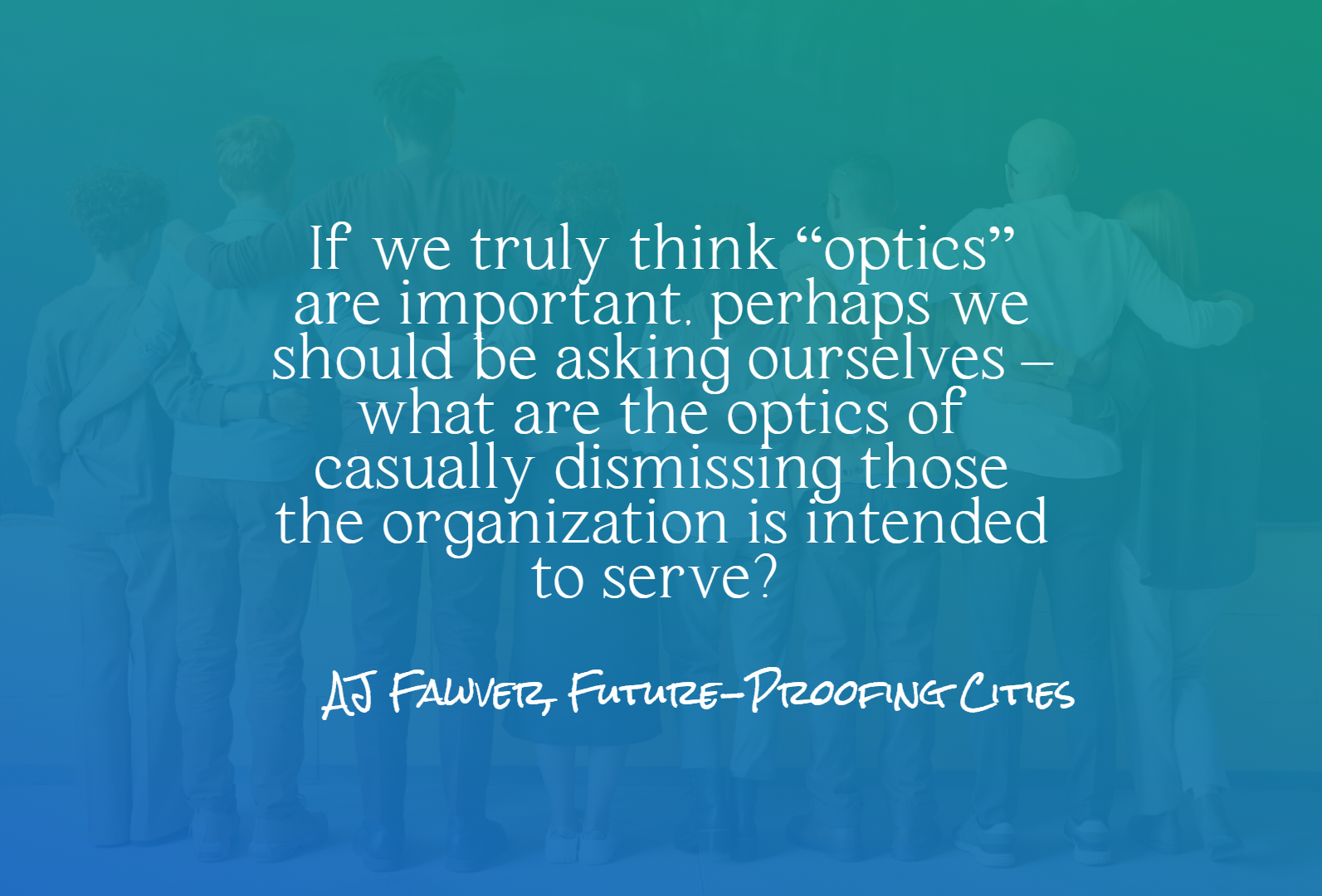 These days, there are so many things done in local government that are all about perception. Perhaps it's the way they "pivot" in response to an unexpected turn of events. Maybe it is striking the right "tone" in the language they use as advised by the public information staff. In some cases, it is the never-ending obsession over word choice and the influence it has on the "optics". They do all these things because they are acutely aware of and anticipating the way things will "play" with their local media. Thinking about the future of their city, right?
I'm going to go out on a limb here and say that local governments' issues with public perception are far less about the language they use, and more about the way they – directly or indirectly – brush off citizens who truly want to be involved in their local communities. The complaints from city organizations and council members about the lack of public engagement, meeting attendance, understanding of issues, and supporting change…well, let me be clear. Those are largely self-imposed issues. In most cases, community members are not encouraged to participate in local governance. Rather, the system of local governance is often carefully designed and conducted in a way to prevent it.
Here's a series of true stories and facts that are likely familiar to many of us, weaved together to illustrate this point. Let's take the case of Charles. Charles is a newer member of his community and believes in making it his home long-term. He is motivated to pitch in, has ideas and enthusiasm about his community, and decides he wants to do something about it. Charles calls the city to see where and how he can jump in and start contributing. Charles is transferred to the City Clerk's office, who explains to him that he is welcome to fill out an application to serve on a board or committee. Now, after reviewing diligently all of the information on boards and committees in his community and crossing out the ones that require qualifications he does not possess, that leaves him with a handful of options. So, he fills out the application and submits it. When he asks what happens next, he learns that all the applications go to (you guessed it) a committee. A committee to review applications and make recommendations on who should be a member of…a board or committee. Charles does some simple math and realizes that his city of 260,000 has a total of 345 appointed positions on boards and committees. So, .13% of the total population is representing the entire community in these various areas. Charles' chances of making through the nomination process and having elected officials place him on a city board or committee? Slim to none. He realizes this, and though he's attempted to reach out to elected officials and explain his desire to be involved, has received no responses.
Now, let's talk about Claudia. Claudia is increasingly frustrated with the lack of resources available in her community for people like her and her neighbors. She's constantly hearing local planning officials talk about the lack of resources that they, too, are drawing from. So, she decides to do her part. Claudia hops on her city's website and explores a menu titled, "I want to". While it was very clear what she needed to do if she wanted to submit an application, request a permit, or make a complaint, there was nothing about how she could volunteer her efforts or talents. Next, she contacts the city offices and asks who she can talk to about volunteering to help with city planning and neighborhood initiatives. The first person she talks to at the city has no idea what to tell her. She's transferred to five city departments over the course of the next 45 minutes. With each transfer, she becomes more perplexed. While it appears everyone she spoke to was appreciative of her enthusiasm, it was very clear that they didn't know how or where to utilize her – and in a couple of instances, it appeared they were afraid of her involvement. After a few weeks go by and nobody gets back to Claudia, she gives up. Now, when her neighbors gripe about the way the city is run, she shares her story about how her desire to help fell on deaf ears.
Now, let's look at the story of Manuel. Manuel has been through the same processes as Charles and Claudia. Manuel is passionate about creating a community that will be far better for his grandchildren than it is in its current financial state. He regularly watches council and board meetings online, reads the reports, and submits comments when he feels he has something to offer. After applying to sit on a city board or committee for years, he has yet to be appointed to anything. He, too, has attempted to volunteer his time and efforts to find where to plug in and assist with carrying out the myriad goals and actions the city has put out in its plans. In fact, he's one of the citizens in the community that has read through those documents. With no other apparent avenue, Manuel decides that he wants to run for elected office. He  begins doing research to lay out his next steps.  He learns that there is no pay for the position, if elected. Manuel has a full-time job and a family to support and the council's meeting schedule conflicts with his work schedule – his employer is unwilling to modify it. Manuel also learns that there are two other citizens running for council in his district. One is a wealthy business owner, and the other is a retired professional. Both have already begun campaigning with signs and advertising. Once Manuel and his family learn the costs of campaign signage and ads, they quickly realize those expenditures are out of their reach and conclude being an elected official is only within the reach of people with means and flexibility.
Perhaps in local government there needs to be a renewed commitment to the people who the organization is intended to serve and benefit, and an embracing a true sense of community. Every city struggles with a resource gap – all the while ignoring the people resource who has time and talent that is untapped. Rather than cultivating that resource in a way that increases trust, transparency, satisfaction, and action, the time is often spent worrying about other more superficial things. Things like how the organization is perceived with special interest groups, peer cities and professional organizations.
If we truly think "optics" are important, perhaps we should be asking ourselves – what are the optics of casually dismissing those the organization is intended to serve? Future-proofing our cities means creating something people want to be – and can be – part of.
---
This monthly blog series by AJ Fawver, Community Consulting Program leader for VERDUNITY and based out of Lubbock, Texas. She shares her take on planning for communities and securing their future in a time where legislation, fiscal pressures, disengaged citizens, and diminishing resources make it increasingly challenging. You can access all of the posts in the series and learn more about AJ on the Future-Proofing Cities homepage.
---
Connect with AJ