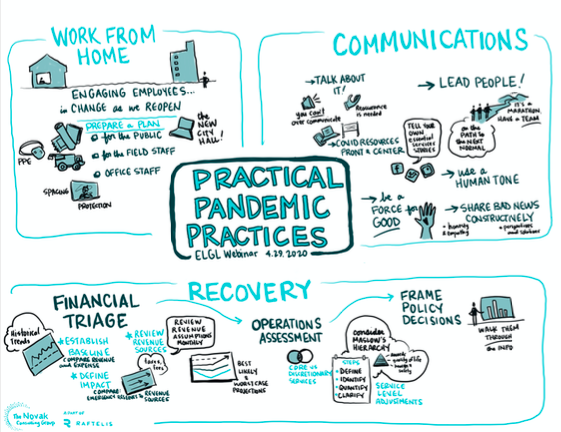 On April 29, 2020, we learned from the team at the Novak Consulting Group/Raftelis about managing during the extended COVID-19 journey is setting in. Resources from and a video of the event are included below.
---
Watch the recording:
---
Event description:
We've figured out working from home, and keeping our essential services running, but we need practical pandemic practices for what's next. This webinar will focus on how to re-energize local government leaders and re-engage employees that you may not actually see for a while! We'll also provide advice on dealing with evaluating your finances to develop a plan to protect and serve your community. What's next may involve delivering bad news too, so communication strategies are important. ELGL is partnering with The Novak Consulting Group, now part of Raftelis to present some tangible solutions now that we are six weeks into navigating the crisis. TNCG are practitioners first and share the public service values of the ELGL Membership.  Their one-hour webinar will share what's next for local government as they discuss maintaining connection, workforce implications and share steps to ensure financial resiliency in the post viral economy.