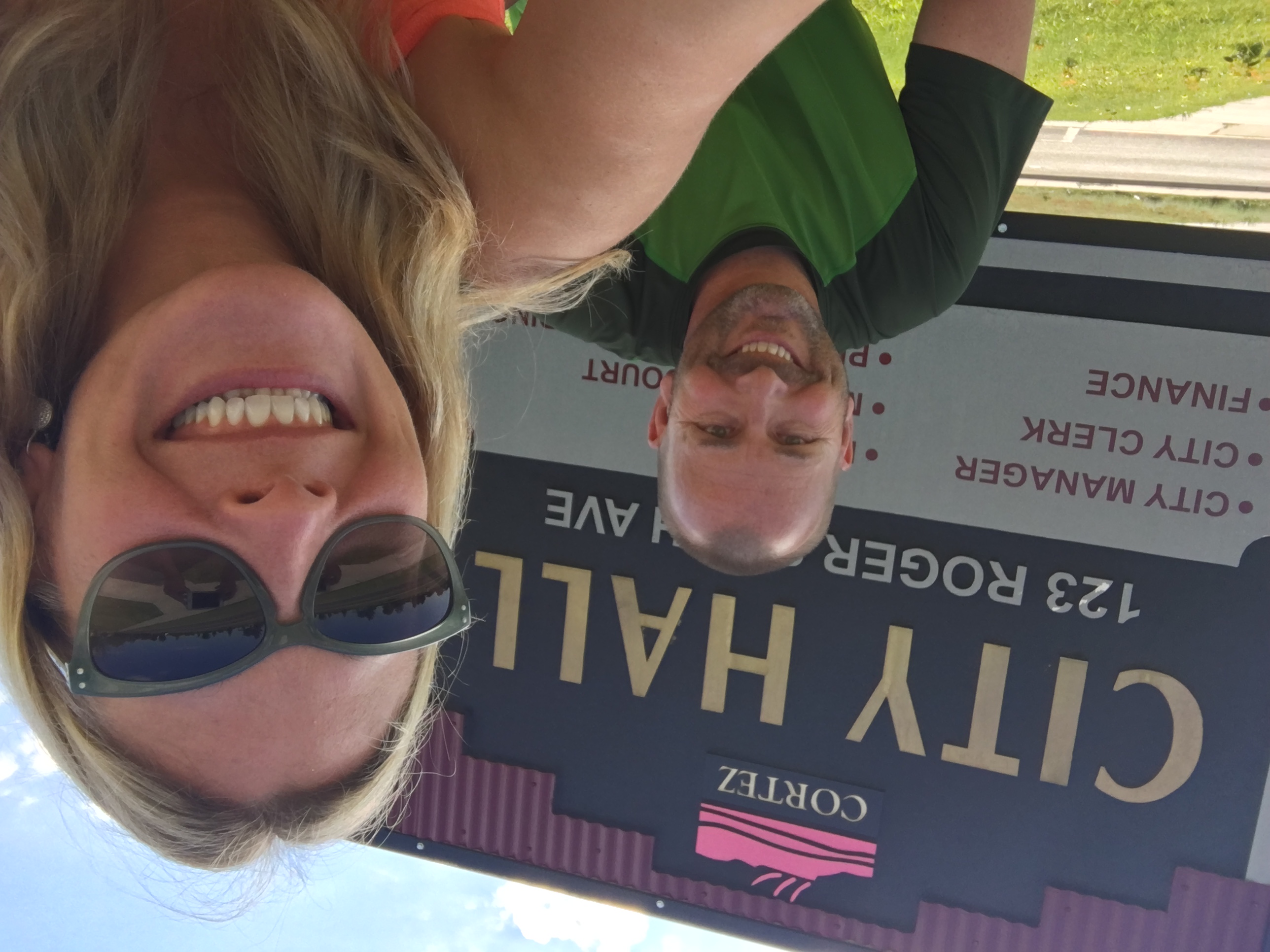 15 city hall selfies and 2,418 miles driven…. this is what happened when Dave and Julie Morris documented their road trip in August 2014. They head back on the road, camera in-hand, to top their previous #cityhallselfie madness.
ELGL historian Engage 2 Act credits Dave and Julie as a major reason for the spread of the city hall selfie.
Long has the selfie been the domain of the millennial but then one day in 2014 Julie and Dave Morris (both local government employees in the US) whilst on an annual holiday started to document their trip to Yellowstone National Park with selfies at city halls and other municipal buildings. Accompanied with a running commentary of their travel on social media the result was: 15 city hall selfies over 2,418 miles driven…. and as they say in Hollywood, a star was born.
Julie is an HR Analyst for the City of West Linn, and Dave is the Assistant Fire Chief for the City of Lake Oswego.
Telluride… This is the town that played host to Butch Cassidy's first bank robbery.  The town has a rich mining history and is extremely isolated.  It takes a bit of a drive to get here from anywhere.  It has spectacular views of the canyon walls and towering peaks from nearly any place in town.  Interesting fact… the town was named after a very valuable chemical element called tellurium found in gold throughout Colorado.  Gold telluride was never found in the Telluride area!  Don't worry they did find plenty of regular old gold, silver, and other ores to make it work out.
Couldn't get enough of the historic old mining towns so we had to stop for a bit in Ouray.  This little gem is sometimes referred to as the Switzerland of America.  There is a distinct Victorian feel to the town with a Wild West twist.  This was our landing point after coming down the Million Dollar Highway.  Unsure why it was named this but Julie wouldn't drive it again for a million dollars… Breathtaking views death defying drop offs.
Silverton Colorado… Wow. What an amazing setting for this little old west town and silver mining mecca.  It's an adventure just getting into or out of this town but if you are up for an even bigger driving adventure drive 12 miles out of town and on the 4X4 road to Animas Forks… Sweet little mining ghost town at 11,160 elevation.  Parking lot had about 30 ATV's, 15 Jeeps, and our little Santa Fe.

Durango!  This is one of our most anticipated stops.  The spectacular views from the Durango & Silverton Narrow Gauge Railroad excursion to the historic buildings in old town.  This is what we think about when we dream about a mountain western town. 
A big shout out to the Durango Firefighters who spent time visiting with us on a lazy Sunday afternoon and the highlight of the stay was when a big bear came down and watched us in the swimming pool.
On our way out of Mesa Verde and onto Durango.  The little western town of Mancos, voted "one of the Best Small Townes to visit in 2016" by smithsonian.com is our next stop.  This historic little community has a rich history dating back to times before the cliff dwellings at Mesa Verde where built.
July 18 – Kayenta, Arizona
From Julie and Dave:
Driving through the Navajo Nation we happened through a little town  that seems to be predominantly a layover for visitors to the nearby spectacular area of Monument Valley.  This little town is part of the dramatic red landscape of the Colorado Plateau.  It is part of the Navajo Nation and, according to Wickipidia is the only municipal-style government on the Navajo Nation.  It is managed by a 5 member elected town board which hires the township manager.
---
Also on July 18 – Cortez, Colorado
From Julie and Dave:
Next stop was the City of Cortez in Colorado. Cortez is a Home Rule Municipality that is the county seat and the most populous municipality of Montezuma County.  We enjoyed a powwow at the Cortez Cultural Center while there. Our kids were chasing prairie dogs while we took this awesome selfie!
---
July 15
Hello! The first City Hall selfie is from Moab, Utah!
Moab is home to about 6,000 full time residents who share their home with over a million visitors each year. Moab is the gateway to two National Parks… Arches and Canyonlands.
Adventure enthusiast's from around the world vacation in Moab to take advantage of world class off-road four wheel drive adventures, whitewater rafting, mountain biking and hiking.
As Bruno Mars would say it's too hot for the police and the firemen.
Next up: Monticello, Utah
---
Named after Thomas Jefferson's estate, the city of Monticello is the county seat of San Juan County in Southwest Utah. The town was glowing in the success of several uranium and vanadium mines from the 40's to 60's then the US Department of Energy spent time from 1994 to 2004 cleaning up radioactive material.
A experimental station to try dry farming began in 1903… today dry farming is a major occupation that contributes to the local economy today. The residents have a dry sense of humor.
Next up: City of Blanding, Utah
---
An interesting note on how Blanding, Utah got its name — In 1914, a rich fellow named Thomas Bicknell offered a 1,000 volume library to any town who took his last name as their town name. Two towns competed for the library.
It was decided that the prize would be split and the town was named after Bicknell's wife who's maiden name was Blanding.
Our favorite part of this town is the A&W restaurant/convenience store/bowling alley/gas station. One-stop shop for everything.
---
Supplemental Reading