Please review these two recent job postings from Salem & Wilsonville:
Salem – Financial Analyst
City of Salem is looking for a high-level professional to work within the Finance/Administrative Services Department, reporting directly to the Finance Director. Under general supervision, the Financial Analyst will perform complex economic, financial, statistical and management analysis in support of the development and administration of utility rates and debt modeling using excel. Responsibilities will also include preparation and/or review and analysis of financial plans and forecasts; financial systems and processes; and, cost allocation and cost recovery models. The position performs highly complex analysis and provides sound professional recommendations and assistance in long-term financial planning, policy formulation and implementation, evaluate fiscal and economic impact of proposed legislation, and coordinate the five-year capital improvement programs. Work involves gathering, analyzing, and reviewing information to decide a course of action. Requires a bachelor's degree from an accredited college or university in public administration, business administration, or a related field and 3 – 5 years of experience in a related field. If you are interested in this opportunity, please submit the online application, your resume, and completed supplemental questionnaire by August 12, 2011. Full posting and application at www.cityofsalem.net/Jobs. EOE.    *Posted 07/19/2011
Wilsonville – Assistant Planner
ASSISTANT PLANNER, PLANNING DIVISION, CITY OF WILSONVILLE.
Open: Tuesday, July 19, 2011 Closes: Monday, August 1, 2011 at 5 pm
This is a full time position with the Planning Division that provides customer service, information and planning assistance to consultants, developers and citizens interested in planning-related issues or processes, and processes permits and applications. This position also serves as the land-use, nuisance, and code enforcement officer.  Required qualifications include a Bachelor's degree in planning, architecture, public administration or a closely related field of study and at least two years of related experience. A Master's degree in planning, architecture, public administration or related field of study is preferred and may be substituted for part of the required experience. Applicants must be able to understand and interpret statewide land use laws and processes, as well as the City's Comprehensive Plan, Development Code, and Ordinances. Fluency in Spanish desired.  Salary Range for this position is $3,604 – $4,594 per month. Compensation will normally be the minimum salary; however, higher salary appointments may be made and are contingent upon qualifications and experience. The The Assistant Planner job announcement and job description are available at www.ci.wilsonville.or.us or by calling (503) 682-0950. Required application materials include a City of Wilsonville application form, a current résumé and cover letter, and a response to the supplemental questions (maximum of 4 pages). Please email applications to jobs@ci.wilsonville.or.us or mail to City of Wilsonville, Attn: Human Resources, 29799 SW Town Center Lp E, Wilsonville, OR 97070. EOE.    *Posted 07/19/2011  read more…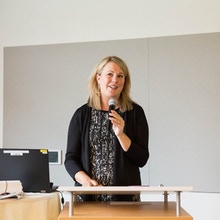 I'm the co-founder and executive director of ELGL. I love my job. Other things I love: local government, my family, my dog Michael Jordan, sandwiches, naps, books, and skee-ball.