Exciting news from today's Oregonian about ELGL Speaker Sarah Jo Chaplen's new job with the State of Oregon!
(As a reminder, Ms. Chaplen's new boss Michael Jordan is the ELGL speaker on Wednesday, June 22 at noon in Wilsonville.  Please RSVP to Ben Bryant if you haven't done so already!)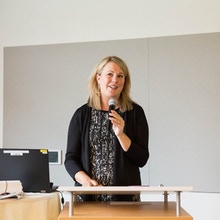 I'm the co-founder and executive director of ELGL. I love my job. Other things I love: local government, my family, my dog Michael Jordan, sandwiches, naps, books, and skee-ball.