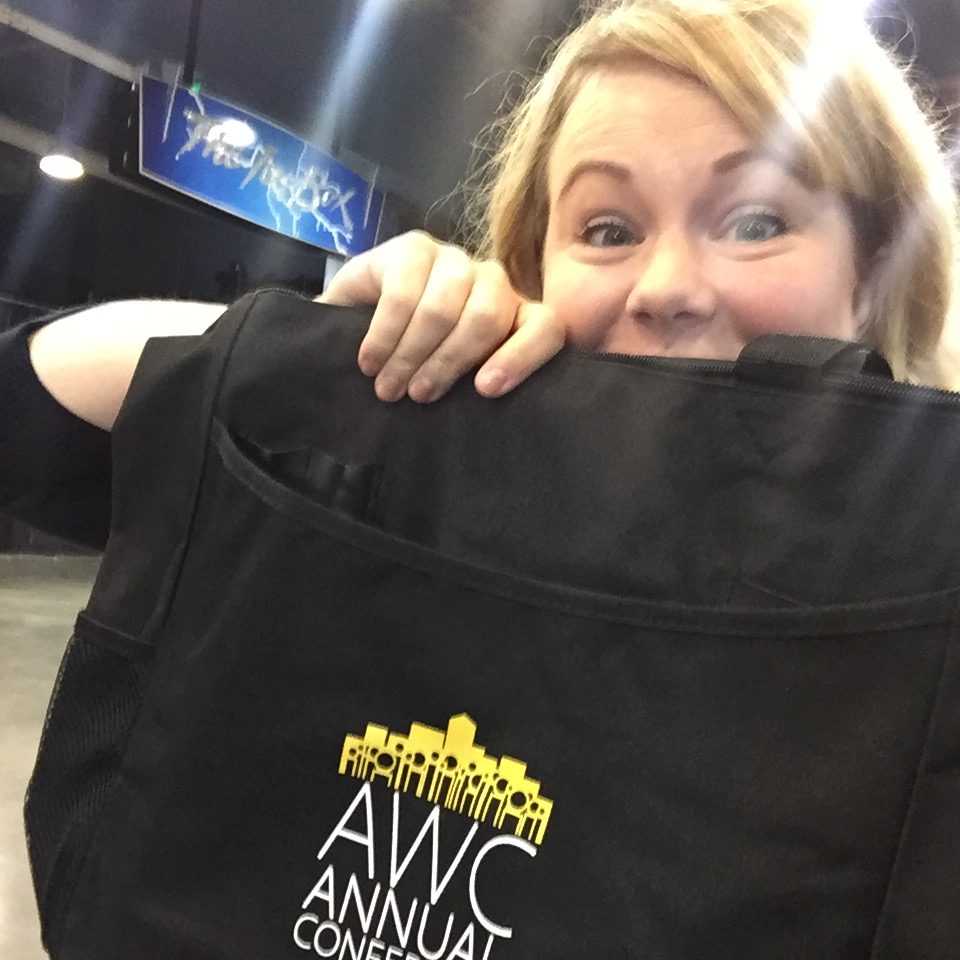 #WACities – Day One
Day one of the Association of Washington Cities conference didn't disappoint. Here are some reflections and connections from the conference.
First, Everett is adorable. There's a nice little downtown, and the conference facility is attached to the hockey stadium, so there's a very different feel here, to be mixing and mingling where normally there's body checking and blood bouncing on the ice.
#WACities Swag
Kent attended AWC last year and loves his swag bag so much and constantly shows it off to make Ben jealous. I scored this year's bag and am considering giving it to Ben as a wedding present. I hope he likes it!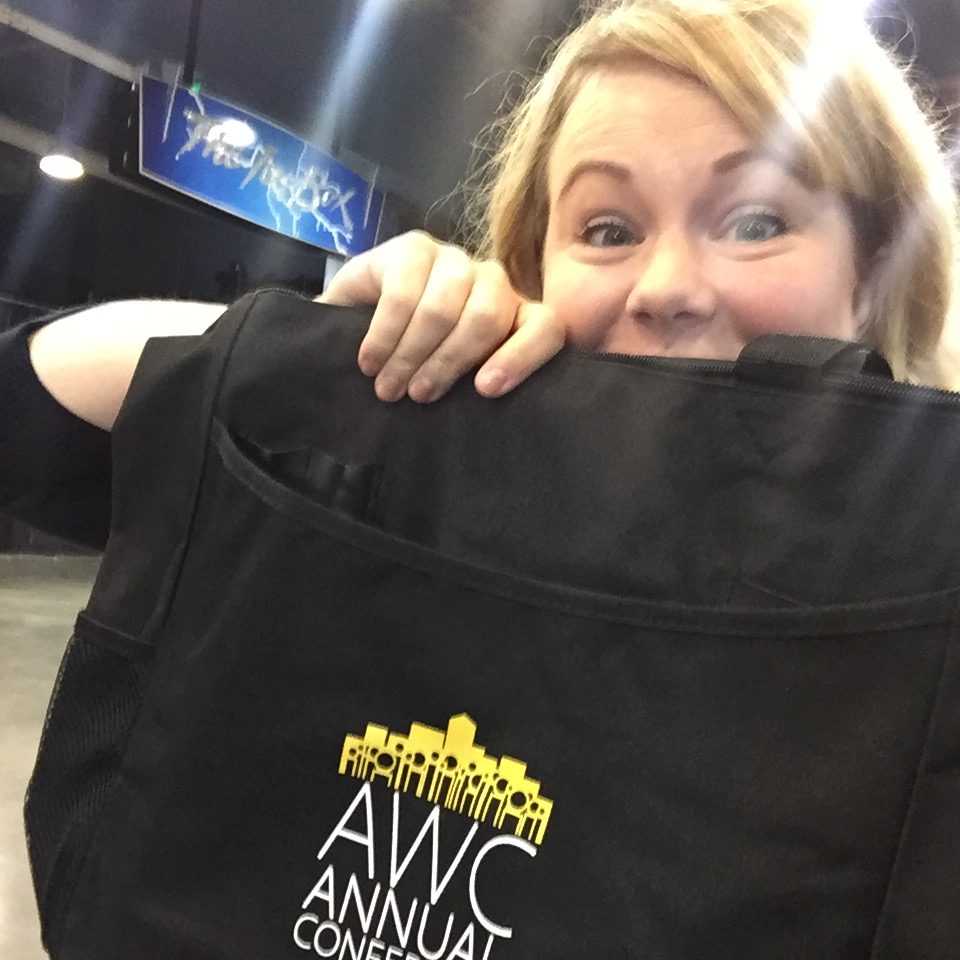 AWC also took a play from the ELGL playbook and ordered specialty ribbons for the conference. I was tickled to see that "ELGL" was  an option (as was "Diva" and "LOL" and "OMG" and "Clueless" etc.).
Day One Keynote – Denis Hayes, Bullitt Foundation
The luncheon keynote was CEO Denis Hayes from the Bullitt Foundation. The Foundation funds environmental organizations in the Northwest. Hayes began his presentation with some historical perspectives on how inattention to sustainability topics has, time and time again, resulted in the breakdown or demise of society and culture.
Hayes made the argument that cities – not state or federal government – that can make the most substantial and important gains related to sustainability and resiliency. He challenged the AWC audience to think big and bold about ways they can use their positions as local elected officials to make changes that will yield environmental gains.
Hayes went on to explain that the investment that the Bullitt Foundation made in the construction of their organization headquarters showcased how initial investment on sustainable building practices could produce a return on that investment, over time, that not only benefited the bottom line of the organization, but also the environmental impact or footprint of the building over time.
This example led Hayes to his concluding points, which were the "bold possibilities" that are available to local leaders to almost immediately make an impact related to environmental sustainability in communities.
Those "bold possibilities?" Revisions to state and local building codes. Yep, building codes. He made great points about how making these changes would result in energy performance standards that not only benefit the environment, but also the bottom line of businesses.
ELGL Session #1 – Social Media
ELGL's first co-hosted session was on social media. Speakers Josh Mahar, Councilor Ryan Walters, Carmen Palmer, and Alicia Seegers Martinelli knocked it out of the park.  I was especially impressed with Carmen's Twitter work for the City of Sumner, WA. Carmen believes in using a "human voice" and humor to convey important city issues.
I also was impressed with Councilor Walters' close attention to separating his council social media presence, from his work persona (he's an attorney for Skagit County), from her personal social media accounts. Electeds could learn a lot from Ryan.
AWC Communications Director Alicia Seegers Martinelli is also a social media heavyweight. She has to carefully balance the need to advise cities to be careful and
mindful of public records laws when using social media, while also promoting the benefits to using social media to listen and connect with citizens. She walks this line very well, providing legal guidance and practical support. The same goes for MRSC Communications Director Josh Mahar. Josh's approach to this presentation was to provide realistic and important information about social media, without scaring people away from using the tools. You can view the full presentation online here.
ELGL Session #2 – Citizen & Youth Academies
I had the chance to present with one of my favorite people – Michelle Taymeyer from the City of Beaverton, OR. Michelle manages the Beaverton Mayor's Youth Advisory Board (MYAB) and we shared a session on developing citizen and youth academies. You can view the full presentation online here.
I'm a huge fan of citizen academies. I think they're a tremendous way to give citizens the chance to learn more about how cities operate, the complexities of the issues we deal with, and it also helps to build a cohort of citizens who can easily step in and contribute on advisory groups, to provide feedback on trending issues, and potentially even run for mayor or council positions in the future. The room was packed and we had some great questions (and our abridged answers) including:
What's the optimal size for a citizens academy? (20-25)
Are field trips a good idea? (Yes, always)
What's the idea age for youth academies? (Middle or high school)
Any ideas for engaging elementary school age kids? (City Hall field trips)
How do we better convey the complexities of the work that cities do? (It's difficult, but social media and engaged community outreach can start to convey these important topics).
ELGL & AWC Social Event
We hosted a social event with AWC after the conference ended. It was a great chance to meet new friends, reconnect with our AWC besties, and get down and nerdy about local government topics. Case in point: our new friends from Flo Analytics. They're working with AWC on their GIS Consortium concept, which allows for economies of scale and innovation scaling for cities that need GIS technology and data collection. 

To me, this type of consortium and innovation is precisely what state municipal associations should be providing. I love seeing how AWC takes a true leadership role in promoting innovation, especially related to technology. This gives smaller communities the confidence that they seem to need to pursue some of the ideas and technologies, because they've learned from their state professional association.