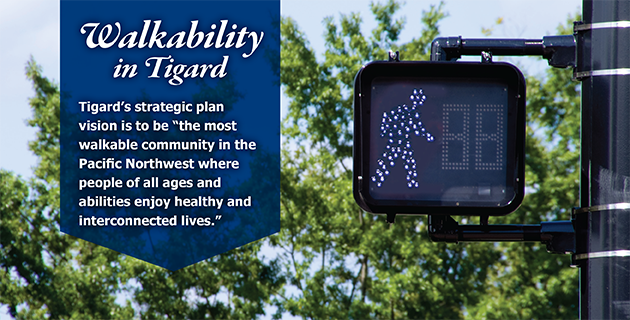 Mariela Alfonzo has over 15 years of expertise in the field of urban design and behavior research. In 2014, Mariela was recognized as one of Urban Land Institute's 40 under 40 best young land use professionals around the globe. In 2013, Dr. Alfonzo was awarded a Fulbright to examine walkability in China. Here's Mariela's article from last month – Does Walk Score Walk the Walk? Catch Mariela's presentation at #ELGL17.
---
By Mariela Alfonzo (LinkedIn), State of Place
Have you ever been to Tigard, OR?
I'm guessing your answer is no…But…YOU'RE WRONG! Well, you're actually kinda sorta metaphorically wrong. You see, if you've ever been to a post-WWII, auto-dominated U.S. suburb, you've basically "been" to Tigard…
In 2012, the City of Tigard took the first small step any city needs to take to get on the walkability wagon…it admitted it had a problem. But crucially, it then took a giant leap toward establishing a truly livable, sustainable place for its citizens – it proclaimed that it aimed to become the most walkable city in the Pacific Northwest! Ambitious? Maybe. Bold? Definitely!
Below we present the story of Tigard to show how we help cities use data and analytics to more effectively actualize their visions and justify the need to do so, and by proxy, help cities attract more residents, retailers, employers, and quality developers and, increase their economic and environmental resiliency. In other words, we are not in the business of producing dust-collecting reports. We are in the business of equipping cities with the tools they need to use their (limited) time and money more effectively to help create places people love (as we wrote about in last week's blog where we outlined how we're helping cities reach their New Year's Resolutions to put ON the (placemaking) pounds).
Tigard Is All of Us
Or technically over 70% of us, according to Walk Score. While I've never been to Tigard in person, I feel a personal connection because of my own experiences growing up in my hometown, Miami. And I'd bet that any of you who have spent time in a typical U.S. suburb would feel that sense of deja-vu if you did ever go to Tigard…
Where is Tigard? All over the U.S.!
Strip-mall lined 6-lane+ arterials
Power centers surrounded by a sea of asphalt
Pedestrian no-man lands
Cookie-cutter single-family home subdivisions
Sound familiar?
Based on conversations that we've had with U.S. cities and developers so far, your answer is a resounding, YES! You are trying to do something about it, struggling with what to prioritize and how to allocate your limited resources, and battling the many folks not quite yet ready to join you in the "wagon."
So you've "been" to Tigard. And damned if you do know their struggle all too well… The real question is, what are you doing about it? Here's how we help the "Tigards" of this world.
Ready, Set, Vision! Umm…Wait, Now What?
The City of Tigard identifies its problem, establishes an awesome vision, and then…? Well, Tigard first went the typical route. Planning studies. Expert Consultants. Community Outreach. All worthwhile endeavors. And then they met us (actually, Kenny Asher, the city's Community Development Director, came across my ULI post on the economic rationale for walkability).
Our urban data geek hearts danced with joy when we heard they wanted to use data and analytics to help realize their vision. We couldn't wait – not only to help them craft an evidence-based, data-driven strategic framework by which to systematically achieve their long-range planning goals, but also to arm them with the justification they would need along the way, to convince residents, developers, and commercial property owners – it was about enhancing the public good, but also about making the public purse more efficient and resilient in the face of changing demographics and preferences.
The Tigard Triangle is located in the NW part of the city that primarily contained large-scale commercial uses and was one of the least pedestrian-friendly areas in the City. We worked with students at Portland State University as part of a service learning agreement. We also worked with Tigard for nearly four months, applying the State of Place suite of analyses.
Dig into this great user-story – I promise you'll see a bit of yourself in the protagonist!