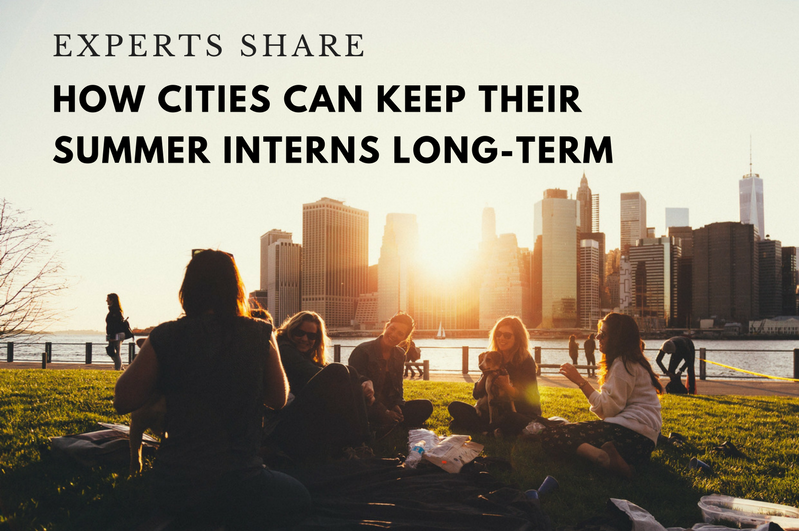 State of Place tapped ten experts on how cities can build their bench by keeping interns after the weather turns cold.
---
Right now, your city is experiencing an influx of students who are evaluating the internships and amenities that your city has to offer. According to Google Trends, there's always a sharp increase in searches for "summer internship" between January and April.
Maybe your city has the right internship programs in place to attract the best, but do you have the right amenities that will make your summer interns stay past August (if they don't have to return to school, of course!)? Many cities are experiencing an aging workforce, so attracting and retaining summer interns is crucial.
We turned to the top urbanists to find out how cities can convince summer interns to stay for the long-term.
Here are their top tips…
---
JOHN MASSENGAL
CHAIR OF THE NEW YORK CITY CHAPTER OF THE CONGRESS FOR NEW URBANISM; ARCHITECT; AUTHOR

"What do young interns most want? Lots of opportunities to meet others their age, of the opposite sex, or the same sex, depending on their preferences. Young college graduates are willing to pay ridiculous rents in New York at least partly because there are so many other young college graduates in New York, and there are so many public opportunities to meet them."
---
ERIC COREY FREED
SUSTAINABILITY DISRUPTOR AT MORRISON HERSHFIELD; ARCHITECT; AUTHOR AND THOUGHT-LEADER IN DEEP GREEN BUILDINGS; TEDX SPEAKER

"Cities need to offer pathways for interns to be successful in their city. New models of housing, affordable housing, alternative housing… all are needed to allow interns to remain working and learning in their city. This can be accomplished through inclusionary zoning policies, incentive programs, public/private partnerships in development and other bold programs. For cities looking to implement these ideas, the EcoDistricts framework is a great tool to use to identify these needs and develop clear plans to move forward."
---
KRISTEN JEFFERS
MPA; AUTHOR OF A BLACK URBANIST/THE BLACK URBANIST BLOG; DESIGNER; PLANNER
"Partner with local colleges and universities and make sure interns, no matter their home school, have both social and housing options in line for what they are already used to as university students."
---
STEVE MOUZON
ARCHITECT; AUTHOR; BLOGGER; PRINCIPAL AT STUDIO SKY; FOUNDER OF THE NEW URBAN GUILD IN MIAMI

"The one thing that is clear is that interns tend to have a lot less money than they are likely to have for the rest of their working lives. If the city wants to keep them beyond the summer, the most essential thing is housing they can afford. This may come in a number of forms, including the wealth of types in Missing Middle Housing (the mission of my colleagues at Opticos). There are also a number of types of (usually illegal… for now) Auxiliary Dwelling Units, from the granny cottage to the upstairs apartment, the downstairs apartment, the carriage house, the rear land cottage, the mews unit, and more. In the world of live/work unit types, there's one that deserves special attention, and like the ADU's it's illegal almost everywhere: the "live-within." If an employer is serious about keeping interns in town, why not have a few apartments within (or above) the office? This isn't the end of the story; the city needs other things as well in order to keep their interns, but this is the most essential first step, because if the interns can't live there, they can't work there."
---
DR. JANA A. HIRSCH
ASSISTANT RESEARCH PROFESSOR; URBAN HEALTH COLLABORATIVE; DREXEL UNIVERSITY DORNSIFE SCHOOL OF PUBLIC HEALTH

"Initially my mind jumped for flexible, affordable housing. In line with a parallel idea of strong communities (e.g. this new generation's value of social cohesion over monetary things). There are more obvious "things that make a healthy urban life" including access to healthy food, places to exercise, good public transit. Ultimately, though, I think I kept thinking about age friendly cities. The 8-80 City is one that is designed for all ages. If cities want to keep interns then they need to make it easy for individuals to see themselves in that city throughout their life. As young adults, as young families, all the way up to as aging individuals. I'm not saying that interns are thinking about retiring in their city, but at a time when they're planning life these types of inter-generational contact and the ability to imagine themselves staying is likely really important."
---
MIKE ZIMNEY
URBAN PLANNER; PROJECT MANAGER AT KILBOURNE GROUP, LLC

"So many people today want to be located in a city or downtown offering a great experience. They choose the city first and then find a job and a growing number of them want to live in walkable and bikeable mixed-use cities. My advice would be for cities to first really recognize and understand this and then do everything they can in their downtowns to encourage mixed-use development, build safe pedestrian friendly streets, and increase the number of housing options. This type of development pattern will both attract businesses and help retain the workforce and college graduates."
---
JASON THORNE
HEAD OF DEPARTMENT OF CITY PLANNING; TRANSPORTATION PLANNING; ECONOMIC DEVELOPMENT; CITY OF HAMILTON
"Make it fun. Shaping, designing and building a city isn't just about policies and regulations and standards. It should be creative, and experimental, and above all it should be fun. Make sure an intern gets to see that side of city planning as well."
---
JONATHAN BERK
DIRECTOR AT PATRONICITY; FOUNDER BUILDINGBOS

"Show them around the city but be sure to give them the full tour of places that may be affordable to someone right out of college. Even if it may lie just beyond the city limits. Exposing them to those neighborhoods may entice them enough to enjoy living here and be able to afford it at the same time! Also I'd recommend checking out a group called NEWaukee in Milwaukee. Also Action Worcester in Worcester, MA."
---
ANDY LIKUSKI
CTO STATE OF PLACE; URBAN PLANNER; TECHNOLOGIST

"Cities should make sure their young worker have perks like free transit passes. They should get connected with senior staff in their focus area as mentors. They should be sent to conferences often, like once a quarter. They should be able to participate or lead side projects that help residents get something tangible done, such as making an intersection safer by converting it to a roundabout with gardening and artwork in the middle, or creating new separated bike lanes using art and raised beds for separators."
---
MICHELLE WOODHO#
COO STATE OF PLACE; URBAN PLANNER; DESIGNER
"Cities need to be walkable, livable and sustainable to attract and retain talent. Cities need to take the first step to understand their needs and assets at the neighborhood level and make data-driven plans on how to improve them."
---
BONUS!
We asked our interns what a city could offer that would entice them to stay after a summer internship. Here are their tips:

LAURA SCHUMACHER
MARKETING INTERN
"Walkability is a huge thing for me! That's one of the big reasons I moved to Charleston. But also being innovative and having a creative community with various interesting events that really give a city its unique character."
---
SHERRY HUANG
RESEARCH & OPERATIONS INTERN
"My top priorities are a developed system of public transportation for an easy commute + high walkability, and a diverse, international population and a buzzing arts and music scene."
---
DEVIN NIEUSMA
BUSINESS OPERATIONS INTERN
"For me, it's important to live in a city that has a strong, iconic identity that ties together the local environment, the architecture, and the community at large. For example, no other city would be able to replicate the culture & atmosphere of New Orleans (or Paris, or Seattle, …)."
---
This is all valuable insight for every city. Overall, there seems to be a common theme of affordable housing, transportation, and access to a vibrant community. How does your city compare to others on these criteria?
At State of Place, we quantify what people love about places (based on 290+ urban design features and 15+ years of empirical evidence) and forecast why it makes sense to make them better. Want to learn more? Schedule a chat with us!