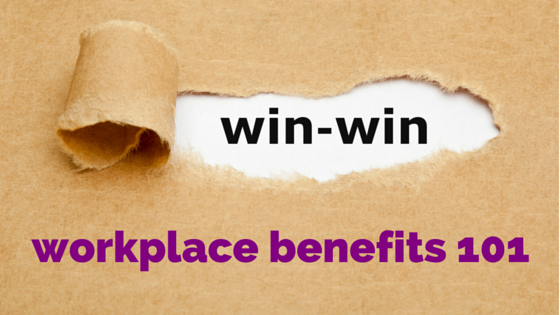 Editor's note:  This is the latest blog in the Staying on TOP series from Seneca Systems CEO Chris Maddox.
High-Impact Employee Benefits
Before Seneca Systems, Nick (co-founder/CTO) and I worked for a startup building back-office HR software for small businesses. Like startups and local government, hiring in small businesses can be difficult.
Given our size, we can't compete with Google or Facebook for pure salary (as I'm sure local government can empathize with.) At the same time, the work we do is incredibly attractive to people in Silicon Valley who are stuck building ad networks or the next app to help you find a taco truck.
At Seneca Systems, we believe in hiring people who share our vision: to build software that empowers local government employees to provide outstanding service. By thinking through the benefits we offer, and putting as much effort into the happiness and well-being as we do our products for local government we've been achieved a nearly 100% offer-to-hire ratio.
Personalization
As the saying goes, "it's the thought that counts." Of course, when looking at a compensation package, value matters a lot too. That said, designing a benefits plan that caters to the individual shows you care specifically about the health and happiness of that employee.
That thought goes a long way.
When we do reference checks for candidates, we don't just try to figure out if there is anything scary in their past. We ask their references about what is particularly meaningful to the candidate. When they start as an employee, we give a gift specific to them, so they feel welcomed and valued as an individual. You can make this a part of the offer, to show that working here is like no other place.
Help employees make an impact outside work
All people seek purpose in their lives, and ideally in their jobs as well. We consistently hear that team and social impact as the top reasons for coming to Seneca Systems. One of our company vales, to "Optimize for People," means understanding that people are more than the work they do. They have ambitions, desires, and dreams beyond their 9-5.
One way we show our appreciation for their personal depth is to match employee donations to charity. We match up to $500/employee/year in charitable donations to any 501c(3) organization. I can tell you, from personal experience and talking to others, that that $500 means a lot more that $500 to employees. It's directly going to causes they care deeply about.
Gusto seamlessly integrates charitable donations into payroll, so you can support causes your employees care about. (Disclosure: as an early employee, Nick and I are still shareholders. Also, I built the charitable donation feature so I am a bit biased 😉 ).
Opportunity for growth
Never underestimate the value of career development.
Autonomy and developing their craft is a huge driver for people. They want to feel ownership and responsibility over their work; the opportunity to succeed or fail on their own merits; and know they are constantly improving themselves.
In startups, as I'm sure you can empathize with, there are a never-ending list of things to be done. Rather than see this as a negative, new employees have significant opportunities to take ownership over projects and grow their skills. My job, both as a manager in general and as CEO in particular, is to remove roadblocks for employees, so they can do their best work.
Building talent is an investment, but a surprisingly low cost one. Regular 1-on-1 meetings and regularly asking how you can help them be successful is a benefit, strangely, that very few companies offer.
Bonus Round: Pandas
Yup, (stuffed) pandas. They are just $40 at Costco, and I can only imagine how excited I would be if that were in an offer letter.
Conclusion
Offering benefits doesn't have to be wildly expensive. It isn't about ping pong or catered meals, but about showing appreciation for the people who work their butts off for your collective mission. By focusing on what makes each individual great, you're demonstrating far greater appreciation than the mere dollar amount.