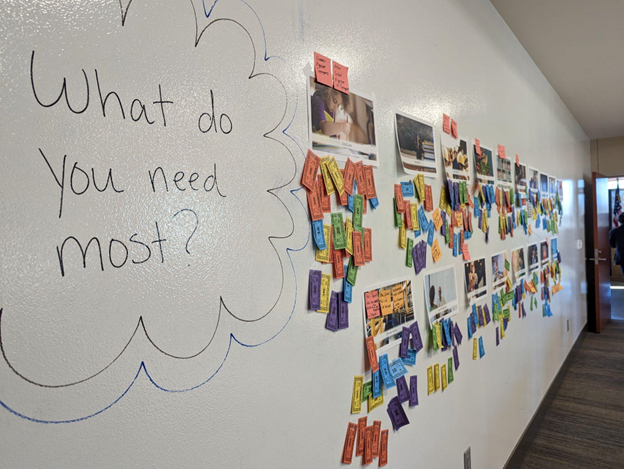 Today's Morning Buzz is brought to you by Maggie Jones. Connect with Maggie on LinkedIn and Twitter!
What I'm Listening to: The Wombats' Fix Yourself, Not the World and //brain waves//
What I'm Reading: The Island of Missing Trees by Elif Shafak and Uncomfortable Conversations With a Black Man by Emmanuel Acho
What I'm Watching: Lego Ninjago with my kids
---
In September 2021, the U.S. Department of Housing and Urban Development (HUD) released Notice CPD-21-10 establishing the requirements for the use of funds in the HOME Investment Partnerships Program (HOME) – American Rescue Plan (ARP).
Okay, Maggie, this sounds anything but human!
The original Notice was 97 pages packed full of intricate details, dos and don'ts, waivers, and deadlines. It also required funding recipients to talk to people – to the point where the federal government wouldn't release 95% of the funding allocation until a vigorous consultation process was completed and a funding allocation plan approved.
But it wasn't just any people the feds required jurisdictions to consult; the Notice required that funded jurisdictions talk with those the money was designed to serve (i.e., Qualifying Populations): (1) people experiencing homelessness; (2) people at-risk of homelessness; (3) people fleeing or attempting to flee domestic violence, dating violence, sexual assault, stalking, or human trafficking; and (4) people at greatest risk of housing instability. We identified nearly 100 different stakeholder organizations as well as countless others that could fall into one of the four (4) qualifying populations.
In the fall of 2022, we drafted a Housing Survey with help from our friends at other cities, counties, and AARP and launched it with our colleagues in the County Administrator's Office. We conducted stakeholder interviews and calls with representatives from target groups. Finally, we held a human-centered design session at Tarrant County's largest day shelter, True Worth Place, to answer the question, "What do you need most?" designed in partnership with a dear friend across the country. Each of these learning sessions offered incredibly rich insights to community needs, challenges, and unseen barriers – often things we could do something about – making new connections and friends along the way.
And, oh! The people! The stories!
We heard stories of experience, resilience, and grit. Stories of drug addiction and recovery. Stories of losing jobs and finding jobs. Stories of tragedy and joy. Stories of finding love, finding family, and finding strength. Stories of hope. We heard human stories, each as unique as the person who shared them.
***
Wandering around IKEA one weekend, Nicholas, my five-year-old son, borrowed my phone to take photos. I didn't notice until much later that evening that my camera was filled with nearly 100 photos from a different viewpoint, one from about 3-feet-6. I saved several as a reminder that our experiences, even when shared, are all unique. Somehow I had missed the caution tape and Zach's candles; I hadn't noticed the concrete flooring or flowers on the lower level of a cart. What may not be noticed by you or me, may be something to someone else.
***
In the book The Anatomy of Peace, there's a comparison between a heart at peace and a heart at war. It challenges us to remember to see each other as people "with needs, cares, worries, and fears that matter, like [ours] do." To learn their stories and to reflect from a different point of view, to ask questions like these to work from a heart at peace:
What are this person's or group's challenges, trials, burdens, and pains?
How am I, or some group of which I am a part, adding to these challenges, trials, burdens, and pains?
In what other ways have I or my group neglected or mistreated this person or group?
In what ways are my better-than, I-deserve, worse-than, and need-to-be-seen-as boxes obscuring the truth about others and myself and interfering with potential solutions?
What am I feeling I should do for this person or group? What could I do to help?
Thinking about these questions reframes our work – and our lives – in a beautiful way. When we remember to think about people as people, we work – and live – differently. The question shifts from "Can I do something about it?" to "What will I do about it?"
***
While working through the HOME-ARP Allocation Plan checklist prior to submission, I realized something was missing. Yes, we had gathered the right data to make the funding priorities we needed to make. Yes, we had worked with stakeholders throughout the process. But what we hadn't acknowledged yet were the countless phone calls, brainstorming sessions, ideas, and people who had helped move this process forward. At the end of the document, I added a "Special Thanks" section, something I hadn't added in a federal document before. The development of this document – and the meaningful programs that will follow – is another story only possible with the incredible help from partner organizations, colleagues, and dear friends. I am grateful for the opportunity to stumble through the process, to not have had enough funding to hire someone full-time to dedicate their work week to the cause, because it reminded me I had an entire network of people to lean on, seek advice from, and collaborate with.
***
The HOME-ARP process was full of conversations, stories, and learnings from people all over Tarrant County with help that crossed city, county, and state lines. While this work can feel lonely at times, the HOME-ARP process is proof we are never truly alone. The stories – and solutions – are there, we just have to be willing to listen.