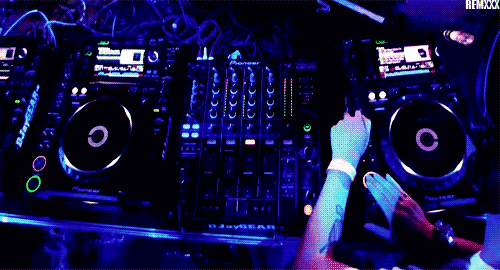 In this series, we're asking you to tell your life story through eight songs. Starting with your earliest memories, guest columnists will name their defining songs along with a couple of sentences explaining their meaning.
Previously: DJ Kirsten Wyatt, DJ Shelby Teufel, DJ Jason Jones, DJ Nick Smith, DJ Sarah Medary, DJ Emily Edmonds, and DJ Roy Atkinson
---
Shahrzad Rizvi is a Capital Budget Analyst for the State of Maryland. Previously he served as a Budget analyst for Dallas County, TX, and Management Analyst for the City of Dallas, TX. This summer he was a Local Policy Fellow at the Sunlight Foundation.
---
Being a college radio DJ (WMTU 91.9FM) for four years expanded my musical horizons (Finnish Death Metal anyone?) and honed my 'radio voice'. These songs promise to be eclectic and varied like my work experience in multiple layers of government and a non-profit.
---
Metric – Help I'm Alive
---
This track offers a great beat the keep the feet moving while running with my dog. Gotta keep that "heart beating like a hammer." Pets can help improve work/life balance too. Could a pawternity leave policy be around the corner? I'm for it.
---
Shiny Toy Guns – You Are The One
---
Dr. Wife and I's marriage was 'semi-arranged' kind of like a city budget where the budget office offers qualified proposals but the council gets final 'veto power' over what gets funded or "gets a ring on it". My wife and I were introduced by our families. We scurried to the nearest Starbucks to get to know each other away from peering eyes. On the fast track, we were engaged in three months and married in nine months. "You'll never be alone again."
---
Underoath – Reinventing Your Exit
---
My mid/late teens were in Florida where I was attracted to the active metal scene in Orlando. Moshing can be a great release of teen angst. There are unwritten rules for how to handle oneself during the mosh pit, and to help your fellow moshers if they hit the pavement. The yelling in this song can help reduce frustration at bureaucratic rules that don't make sense.
---
I'm proud of have been born in the United States and have lived in six states of our union. My parents took a risk moving to this country and created a quality of life for my twin and I. I honor their grit and tenacity with a weird song from one of my favorite artists M83. In a more recent song M83 exclaims "Looking at at a mutating skyline, The City is my church."
---
Tracy Bonham – Whether You Fall 
---
"Whether you fall means nothing at all. It's whether you get up" Everyone falls. GET UP and wipe that spilled coffee from your shirt. Ask to borrow a Shout wipe from the nearest purse. You've got this.
---
Tegan and Sara – Monday Monday Monday
---
The weekend is over and you gotta get back to work. Because you're instilled with deep "public service motivation" you're happy to report for duty in making a positive contribution to your community and all. There'll be temporary moments where "I don't really care for this city anymore." We've all been there.
---
Ra Ra Riot – Too Dramatic
---
There are times where our elected officials grandstand or promote policies that are a reaction to a temporary issue that can be resolved easily. "You're too dramatic..I don't understand it"
---
Miike Snow – Silvia
I've attended my fair share of live concerts. A Miike Snow show at Dallas's Granada Theater was by far my favorite. The crowd was full of energy and danced as one. Be sure to wear earplugs at concerts! "foamies" work well but custom ear plugs from an audiologist is better. You'll need good hearing to listen to your council members whisper about you, you future city manager. You can't engage in "active listening" with hearing loss.
---
Supplemental Reading