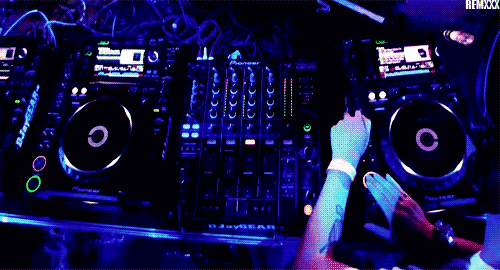 In this series, we're asking you to tell your life story through eight songs. Starting with your earliest memories, guest columnists will name their defining songs along with a couple of sentences explaining their meaning.
Previously: DJ Kirsten Wyatt, DJ Shelby Teufel, DJ Jason Jones, DJ Nick Smith, DJ Sarah Medary, DJ Emily Edmonds, and DJ Roy Atkinson
Susan Barkman
---
Smells like Teen Spirit- Nirvana

---
I went to high school in the era of N'sync, Backstreet Boys and Britney Spears, but Smells Like Teen Spirit defined my high school graduating class, and is the sound track to one of my most prominent memories from high school.  In my Junior year, my class was so far behind in Spirit Week competitions that there was no way to win.  Naturally, when it was time for the class karaoke event my classmates started a mosh pit and crowd surfed in the bleachers.  A year later when it came time to pick our class song to be played at graduation, we voted and pick this one.  (So hard to believe that it beat out Vitamin C's Graduation…)
---
Rocky Mountain High – John Denver

---
I grew up in Michigan and when I was 20 I got this gut feeling that I needed to leave Michigan. I can't really explain it, and most people I knew thought I was crazy but it was probably one of the best choices I have ever made.  I was lucky enough to get accepted into the University of Colorado Boulder (GO BUFFS!), and in August of 2005 my parents dropped me off in Colorado where I finished my Bachelor's in Political Science.  While Colorado has never quite felt like home to me no matter where I go, it will always hold a special place in my heart because I do love the mountains and have some great memories.
---
Shutting Detroit Down – John Rich
---
I remember the first time I heard this song in 2009.  I had just flown into Detroit to visit my family who still live in Michigan.  My mom and I were talking about everything that was happening with the economy, the auto industry and local Michigan politics.  I sarcastically said something like this place is turning into a country song, and my mom promptly informed me that it already was a song.  As we drove past my hometown, where Chrysler is still a major employer, this song came on. For me this song represents not only the bailouts of the auto industry, but also the Great Recession which has had a lasting effect on my life and career.
---
---
I am not done paying back my student loans, but I love this song.  Like many people my age I took out student loans and paid for my last 2.5 years in college.  This song is a great reminder that my loans won't last forever and to keep my eyes on the prize, which is a two-week vacation in Tahiti and Bora Bora.  I did the math a few years ago and after I pay it off, if I save the payment for about six months, I can have a two-week vacation in Tahiti complete with the little hut over the water hotel room.
---
I Love Rock and Roll – Joan Jett & The Blackhearts
---
I can't remember a time when I haven't known the words to this song.  There have been times where I haven't listened to it as much, but no matter what is happening, this is always a song that I can turn up, and dance it out.
---
Follow Your Arrow – Kacey Musgraves
---
I love that this song for the simple fact that it encourages people to be who they are and find happiness in being your authentic self.  Sometimes it takes courage to be who you are in spite of other people's ideas of who you should be, or the values and experiences you should have.  I have had a lot of ups and downs in the last ten years, but I am grateful for the experiences and opportunities both good and bad, because they have helped me develop and affirm my values and given me a great perspective to shape the rest of my career.
---
Don't Put Dirt on My Grave Just Yet – Nashville Cast
---
I know it is a little cheesy, but I do love this song.  I have picked a few roads less traveled in my life, and sometimes it takes a little grit and attitude to get down a long stretch.
---
Country Roads Take Me Home – John Denver

---
To finish my Master's in Public Administration I completed my capstone project on citizen engagement for the City of Delta, Colorado.  Although I was really excited to do a project I was interested in, I really thought about Delta as the last hurdle to finish school and after working on a MPA for 4 years, I really wanted to be done with school.  What I got out of it was so much more. Going to Delta felt like going home and it was like holding up a mirror to how much I had changed since high school and seeing these two paths for my future.  I remembered how much I loved small towns and the people who make them home.  About a month after I graduated I realized that I not only wanted to be a city manager, but a city manager in a small town.
---
 Bonus Track: Jolene – Dolly Parton and Pentatonix